Holiday shopping seems to start earlier and earlier every year, so Temple Beth David capitalized on the season by staging a Holiday Bazaar on Sunday, November 7. According to event chairman Mickie Fligleman, the temple wanted to take advantage of the three upcoming holidays – Hanukkah, Christmas and Kwanzaa. 
Ms. Fligleman and her two primary helpers, Carra Demrow and Larry Jasper worked for four months on the event. A large committee helped also. With fifty vendors, this year's bazaar turned out to be the largest yet in its three-year history. "We had major help from the Nature Coast Technical High School Honor Society students. They're an amazing bunch of students. They helped set up tables, carried signs throughout the event, etc.," stated Ms. Fligleman. 
The vendors set up on the temple grounds at 13158 Antelope Street in Spring Hill and inside the building as well. The food vendors, which included a hot dog truck, each paid $80 for the space. All other vendors paid $40 each. These vendors showcased a wide variety of products and services. Some of these included jewelry, health care products, vegetables, and cheeses.   
Pat Bailey was there representing 15 Olives, a company that cultivates olive trees, bottles the olive oil and distributes it throughout the United States. They have two farms – one in northern California and one in north Florida. The reason the company picked those two areas is that the trees need 400 "chill hours" to produce properly. 15 Olives also makes and sells several flavors of balsamic vinegar. 
Inspired by an experience she had in Cairo, Egypt while serving in the U.S. Army, Patricia Johnson started her own business. "I had a poison ivy rash and a lady there cleared it up with a scrub. She made the scrub in front of me, put it on my arm, exfoliated my arm, rinsed it off with water and the rash went away. The woman wrote the recipe down for me."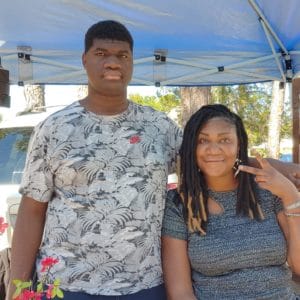 When Ms. Johnson retired from the service, she got busy researching other organic scrubs. She developed formulas and recipes and now has approximately thirty different all-natural scrubs that are good for anything from treating joint pain to fighting eczema. The ingredients sound like something you'd use to bake a cake. Some of these include honey, cinnamon, orange peel and oatmeal. Ms. Johnson also uses ingredients such as lavender and sea moss.   
She calls her company PJ & Sons Egyptian Body Elixirs because both her sons help her in the business. Besides helping to clear up acne, tightening your skin and repelling fleas on your pets, Ms. Johnson says that her products can be used in place of soap for children who have autism because these are chemical-free. The scrubs help them with their sensory perception.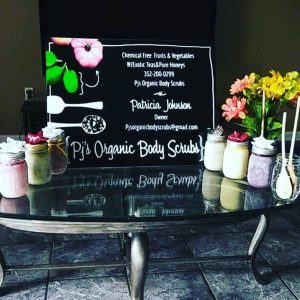 JoAnne Scott makes unique hand-carved items – a talent that she learned from her father. She sells them at shows and at a gallery in Crystal River. The unusual aspect of the items she was selling at the bazaar was that they all had some type of flaw. She calls them "Cracked but not broken" and donates 20% of the proceeds to veterans and their families that are in need.  Ms. Scott gets her wood from trees that have blown down or salvages furniture and uses the material.  People even drop off old wood at her house. Her products include serving bowls, vases and candlestick holders. "I make what the wood tells me it's going to be. Sometimes it's what's popular and selling right now. Some of it depends on what size the piece of wood is."
In contrast to many of the vendors whose craft is their full time business, mother and daughter team, Diane and Donna Hoover sew useful, colorful and inexpensive items as a hobby. Among the items the two had for sale were wine glass coasters, and a needlepoint holder for your playing cards so you don't have to hold them in your hands – useful for someone who has arthritis. There was even a clever sleeve that you put a baked potato in to steam it in the microwave.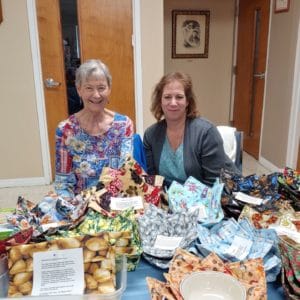 More and more people are eating raw local honey for its health benefits and Sweetest Stings Apiary has both spring and autumn varieties. Emily and Jeff Carlsen's honey hives are located on Richbarn Road adjacent to the Good Neighbor Hiking and Biking Trail. They package some of their honey in plastic jars so cyclists can stop by their "honor box" honey stand to purchase what they need and be on their way with no fear of breaking the jar. Sweetest Stings Apiary is a family enterprise with their two children and Emily's mother, Margaret Campbell, helping in the business. 
The Carlsen's pride themselves on the fact that they don't heat their honey. It's single-filtered and they don't blend it with any other honey. Their spring honey comes from wild plum, blackberry, Spanish needle, grasses, oaks and pines. It has a lighter taste and color than the fall honey, which comes from wild sumac and Spanish needle. The bees forage all day within a five-mile radius and then come back to the hives in the evening. 
From the crowd that showed up at the bazaar and the overflowing parking lot, it looked like the bazaar was a big success. People were buying items and not just browsing. Hopefully, the vendors found it a profitable as well as a fun day.