Lynne Simone is a visual artist whose work combines a love of animals, art and teaching. Her work fosters emotional connection and support for both audiences and artists in the Central Florida art community.
Simone recalls having a knack for the arts from an early age, "I have been drawing and doodling since I was able to hold a pencil or crayon. It's just something programmed in me, a need to create. My father could draw just about anything and that is where my talent came from, though he never pursued it other than a fun hobby."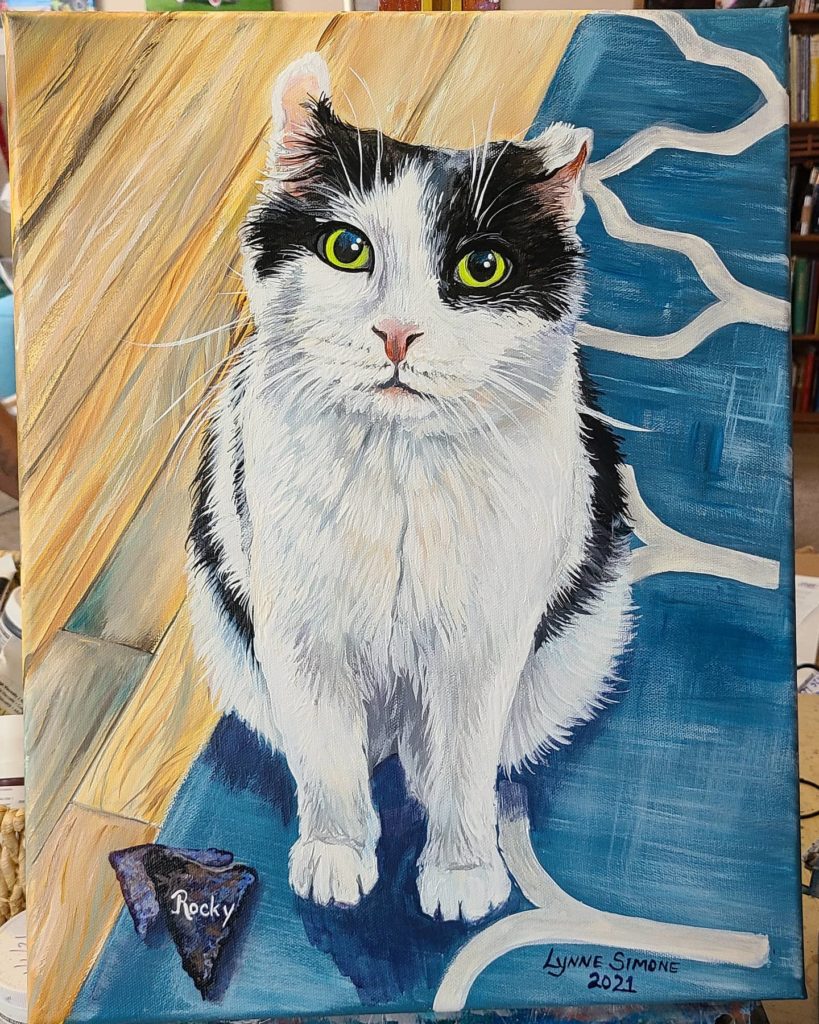 Simone's parents supported her talent by enrolling her in private drawing lessons at the age of 10 until she could attend art classes in high school. "My high art school teacher inspired me during those confusing teenage years and the art department became a safe place for me to be."
She went on to play with different mediums, find her unique style, and journeyed into painting. "I explored a variety of media and my favorite at the time was pastels," she explained, "Painting is an extension of drawing, another medium to experiment with, and I enjoy acrylics for their bold color and quick drying time. I love the creamy look of oil painting, but not the mess for cleanup!"
Simone rekindled her craft after her children grew up and left their home. The creative energy she used to spend helping with school projects and crafts was now spent painting commissions or sharing her passion through teaching. 
Pet portraits became Simone's specialty, garnering acclaim from locals and national celebrities like Mike Rowe of Dirty Jobs fame. "I have always loved animals and feel they have soulful expressions just like humans. 'The eyes are the window to the soul' holds true in pets and people and if you don't get the eyes right, it is just another dog, so I strive to capture each unique personality in my portraiture."
She has been doing commissioned pet portraits for years and started teaching others how to capture an animals' personality with paint about seven years ago. This is what led to her viral portrayal of Freddy, Mike Rowe's rescued puppy.
"Last summer I taught my monthly "Paint Your Pet" class for Painting with a Twist after businesses opened back up and used Mike Rowe's dog Freddy as my demo dog in class," She explained.
The painting was then hung in Marker 48 where you can see some of Simone's work on either the walls or beer cans. She snapped a picture, posted it on Facebook, and tagged Mike Rowe and his non-profit organization: MikeRoweWorks. Within the hour the television star had commented that he would love to have the painting of his precious pup and Simone kindly obliged. 
She said, "About a month later on September 18, 2020, he made a public post on his Facebook page from the dog's perspective looking at his own likeness which was viewed by thousands.  He gave out my social media information and website and within a few days, I had hundreds of requests for portrait pricing." 
Through that post Simone had over 5 million new eyes on her work. Her commission schedule is now completely booked until the end of the year. 
"I had to cut down my other jobs as a massage therapist and painting teacher in order to be a more full time artist and I could not be happier," She exclaims, "I am forever grateful for his kindness which has catapulted my pet portrait career."
Apart from her commissions, Simone has exhibited her work in Hyde Park with the Tampa Regional Artists, the Stirling Gallery in Dunedin, Atelier de Sosi, and the Morean Art Center in St. Petersburg. She has also been involved with the Art League and the Fine Arts council in Hernando County. Despite her already packed schedule, she still regularly attends art shows and galleries around central Florida. 
You can follow Simone on her social media to keep up with her busy schedule and keep an eye out for when you can commission a pet portrait of your very own.
Facebook: Lynne Simone Fine Art
Instagram: @lartiste_724