The Florida state flag is visually distinctive, a white flag with a large red x and the state seal in the middle. The flag that flies over the St. Augustine's Castillo de San Marcos Fort also is a white flag with a red x. The red x has a sawtooth pattern and is known as the Cross of Burgundy.
The origin of that Cross of Burgundy can be traced back to Philip the Handsome or Philip the Fair (Philip el Hermoso). He was the Duke of Burgundy.
Philip married the second daughter of Queen Isabella and King Ferdinand of Spain. Philip was the son of Maximilian I, Holy Roman Emperor, and Mary of Burgundy. Phillip's marriage to Joanna was intended to strengthen the relationship between the rulers. In addition to Philip's marriage, his sister Margaret was married to Joanna's brother John, Prince of Asturia, further strengthening the alliance.
Queen Isabella and King Ferdinand are the monarchs that funded Columbus' expedition in search of the new world which brought Spain immense wealth. They also were the monarchs that oversaw the Spanish Inquisition.
After Queen Isabella's death in 1504, her daughter Joanna was set to be passed the Crown of Castile. Joanna's sister Margaret and brother John passed away at a young age so the crown of Castile was passed to Joanna. Her father King Ferdinand contested Joanna receiving the crown. It took until 1506 when Philip traveled to Spain and raised an army before King Ferdinand recognized Joanna's right to the throne.
Philip became king consort of Castille for one month in 1506 before his death. Joanna was considered insane and King Ferdinand regained the crown of Castille. He ruled for an additional decade before his death.
Philip's son Charles became king after Ferdinand's death. He managed to consolidate power and used his father's Cross of Burgundy as one of Spain's banners starting in 1516. This was the flag that was flown at St. Augustine.
Florida was under Spanish control starting in 1513. Florida was given to the British in exchange for the return of Havana in 1763. In 1784, the British returned Florida to the Spanish. In 1821, the Spanish exchanged Florida to the US for the forgiveness of debts mostly related to raids across the Florida border.
According to the Florida Department of State, the Cross of Burgundy also known as the Burgundian saltire represented Spanish rule in Florida from 1565 to 1763. The flag represented the connections between Spain and Burgundy.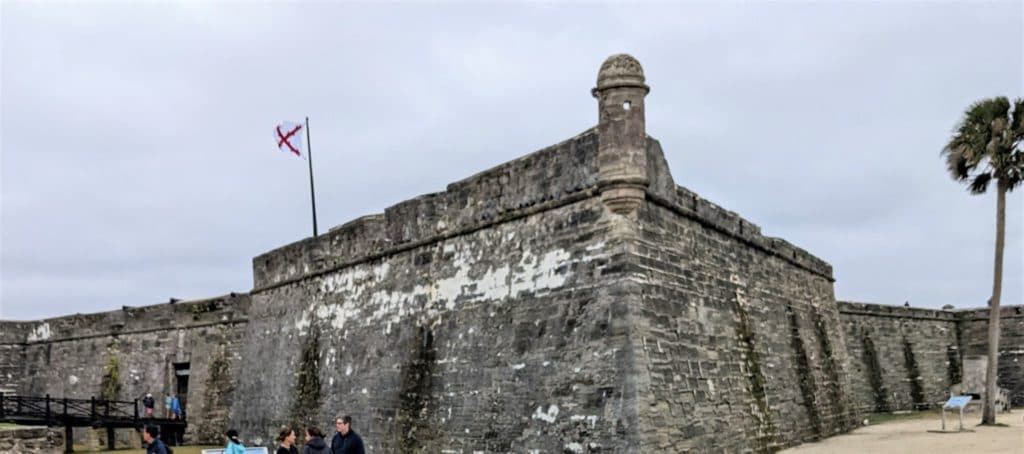 The flag's red sawtooth cross with a white background represents the branches of the trees used to crucify Andrew the Apostle. Andrew was the brother of Peter and one of the twelve Apostles of Jesus.
The flag that flies over St. Augustine's Castillo de San Marcos Fort is a lasting symbol of Philip the handsome. Its elements made it into Florida's flag, but few know about the connection to Philip the Handsome.