For most of us, when we saw the nightly news at the height of the wars in the Middle-East and heard about the men and women killed in action, these were only statistics represented by a name and maybe a picture. When you visit The Eyes of Freedom, a traveling exhibit consisting of life-sized portraits of twenty-three of these casualties, the men become more than statistics.
You see a young man wearing a bandana around his head, another soldier with stars tattooed on his arm and you read a copy of a letter written home by a twenty-year-old Marine telling of the possibility of his death. Behind each life-sized portrait is a story.
Mike Strahle, Executive Director of The Eyes of Freedom non-profit organization, served with these men and was wounded in one of the attacks that killed six of them.
Strahle remarks, "The eyes are what people connect with. Art reaches the recesses of the heart and creates the connections that can break the cycle of pain."
This organization and the traveling exhibit pays homage to a group of twenty-two Marines and one Navy corpsman who lost their lives during a four-month period from May to August of 2005. What brought attention to these tragedies was that all the men were from Lima Company, a Marine Corps Reserve company from Ohio and the majority were from that state. Some were even from the same communities and knew each other personally prior to serving in combat together.
Anita Miller, an artist living in Ohio at the time, was the life force behind the creation of this exhibit.
"When I heard about all the deaths I wanted to do something to help those families, but I didn't know what. Then, I awoke in the middle of the night with a start and hovering in front of me I saw life-sized paintings, displayed in a circle in the Ohio State House rotunda. People were milling around them leaving messages of love in the boots at the base of the portraits," she states.
It took Anita two and a half years to complete all nine portraits. She first collected photos and memorabilia. After she was finished with the paintings, she gathered all the families together to approve the portraits and she put finishing touches on the paintings. At that time, all the families showed up with the combat boots belonging to their sons and these became part of the exhibit.
During the time it took to complete the paintings, the families of these men bonded and supported each other. And, as in her prophetic vision, the Lima Company paintings were unveiled on Memorial Day of 2008 in the Capitol Rotunda at Columbus, Ohio.
One of the most heartrending mementos in the exhibit is a copy of a letter written by Wesley Davids to his family in case of his death. Davids died on May 11, 2005, just one day after his twentieth birthday. It reveals a wisdom beyond his years and states in part:
"I think I have finally found the key to happiness. Live your life in a way that you can be proud of everything you do. No Regrets."
Sean Flaharty got involved in the project at its inception and documented Anita painting the portraits. He is now a full time member of The Eyes of Freedom, a non-profit organization that handles the exhibitions.
"I got involved because my friend, Justin Hoffman, was the first marine to be painted," Flaharty states.
Jason Spencer, Commander of VFW Post 9236 on Hernando Beach, served with Lima Company and personally knew some of the men who were killed. When he heard at the beginning of December that the traveling exhibit would be in Tampa, he contacted Eyes of Freedom about making a stop off in Hernando County.
"We worked hard to get it here and it was a big feat to get it to happen in so short an amount of time," Spencer remarks.
In 2018, a new piece of art joined the nine portraits – a bronze statue depicting a man sitting down with his head bowed. It's entitled "Silent Battle" and was also created by Ms. Miller. The purpose of the sculpture is to raise awareness of PTSD. In the three years that it's been part of the exhibit hundreds of people have stopped to touch it and perhaps say a prayer for these veterans who suffer from the hidden scars of battle.
"There is something truly remarkable about Anita's work. I've witnessed struggling Veterans engage with the bronze, 'Silent Battle,' and completely shed the layers of defense being carried like a shell for years," comments Strahle.
You can still catch The Eyes of Freedom Memorial exhibit at VFW Post 9236 located at 3435 Shoal Line Blvd., Hernando Beach. It will be there 11 am – 7 pm, Thursday and Friday and from 11 am to 3 pm on Saturday. You will come away from the exhibit with an up close and personal view of these veterans who paid the ultimate price in service to their country.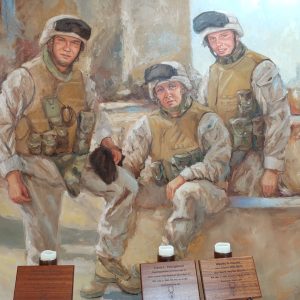 To find out more about The Eyes of Freedom organization, log onto www.eyesoffreedom.org.