A trio of Hernando artists have been selected to exhibit their exemplary artworks in the 2022 Florida Watercolor Society Online Show. As handpicked by Judge Alexis Lavine, the show will be presented at an unveiling and an Exhibition Review live on Zoom Saturday, January 8, at 2 p.m. Eastern.
The three talented Hernando winners are Diane Ziemski, Sue Beach and Charles Simmons.
Inspired by a photo of three seabirds that she shot on Hernando Beach, Mean Girls was Ziemski's winner in the FWS online show.
"My painting was of a photo that I took at ZigZag Scallop Restaurant in Hernando Beach," said this second-time winner in the FWS online competition. "I'm thrilled to death."
The Florida Watercolor Society is the largest State watercolor society in the United States, boasting almost 1,000 members.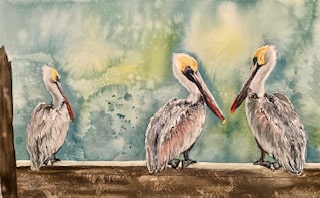 "It is our mission to promote the art of watercolor and to educate the public as to the importance of watercolor as a creative and permanent painting medium, while contributing to the cultural atmosphere of the state of Florida," reads an organizational mission statement (https://floridawatercolorsociety.org/).
After seeing several FWS presentations as an artist in Arkansas, Ziemski joined the FWS upon moving to Florida. She also became active in the Hernando County Fine Arts Council, where she also shines as a distinguished member.
"I will become vice chair of the Hernando County Fine Arts Council in January," she reported. "I'll be helping Beth (Beth Putnam, council Chair) with whatever she needs."
Sue Beach's painting Undiscovered was discovered as a winning entry in this year's FWS show.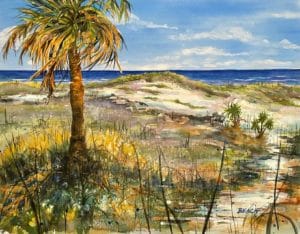 "I joined the Florida Watercolor Society three years ago and have enjoyed their conventions, workshops, contests and comradery ever since," said Beach. "The members create such beautiful works of art and inspire me to challenge myself to bring my art to the next level – so being accepted by judge Alexis Lavine into the 2022 FWS Show was such an accolade!"
Her tropical surroundings proved ample inspiration for the work entitled "Undiscovered."
"My painting, "Undiscovered" captures my sense of wonder in seeing the ocean again for the first time in decades. The ocean appeared vast and welcoming, like returning to an old friend. I had stumbled onto a section of this beach that had a very secluded and uninhabited quality and thought "This would make a great painting!" she said. "It was created on 140 lb. Arches watercolor paper and then mounted onto a cradled panel with a protective wax finish. It will be on display and for sale at Studio 1212 (234 Monroe Street in Dunedin) on January 5, 2022, where I am a member."
Charles Simmons' "The Exotic Wanderer" is also a fixture of this year's show.
"It is so exciting, thrilling and such an honor for my entered piece "The Exotic Wanderer" to have been selected for the 2022 FWS Online Show by Judge Alexis Lavine. I heard about the Florida Watercolor Society (FWS) while attending the West Pasco Art Guild (WPAG). I went to one of the FWS conventions in St. Petersburg, Fla. and also learned it is one of the largest art societies on the east coast. I was so amazed at all the talent and wonderful people that attended and especially liked their instructive workshops and demonstrations," he said. "I joined in 2015 and have been a member ever since. It's difficult at times for an artist to put their work out there to be judged but I pushed myself and told no one that I had submitted a piece in case it was rejected and that way I could lick my wounds so to speak in private. I was so surprised and thrilled that my first submitted piece was accepted in the online show for the 2015 season."
"Being accepted in that online show gave me the courage to continue to enter again. I was selected for the FWS show (P1) and traveling show in 2016. My goal is to become a signatured artist which requires, for the FWS, to be accepted in actual shows three times. When you become a P3 you then become signatured. The competition is very stiff and it is not for the faint of heart because there is so much talent and they can only choose about 100 selected few out of 600 or more entrants for each show," Simmons continued. "It can be a roller coaster ride of emotions. I was fortunate again to be selected for FWS online show for 2016/2017, 2017/2018 and the most recent the 2022 50th ANN online show. It is such an honor and a privilege to be a part of this organization that strives for excellency in not only showing art but also to help train artists through their venues and through workshops and Demos done by their members. I think goals are important and make for a fulfilling life. Being a member in the FWS has aided me in the pursuit of a goal and my love for art and drawing and painting."