by Lilly Browning
Florida-Friendly Landscaping™ Program Coordinator
Florida-Friendly Landscaping™ encourages diversity of plant life in your yard.
Some plants are grown for their beautiful flowers, others are more functional as foliage plants. Right now sunflowers are enjoying a surge in popularity. If you are considering planting sunflowers as a statement or simply because you love their bright, happy faces, here are some things to consider:
Late winter to early spring is the best time to plant Helianthus annuss, or the large sunflowers we all love. These are short-lived annuals, meaning you can only really expect one season from them. Different cultivars will grow anywhere from four feet to 12 feet tall. This is the time of the year to plant spring blooming sunflowers in our horticultural zone 9. Keep the cultivar, 'Sonja' in mind. You can also have fun with different colors and sizes of sunflowers in multipacks of seeds. These will be a beautiful spring addition to your landscape, but keep in mind the heat of our summers will cause a quick decline in these tall beauties. Once fall rolls around you can plant the cultivar 'Valentine' to add to your autumn décor.
For seeds, follow the directions on your seed pack for planting directions. These seeds will need to be watered regularly, but don't overwater them. This is a great opportunity to utilize rain barrel water, or a micro-irrigation system. Hand water with a hose with a self-canceling nozzle if necessary.
I do know some individuals who have success propagating the sunflowers simply by placing cut stalks with flowers in a pot with good potting soil. It is certainly worth a try!
Native plants are always the best way to attract birds, bees, butterflies and other pollinators. There are some native sunflowers that will make a fantastic addition to your Florida-Friendly yard. The native sunflowers are perennial, meaning they will last for more than one season. Some of them last for 3 or more seasons, some last for years!
Swamp Sunflower, Helianthus angustifolius, is one of those native blooming beauties. It is a fall blooming perennial with 2-3 inch yellow flowers. My swamp sunflowers love to grow in my dry, sandy soil despite its name, and make appearances for Halloween and Thanksgiving. Before the flowers come, you will have 1-2 feet tall leafy stalks which remind me of "Cousin It" from the Addams Family. Depending on location, the plants can grow 4-6 feet tall by blooming time. Leaving the spent flowers for the birds is a great way to provide for wildlife in your landscape. Cut them back in June to keep them compact and well branched for the next blooming season.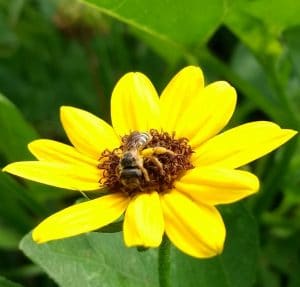 Another native sunflower is actually more of a ground cover. Beach Sunflower, Helianthus debilis, is a butterfly and bee attracting ground cover that thrives in the most barren of soils. The multiple yellow flowers, which bloom all year until a freeze, are about the size of a 50 cent piece coin. This plant will spread out in a plant bed and is perfect for those areas where nothing else like to grow. It is self-spreading, self-seeding and will come back year after year.
Please learn more about Florida-Friendly Landscaping™ at www.ffl.ifas.ufl.edu