On February 26, 2022, I met with several former Hernando High School basketball players and it is a moment that I will never forget. I sat quietly as stories were being shared and laughter echoed throughout the room. Their assistant coach and six of the ten players who earned the title of Sunshine Conference Basketball Champions in 1972 were the men gathered in the room recounting their days of glory on the court: Hernando High Assistant Coach Norm Pingley; Players Jan Chorvat, Imani Asutil, Ed Chester, Marion Jones and Jonny Roberts.
The year was 1972 and Hernando High was hoppin'. Remember those bell-bottom jeans, saddle shoes, and wide knit-collared shirts? Oh, those were all the in-style fashion of the days! Sports were mainstream back then and the only way you could read about your game or any sporting event was in the newspaper.
Much has changed over the years in basketball. There were some highly talented athletes on the Hernando High team that provided a skill set for every spot on the court. But back then, there was one crowd-pleasing action that wasn't allowed and another that didn't even exist.
There was no such thing as a three-pointer. "You can shoot from the other end of the court and make it and it's still 2 points," stated 1972 Hernando High graduate and former basketball player Jan Chorvat. "The other thing you couldn't dunk. So, people like Marion who could easily dunk, would have to make a little layup. The crowd doesn't come to their feet with a layup! A dunk is what makes everyone jump in the air with a 'WOW!' The only way he got everyone to do a 'WOW' was that he was a shot blocker. When the other team would be taking a shot, he'd knock it out of bounds." Dunking was banned in the NCAA and high school sports from 1967 to 1976, and there were times when you knew boys would be boys.
Hernando High graduate Marion Jones explained that in 1973 they hadn't invented breakaway rims yet. This prompted former Hernando High Basketball Coach Norm Pingley to state, "I was playing at a junior college, and a West Virginia freshman came over and played in our gym. He was dunking, and he bent the rim. Our coach told the officials that we are not going to shoot at that rim being sideways like that." The opposing team had to shoot at the bent rim the entire game.
It wasn't until after 1976 that high school athletics allowed dunking and ten years later in 1986, the three-point field goal was put into place.
"It was an awesome experience that has followed me through the rest of my life, specifically the new style that Coach Poore implemented where discipline was important. The team was more important than individuals. We worked hard on defense and Coach Poore didn't care that we weren't scoring 100 points a game. It was just that we had a goal of winning and that's all that mattered even though the score was low. Coach Poore instilled from day one that we were going to be winners. At first, we didn't really buy it, because we had some really bad seasons in the past, but he kept at it and said we will win if we do these things. Eventually, we all believed it, and it was true. It sounds funny that one coach sticks out for 50 years, but he does, and he comes back to mind often. Put the team ahead regardless of your skill level, discipline is critical, and treat everybody decently," stated Chorvat.
During the end of segregation, Moton High School closed in 1969 and the students were enrolled into Hernando High. "With me coming from Moton, a segregated school, we play all half-court ball if we put up a goal," stated 1972 Hernando High graduate Imani Asutil. "I played basketball all my life, but having that opportunity to dribble and work up and down the court made a big difference."
While participating in high school sports, the coaches you have during that time may influence your life, possibly the choices you make, and decisions for your future; some are more impactful than others. "When Ed (Poore) and Norm (Pingley) came in, it was a different program altogether with a real commitment to basketball," Asutil said.
"We didn't want our school to close, but when we got there, they had all the necessities. They had the gym and first-class books," 1973 Hernando High graduate Johnny Roberts said. "The transition was good, and again with Ed Poore and Coach Pingley, they changed the culture of the school."
"The first thing Coach Poore installed was discipline. We had guidelines to follow, and I knew what I had to do to get through school and do what I was supposed to do," Marion Jones said.
"We had a losing season before he (Coach Poore) came around. I mean, we were losing, losing, losing. They hired him to come in and fix it," Chorvat said. He came in and changed everything. We had this one guy on the team who was a star player on the team, but he drank, and he threw him off the team. The rest of us were like holy s***."
"He was a good athlete," Pingley said.
"He didn't have any discipline, and he (Coach Poore) showed us that you got to do things right if you are going to play for me," Chorvat replied. "At one time, we got down to seven. Some of them (players) went to the fair," Ed Poore laughed.
The Fair and the Magnificent Seven win the Sunshine Conference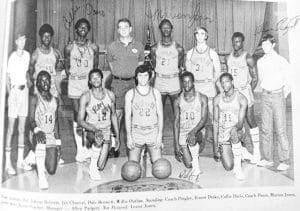 The Leopards were making a name for themselves. Their season was very productive. Teamwork and discipline were intact throughout the entire season.
The tournament bracket was made, and the Sunshine Conference Champions title competition began on Feb. 3, 1972. Thursday night tipped off the three-game event with Bishop Barry vs Tampa Bay Tech – Hernando vs Tarpon Springs, and Jesuit went against Gulf. Tampa Catholic was on bye.
On Thursday night, February 3, Hernando beat Tarpon Springs 46 to 35 in game one of the tourney and moved to play Tampa Catholic- a big game for Hernando on Friday night. Rickie Feacher was the top scorer of that game with 14 points. Collie Davis contributed 10, Marion Jones 9, Johnny Roberts 8, and Jan Chorvat 4.
Two years prior, Hernando won the Sunshine Conference in 1970 against Tampa Catholic, 73-62. Johnny Roberts donning the number 12 jersey for the Hernando Leopards, began his basketball career in 9th grade. He played with enthusiasm and, overall, was a spirited young man. He described himself as the smallest one on the team but with the most mouth.
Friday, February 4, 1972, the Florida State Fair was the event everyone wanted to go to. Like many spirited young men, Johnny and a few of his teammates decided to chance it and take the bus to the fair.  "Ed Poore told us that we need everyone here to go to the game, we need all the players, of course, the state fair was that Friday and the game was that Friday night. So me, Willis Outlaw, Ernest Drake, and Anthony Hill took our girlfriends to the fair that morning, hoping to get back before the bus took off to go to the game that night," Roberts said.
While on the bus heading back to Hernando High north on 41 traveling through Masaryktown, Johnny just happened to look out the school bus window and realized something. "As we were coming back from the fair, we passed the school bus with the basketball team going to Tampa. I was pissed because I was the starting point guard. We made it this far, and I missed the bus to the championship game."
With only seven players, they called them the 'Magnificent Seven,' Johnny Roberts recalled.
With only seven players, they still took the win over Tampa Catholic 51-47. Tampa Catholic was in the lead 25-15, but the court shifted when the clock started in the third period and the Leopards began to dominate. Marion Jones was the lead scorer against Tampa Catholic, bringing in 19 points, followed by Rickie Feacher 14, and Collie Davis 13.
What a game, but the heat on the court didn't stop at Tampa Catholic; they had one more game to settle champion status, and that was against Bishop Barry. Bishop Barry produced top shooters, but the one thing they didn't know was that Hernando was determined and focused on defense.
In his article "Hernando Captures Sunshine" published on February 7, 1972, Tribune Correspondent Bob McClure noted a critical call during the game.
"The controversy arose mid-way through the final period with the Leopards ahead 34-33 when Hernando's Nick Bray drove in for a layup that went wide of the mark before being fouled by Barry's George Brown. Bray was awarded the basket and a charity shot."
In his article "Barry Bows to Hernando Slowdown" February 6, 1972, Tampa Bay Times correspondent Mike Sutton wrote, "Marion Jones couldn't get the ball on offense. That was okay, as he found out a way to do it on defense. Rebounding…. Hernando held the ball the third quarter, winning it 5-4, but the fourth quarter was more explosive as Robert Dudley hit 12 points for Barry and brought them within two points several times. Jan Chorvat hit four straight free throws near the end of the game to spoil Barry's bid."
Hernando was titled Sunshine Conference champions on February 5, 1972, with a win over Barry Bishop 47-45. Total points: Dale Bennett at 6, Jan Chorvat at 5, Marion Jones at 6, Rickie Feacher at 12, Lester Jones at 2, James Bray at 9, and Collie Davis at 7.
"It was a big deal in Hernando, we're these country bumpkins up here at Hernando High School, and here are these big-city kids with scholarships, and we were able to take them on and beat them. It was a pretty big deal," Chorvat said.
On March 8, 1972, Collie Davis and Marion Jones were announced as part of the 10-man All-Sunshine team. Jan Chorvat and Rickie Feacher received honorable mentions.
"I made the all-conference that year (72) and nowadays, if you make all-conference, they'll (the media will) take your picture and talk about you, but back then we went to the Colombia Restaurant in Ybor City, that's where we were recognized," Jones said.
"After we graduated, Marion Jones and his brother Lester, myself, and another guy won a scholarship to Mississippi Valley," Roberts said. He wanted to acknowledge Lorenzo Hamilton for helping these men receive that scholarship.
Roberts moved back to Brooksville and became the head JV coach at Hernando High and assistant varsity coach under Ernie Chatman.
Does Roberts still feel disappointed about not being a part of the Sunshine Conference Championships? Sure, but Roberts has had success in coaching and as a school administrator within Hernando County. He's still a spirited man, with laughter that echoes harmoniously wherever he goes.
Norm Pingley assisted under Coach Ed Poore for three years and became head coach for the Leopards until 1976.
"When we (Pingley and Coach Poore) first got to Hernando High, there were very few people coming to the games. When we started winning, the bleachers were full from when Ed Poore was there till the time I left; that's six years," Pingley said.
"We had a really great crew," Pingley said. "I hated to leave Hernando High School, but I had a chance to move up to the college level."
Marion Jones went on to coach basketball, just as Johnny Roberts did. Jones also became a referee, and he also refereed games with Norm Pingley.
"We would referee three to four games a week during basketball season," Pingley said.
"I am following his footsteps, and now I am training other people what he gave me, so I am giving back," Jones said.
For four years, Norm Pingley held a basketball coaching position at Pasco Hernando Community College. Now Marion Jones' son Michael Jones is the head basketball coach for Pasco Hernando State College.
Basketball has been a significant part of the lives of Norm Pingley, Jan Chorvat, Imani Asukile, Marion Jones, and Johnny Roberts. Their athleticism, discipline, and determination brought something to the court, and that came from the direction and guidance of Ed Poore. His coaching skill, belief, and trust in his players made things happen and may have changed many of these young men's lives. They learned that anything is possible and that the success of a winning game is through a team and only through a team.
It was 50 years ago, on February 5, 1972, these men celebrated winning the Sunshine Conference Championship for Hernando High School. Their lives may have been different from ours today, but their knowledge and words of wisdom are important streams of the past.