By Dr. Aparna Bapat
[email protected]
[email protected]
Planning a party and you have invited health-conscious, picky eaters? Here are a few snack and drink ideas to please their palates as well as their healthy eating habits!
Tip 1- Pick fresh fruits, vegetables, and herbs that are in season and are locally grown, shop in local farmers' markets for this and for fish, eggs, and dairy products too.
Tip 2- Make fresh sauces, dips, marinades, dry herbs powder mixes and rubs, and fruit juices, do not use bottled/ canned stuff with preservatives, added colors, chemicals, sweeteners and salt.
Tip 3- Prepare a few things beforehand- planning menu, shopping, organizing, cleaning, cutting etc but make most things fresh on the day of the party.
1. Appetizer
Zucchini Patty with cilantro coconut chutney dip – (serves 2 pieces each for up to 8 people)
Ingredients- 3 medium-size green zucchini washed and grated with skin on, one medium-size red onion finely chopped, ¼ cup cilantro chopped, 1 cup oats, ½ cup cream of wheat, salt, fresh lemon juice, black pepper powder, ½ tsp garam masala powder mix, cooking oil spray (organic olive oil or canola oil.
Procedure- Mix all ingredients except cream of wheat and oil in a mixing bowl. The salt, lemon/lime juice and black pepper can be added as per taste. The mixture is moist and can be rolled into golf ball size portions to make patties with. Take the cream of wheat granules and spread in a dish. Press the patties on cream of wheat on both sides, to coat with a thin layer, this makes the cover crispy. Heat a cast-iron pan or skillet and spray oil, cook the patties till the surface is lightly browned and crispy on both sides.
Enjoy the patties as appetizers or as a side with a dip of cilantro chutney.
2. Cilantro chutney dip or spread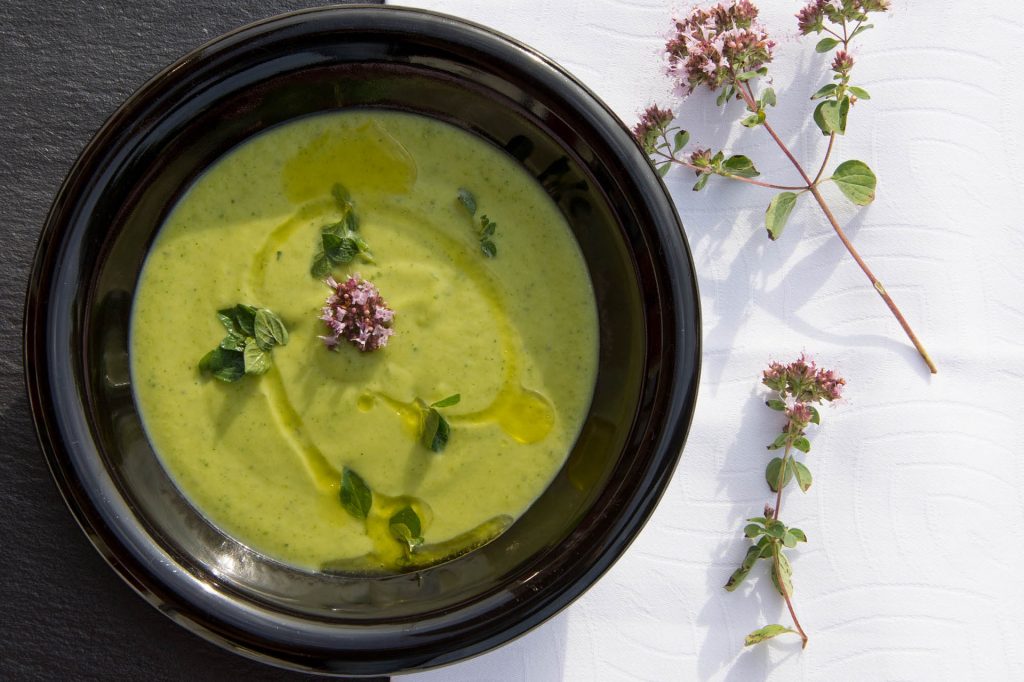 Ingredients- 1 to 2 bunches of cilantro, 1 jalapeno pepper, a handful of roasted peanuts (optional), fresh/ frozen grated coconut, salt, lime juice, brown sugar, 2-3 garlic cloves peeled.
Procedure- Wash clean the bunch of cilantro, cut the jalapeno and de-seed it. Take a handful of peanuts *optional, 2 handfuls of coconut, garlic, and salt, lime juice and sugar as per taste. Put everything in a blender and add few spoonfuls of water to run it smoothly. Grind the mixture to a paste consistency. This can be stored in a jar and used for a week if refrigerated. It can be used as a dip by mixing with yogurt and as a spread on sandwiches like a pesto.
3. Rose yogurt drink- cooling and nourishing
Ingredients- 2 cups plain organic yogurt of your choice (whole/fat-free), 4 cups water, 2 tsp rose essence water, 1 tbsp honey, 3 tbsp rose petal jam, 2 pinches of Himalayan salt
Procedure- In a big blender mix all ingredients and make a drink, pour into tall glasses, and garnish with edible rose petals. Serve cold