Deputies from the Hernando County Sheriff's Office (HCSO) are hoping that the public can help them find a man suspected of robbing the Cadence Bank at the corner of Powell Road and Barclay Avenue in Brooksville.
In a video statement Sheriff Al Nienhuis said that around 10 a.m. on April 12, the HCSO received a report of a robbery at the Cadence Bank located at 14211 Powell Rd. in Brooksville.
Deputies are currently seeking a clean-shaven black male in his early 20s standing 6-feet to 6'1" inches tall wearing a black mask, a gray hoodie, black jogging pants, charcoal gray sneakers with a white triangle on the back, and white laces. The suspect was also reportedly carrying a black bag, the HCSO said.
There were no customers inside the bank at the time, and none of the employees were injured in the incident, the HCSO said.
Following the robbery, the suspect fled on foot to the northeast behind the Discovery Point daycare. Subsequently, HCSO operators notified Discovery Point and the Hernando County School District, so that additional security procedures could be implemented to keep those on the campuses safe.
HCSO drone operators, the K-9 and aviation units, and patrol officers conducted an extensive search of the area but did not locate the suspect.
Nienhuis asked the public to help the HCSO identify the man.
"If you know anything about what occurred today, if you witnessed anything or if you have a friend who fits that description and might be acting a little suspicious, give us a call at the sheriff's office you can also contact crime stoppers," he said. "If you know something, please say something."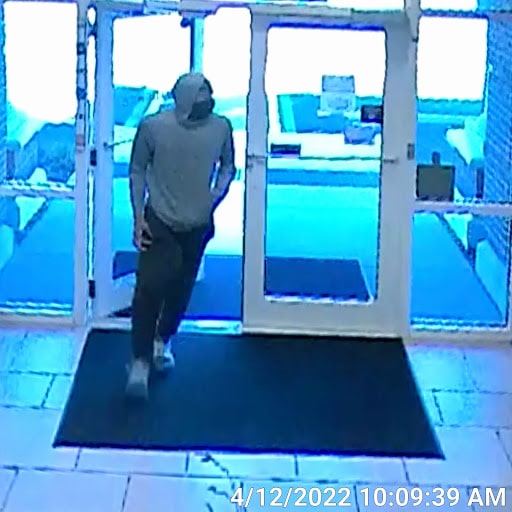 Tipsters may call the HCSO at 352-754-6830. Those who wish to remain anonymous should call Hernando County Crime Stoppers at 1-866-990-TIPS (8477) or submit a tip via the internet at http://www.hernandocountycrimestoppers.com.
Callers to Crime Stoppers may be eligible for a $5,000 reward.