A routine traffic stop in Spring Hill turned into a drug bust that netted a cache of drugs, a stash of drug paraphernalia, and nearly $2,000 in cash, the Hernando County Sheriff's Office (HCSO) said.
According to the agency, just after 9:30 a.m., on July 4, a deputy clocked a vehicle speeding north on Commercial Way at 86 miles-per-hour (mph) in a 55-mph zone and stopped it near Hunters Lake Road in Spring Hill.
When its driver April Dallaire, 30, rolled down her window, the deputy detected a smell of marijuana coming from inside.
During a search of the vehicle, investigators found two backpacks containing 33.5 grams of methamphetamine, 23.9 grams of cocaine, 369.9 grams of marijuana, 30.5 grams of Alprazolam, 16.1 grams of hashish wax, 3.2 grams of amphetamine, 3.3 grams of ecstasy, three tabs of Lysergic Acid Diethylamide (Acid) and one package of lingual Suboxone, all packaged in small amounts.
They also found an assortment of drug paraphernalia including needles, pipes, scales, and multiple plastic baggies, and more than $1,800 in cash.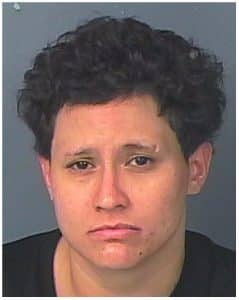 Deputies arrested Dallaire and charged her with methamphetamine trafficking, five counts of possessing a controlled substance with intent to sell, possession of marijuana with intent to sell, possession of hashish, possession of Ecstasy with intent to sell, and possession of drug paraphernalia.
She was booked into the Hernando County Detention Center where she is held on a $34,000 bond.