A dispute among neighbors resulted in a car crash and a shooting in Weeki Wachee last week.
According to the Hernando County Sheriff's Office ( HCSO), about 10:20 p.m. on July 20 deputies were responding to a call reporting that someone was erratically driving through the Genesee Drive area of Weeki Wachee. On route, deputies were told that a 9-1-1 caller reported that a shooting had taken place in the same area.
At the scene a witness told deputies that a neighbor was speeding through the neighborhood and that another neighbor stepped into the roadway to tell the driver later identified as Wesley Rhodes, 43 to slow down. When the other neighbor, later identified as 41-year-old Nicholas Vetter, returned to his yard, Rhodes drove onto the yard, past Vetter and collided with that man's house.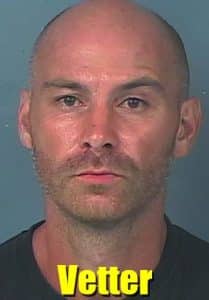 After the collision, Rhodes got out of his vehicle and became involved in a physical altercation with two other neighbors.
After a few minutes, Rhodes got back into his vehicle and started to drive away. A witness told deputies that as Rhodes drove away, she heard a gunshot. She turned and saw Vetter standing in the roadway holding a gun. When they reached Rhodes' home at 9115 Gennesee Dr. deputies found a bullet hole on the passenger side of Rhodes' vehicle.
They later located Vetter at a residence at 9062 Genesee Dr., but he initially refused to come out of the house to answer their questions about the incident.
An hour later, Vetter, who appeared to be intoxicated, exited the residence and was arrested at the scene.
Vetter was charged with Aggravated Assault with a Firearm and with Discharging a Firearm in Public. He was booked into the Hernando County Detention Center.
Rhodes was arrested and booked into the Hernando County Detention Center on a charge of Assault with a Deadly Weapon (Vehicle).
More charges may be pending as the investigation into the incident continues.