The appearance of an enchanting sea creature drew many admirers and on-lookers to Hernando Park over a weekend in late June, as kids and families stopped to gaze upon a beautiful mermaid perched on a rock. In 2020, the Florida Mermaid Trail introduced mer-magic to Hernando County implementing the creation of twenty-one handcrafted miniature mermaid figurines to be placed around the historic City of Brooksville. Now, Florida's Adventure Coast Visitors Bureau, Brooksville Main Street, and the Hernando County Fine Arts Council have marked the inaugural shipment of the life-sized mermaid statues that are included in Destination Mermaids – The Tail Trail.
Destination Mermaids – The Tail Trail will launch on the 75th Anniversary of Weeki Wachee Springs, with 25 life-sized mermaids that will be on display throughout Hernando County at local businesses and agencies that have agreed to sponsor and display these 80 pound statues, standing 6'8″ tall, 32" in diameter, and 54″ across. Every mermaid is uniquely created in the chosen artist's style. Artists will have 5 weeks to complete their statues. Hernando County Fine Arts Council will pay an honorarium of $1,000 to artists selected and matched with a mermaid sponsor. Each statue will bear a plaque across its cement base that includes the artist's name and a QR Code linking to a website boasting artist biographies and contact information.
"Destination Mermaids – the Tail Trail is the first official partnership between Florida's Adventure Coast, Brooksville Main Street, and the Hernando County Fine Arts Council. The Arts Council's contribution to this project was to create and promote the call to artists to encourage local artists to apply," said Jessica Knutila, Arts Council's project coordinator. "We had a goal to receive 100 submissions, and got extremely close with 96 total submissions. With so many well deserving artists, we hope to add more statues to the Tail Trail in the future."
The initial round of casts for these free-standing outdoor fiberglass mermaids were delivered on July 16. "These mermaid statues will be here forever, God willing," said Tammy Heon, manager of tourism development for Florida's Adventure Coast, Brooksville-Weeki Wachee. "This is so exciting, everyone has been so supportive of this project. This is a wonderful way to celebrate the 75th anniversary of Weeki Wachee Springs. The statues will be unveiled at an anniversary celebration on Oct. 13. I can't wait to see these all over Hernando County."
John Athanason, Tourism Marketing Specialist of Florida's Adventure Coast Visitors Bureau, agrees. "We've been wanting to undertake this project for a number of years," he said. "These are beautiful works of art, and there's a cultural aspect to the statues. The mermaid trail runs across the entire county and soon these statues will grace the rolling topography."
Also on hand for the mermaid delivery was the model for the statue at Hernando Park, former Weeki Wachee mermaid Kristy Lowman. She brought her parents to the event and took selfies of herself beside the siren created in her likeness. "To see the statue finally in person is overwhelming. I'm really humbled by it," said Lowman.
Destination Mermaids – The Tail Trail is a public art project; the Florida's Adventure Coast Visitors Bureau, Brooksville Main Street, and the Hernando County Fine Arts Council partnership will retain ownership of the mermaids until they are sold and will retain copyright on all designs in the portfolio that are produced into Mermaids. Net proceeds will benefit the partnership for ongoing maintenance programs and ongoing activity in support of the arts in Hernando County.
Natalie Kahler, Executive Director of Brooksville Main Street, sees Destination Mermaids as a jubilant statement of public art. "Brooksville Main Street is honored to help increase public art in this fun way," said Kahler. "The artist submissions were stunning and we can't wait to see them in real life!" Jessica Knutila added, "The Hernando County Fine Arts Council is grateful for the opportunity to partner on a new, exciting public art initiative that helps us meet our mission to support all the creative arts in Hernando County and to provide a means to showcase the arts!"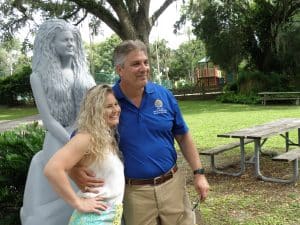 The Mermaid Artists
Tyler Harris was the first artist to receive his cast for the soon-to-be fiberglass mermaid statue. He is a Weeki Wachee lifeguard and an award-winning painter who painted a mural on the surface of Buccaneer Bay's lifeguard tower. Her mermaid will appear at Bayport Park and is sponsored by Ronnie Green, creator of A Fishing Story television show. "Projects like this one are getting me to a place that I want to be in my life," said Harris, an Arizona native whose mermaid design is a lovely southwestern design inspired by her home state. "It's all about building bridges."
Joan (Johan) Casadiego, whose tropical inspired mermaid statue is sponsored by Keith Kruger and will be placed at Kruger City. "It came out nice. I'm honored to be among the artists selected," said Joan. "My design represents all of the beautiful elements of Weeki Wachee. In my design these elements intersect, and include manatees, fish, and even a mermaid." He added with a chuckle "I just hope I can get this statue through the studio door!" he added with a chuckle."
Lynne Simone's mermaid statue will be located at The Captain's House and is sponsored by Yann Milcendeau. "I am super excited to have had my design chosen to be on one of the mermaid statues in Hernando County! Mother Nature mermaid will reflect the colors of the earth and have an adaptation of one of my paintings of kayaking on the Weeki Wachee River on the base with woodland animal friends surrounding her." said Simone. "I believe kayaking the natural springs of the Weeki Wachee is one of the most wonderful outdoor experiences Hernando County has to offer."
Karen Governale's mermaid statue will be located at Weaver Realty and is sponsored by Margaret Weaver. "I am SUPER honored and excited to be chosen to paint a mermaid statue for Hernando county!" said Governale. "As with most of my artwork, my design for her will be very colorful and bright. I hope to bring out her true beauty to celebrate this monumental anniversary for Weeki Wachee Springs Park."
Brian Morris will see his statue, sponsored by Yann Milcendeau as well, served up at the Silver Dolphin Restaurant. "I was extremely excited to find out my design was selected by one of the sponsors to be brought from my colorful design rising from the depths to the full scale 3D statue to be displayed for years to come as part of this adventure trail," said Morris. "I can't wait to get started, bring the beautiful mermaid to life and see her shine."
Autum Proctor's mermaid statue is in for a long stay at the Hernando Beach Motel, and is also sponsored by Yann Milcendeau. "What an honor!" said Proctor. "My mermaid 'The Rebel' is something I really wanted to take outside the box! I was inspired by Sailor Jerry's style of tattoos that cover her arms. I went for fiery hair and a gradient tail with tones of pinks, and purples. I grew up in a tattoo shop that my dad owns and he always supported my love for the arts! I am extremely honored to be picked for this, and can't wait to get started!"
Diane Liptak and Steve Krou will see their mermaid statue posted-up at the Chinsegut Hill Retreat and is sponsored by Cemex, who also donated cement pads for all statues. "My partner, Steve Krou, had the inspiration to produce a design that related to a historical aspect of Hernando County, namely, that originally Hernando County was intended to be called Amaxura, which was the Spanish name for the Withlacoochee River," said Liptak. "The earliest known documentation of Native Americans actually living in the area was in 1767 and was a Seminole Indian village consisting of Indians and slaves that had migrated to Florida from the Creek Indian town of Eufala in eastern Alabama. Steve has a deep and abiding interest in Civil War history and in genealogy, so this was an obvious offshoot of his personal inclinations. So we incorporated aspects of Seminole language symbols, culture, textile designs, diet, environment and religious beliefs into our representation of "Amaxura" for the mermaid Tail Trail piece and were pleased that the mermaid design allowed us a sizable palette to present the amalgam in a format both pleasing and historically significant to Hernando County. We are very happy to be painting this piece knowing that it will eventually find its home in the Chinsegut Hill Retreat and be a sustainable piece of symbolic artwork gracing the community."
Kaylee LaPlaca will find her statue at Hernando Park and is sponsored by Lowman Law. "I can not wait to start working on my mermaid statue!" said LaPlaca. "My mermaid design will be a beautiful, blonde haired mermaid who is very colorful, realistic and represents all things Florida! I am so excited and thankful to be chosen to be a part of this incredible project for Hernando County. I can not wait to see everyone's completed statues. I am grateful to be able to enjoy these mermaids for years to come and know that I was able to have a creative touch in this project!"
Roxane Campbell will see her statue at the Wellcome Om Center, who is also the sponsor. "I'm so thrilled to have been chosen to paint one of the mermaids that will be on display throughout our county!" said Campbell. "'Mermaid Ila' will be finished soon and her vibrant colors will reflect on numerous things in nature-the mermaid of reflected light. My inspiration for 'Ila' is based on a story I've written about a mermaid who would visit my daughter in our backyard canal, taking her on a magical journey throughout the beautiful Gulf of Mexico. It's so amazing to see my mermaid design come to life in a 3-D form!"
Jesse Simon will see his arty mermaid statue, sponsored by Diane Bedard of NatureCoaster.com, posed at Anderson Snow Park. "My mermaid is Nico and she plays guitar in her band, The Velvet Underwater," he explained. "Her bandmates are creatures of the sea. Nico's goals are to inspire others to reach for their dreams, put in hard work, and never give up. This is a very unique opportunity to show my work in public. I have never participated in something like this, and I am excited to see the mermaid come to life! As someone who has spent a lot of time on the Weeki Wachee river, and being in awe of the mermaids there since I was a little boy, I am honored to be chosen for this very special project."
Perhaps most fitting of all, current Weeki Wachee mermaid Lydia Byrd will see her mermaid statue showcased at Weeki Wachee Springs State Park and is sponsored by Friends of Weeki Wachee Springs State Park. "My design is mostly inspired by all the history that Weeki Wachee holds," she said. "From the first original theatre, famous guests that have visited, earlier shows that mermaids have performed, I'm even hoping to include a small portrait of Newton Perry himself! Other parts of the statue represent what we see at Weeki Wachee today. I named mine 'The Spring' because that's really what we're celebrating this 75th anniversary!"
Karen Heidler will see her mermaid statue at the Greater Hernando County Chamber of Commerce, who is also the sponsor. "I am thrilled and honored to be sponsored by the Hernando County Chamber of Commerce to paint their mermaid statue for the project 'Destination Mermaids: The Tail Trail!' I named my mermaid Flora because when I moved here 15 years ago, I fell in love with all the different kinds of flowers along the Weeki Wachee river, in backyards and along the gulf coast," she said. "I've painted them in my watercolors and now I will incorporate those flowers onto a mermaid! Along with highlighting the flora of the Nature Coast, I will include a beautiful Pine Island sunset and the calming, turquoise waters of Weeki Wachee. I think this will be a very challenging art project, but I am so excited to have this opportunity to create a memorable piece of art that will be displayed for years to come!"
Also a confirmed artist for the initial round of Destination Mermaid statues is Gary Duquette, who will see his statue sponsored by the Lowman Family Foundation and mounted at the Hernando County Courthouse.