Twenty-five cents. One shiny quarter. You can't buy much with it. However during the pandemic pocket change took on new importance. Retail stores experienced the great coin shortage. Cashiers asked us to dig into our purses and pockets for those pennies, nickels, dimes, and quarters. Apparently it was hard to get coins from the bank. In June of this year I began to notice the new 2022 Washington quarters. They caught my eye. Something was different. A real makeover!
How old is the Washington quarter? It was struck by the US mint in 1932, to commemorate the 200th birthday of our first president. Now in 2022 there is a new Washington profile and it is the first change to the obverse side in 90 years. Washington is seen facing right, not left. The new design came from sculptor Laura Gardin Fraser. It was submitted back in the 1930's but never chosen. The left facing Washington profile we all know was the one chosen first and done by John Flanagan. Now it's fittingly replaced by a woman's design for the start of the American Women Quarter Series. This series by the US mint will honor 20 outstanding women, five each year, and run from 2022-2025.
Who are these first five American Women? They are a diverse group whose lifetimes span 1881 to 2014. Included are an author, an actress, a poet and memoirist, an astronaut, and even a Cherokee Chief. Examining their lives gives us a glimpse of what it takes to be a true American hero.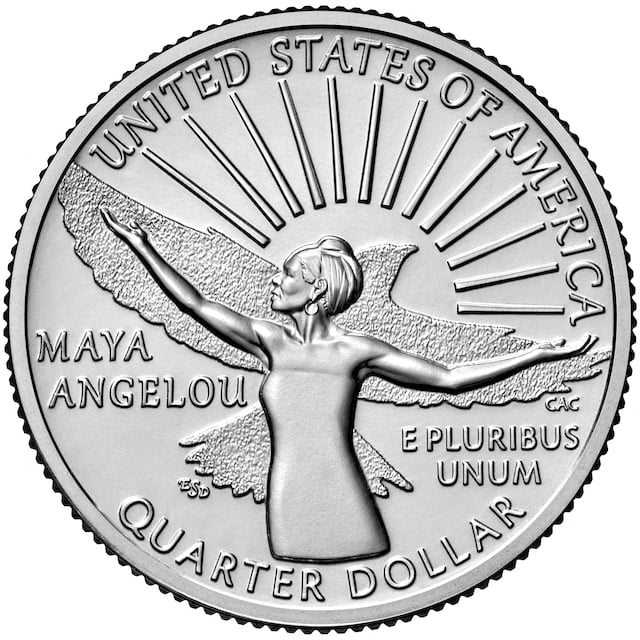 Maya Angelou, American poet, memoirist, and civil rights activist is on the first coin, released on February 7, 2022. Angelo gained notoriety in 1969 with the publication of her first autobiography, "I Know Why the Caged Bird Sings." She wrote a total of seven autobiographies, three books of essays, and several books of poetry. Over five decades she was known for contributing to plays, movies, and television shows During the 1960's she met and spent time with Martin Luther King and Malcolm X, discussing civil rights issues. She was asked to read her poem, "On the Pulse of Morning", at President Clinton's 1993 inauguration ceremony. Her appearance there sparked new interest in poetry. She was one of the first African-American women to publicly discuss their personal life. Through her works she shared thoughts about racism, identity, travel, and family. She received a Pulitzer Prize nomination and a Tony nomination. She won three Grammys for albums of her spoken word. She received 50 honorary degrees. Angelou passed away in 2014 at the age of 86. She is the first black woman depicted on a United States coin.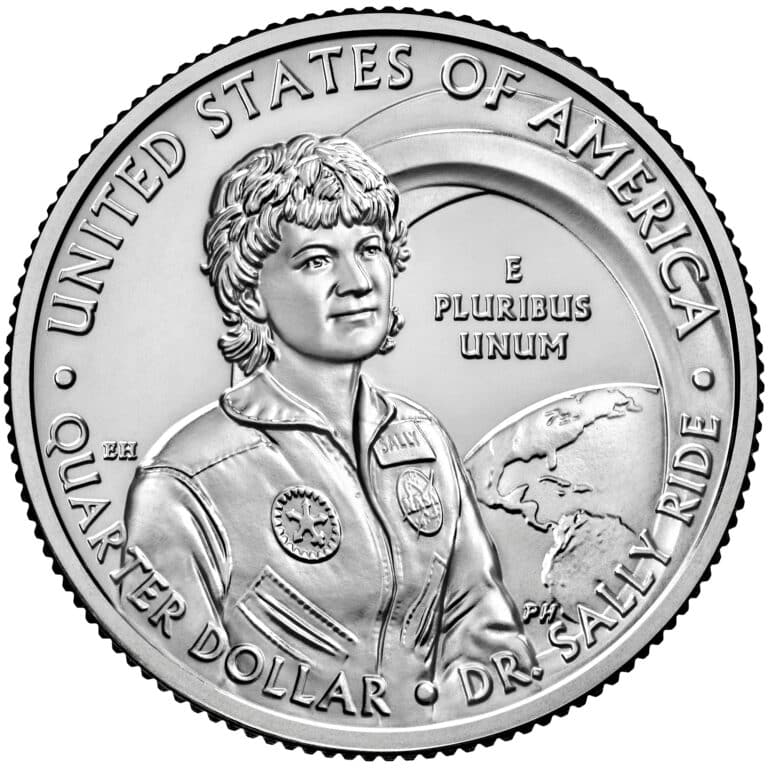 Sally Ride, an American astronaut and physicist, was chosen for the second quarter. Her coin was released March 22, 2022. She joined NASA in 1978, beating out 1,000 applicants to become an astronaut. Five years later she became the first American woman in space. Ride was the third woman in space overall, following in the footsteps of two Soviet cosmonauts. At 32 she became the youngest American astronaut to travel. As a mission specialist in 1983 and 1984 she spent a total of 343 hours in space. Ride would later investigate the 1986 Challenger disaster. And in 2003 she was called on for assistance with the Columbia disaster, making her the only person involved in both investigative commissions. Ride spent her later years as a professor of physics and as Director of the California Space Institute. In 2001 she formed her own company, Sally Ride Science. Through this company she inspired girls and young women to turn to science and math. Ride passed away from pancreatic cancer in 2012 at the age of 61. She received numerous awards including the NASA Space Flight Medal. She was inducted into the Astronaut Hall of Fame. In 2013 President Obama posthumously awarded Sally Ride with the Presidential Medal of Freedom.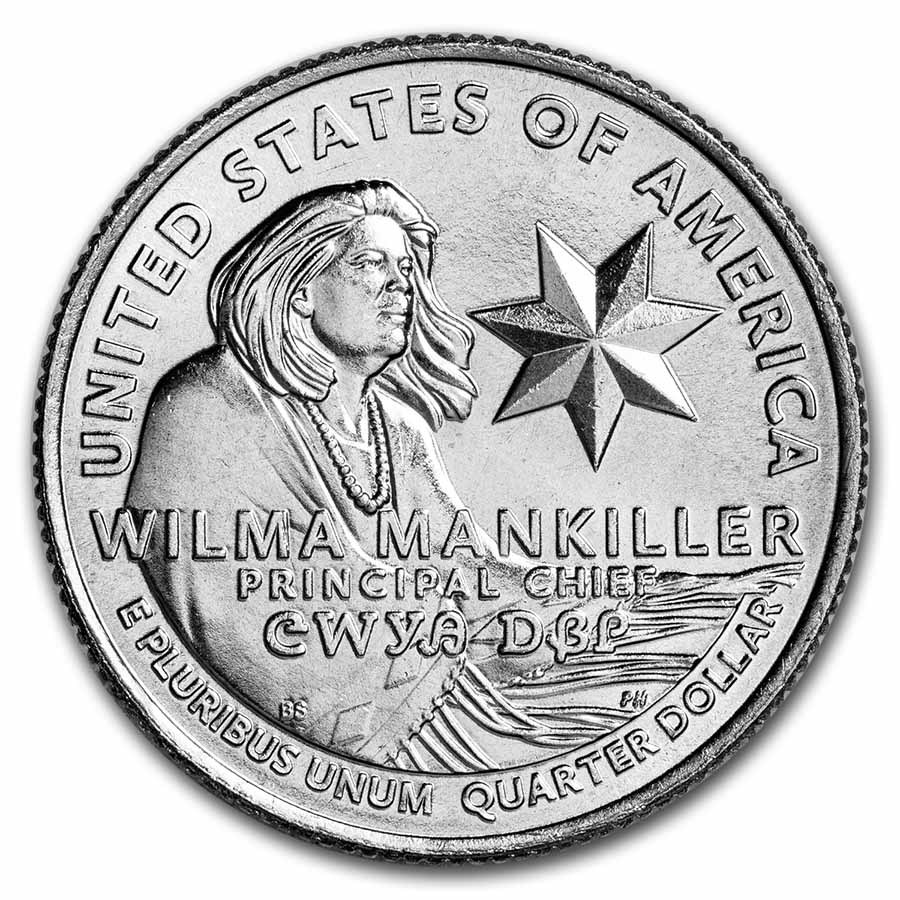 Wilma Mankiller, an activist, social worker, and Principal Chief of the Cherokee Nation is on the third quarter of the series. Her coin was issued on June 14, 2022. Mankiller was inspired by the political movements of the 1960's. She was deeply affected by the 1969 takeover of the federal penitentiary on Alcatraz Island by a group of American Indians. The takeover exposed Indian suffering . It made a statement to America that "Indians had rights too." Mankiller became respected for her knowledge of Indian affairs and served as Principal Chief of the Cherokee Nation from 1985 to 1995. She was the link between the Federal Government and the Cherokee people. During her ten year leadership Mankiller fought to improve education, healthcare and housing for Native Americans. For her leadership she was awarded the Presidential Medal of Freedom by President Clinton in 1998 . The Medal of Freedom is our nation's highest civilian honor. She continued to fight for Indian injustice despite her own health issues. She spent her later years as a visiting professor and speaker. Mankiller passed away in 2010 from pancreatic cancer at the age of 64.
Nina Otero-Warren was a suffragist, educator, and politician born in the late 1800's. Her coin, the fourth of the series, was released August 16, 2022. She had an activist mother and was exposed at an early age to the need for social and educational reform. From 1917-1929 Otero-Warren served as one of New Mexico's first female government officials. She held several titles including superintendent of schools. She fought tirelessly to improve education for Hispanics, Native Americans, and other students, particularly those in rural areas. She also lobbied to ratify the 19th Amendment, which gave women the right to vote. New Mexico lagged behind most of the nation in women's rights. It was the 32nd state to pass the 19th Amendment, doing so on August 18, 1920. Women faced and overcame other issues such as being able to hold public office or to have full property rights. In 1922 Otero-Warren became the first Latina to run for United States Congress. She ran as a Republican for the House of Representatives in the state of New Mexico. She suffered a narrow defeat. The margin was less than 10,000 votes. Her loss was due in part to poor public opinion. She was a divorcee and that carried with it a stigma at the time. She continued to work in New Mexico toward better schools, improved teacher salaries, and curriculum changes sensitive to culture. In the 1930's Otero-Warren became state director of the Civilian Conservation Corp,(CCC) and Director of Literacy. She led the way in historic preservation for the cities of Santa Fe and Taos. She respected her culture, promoting Hispanic art and language. She passed away in 1965 at the age of 83. In 1988 the state of Colorado honored her by naming Otero Elementary School in her honor.
Anna May Wong (born Wong Liu-Tsong) was an American actress and the first Chinese American Hollywood movie star. She is on the fifth and final quarter of 2022. Her coin is to be released October 25, 2022. Wong is the first Asian American to appear on US currency. She began in silent films, then moved on to sound. During her career she made 60 movies, and was on stage, radio and television. She was often given the role of a Dragon Lady or Butterfly, typical of her Asian background. Hollywood discriminated and had few good parts available for Asian women. In 1935 MGM refused to consider her for the leading role of the Chinese character in Pearl S. Buck's "The Good Earth." The lead was given to a white actress. Wong made history in 1951 with a detective television show, "The Gallery of Madame Liu-Tsong." It was the first time an Asian American played the lead role in a United States television series. Wong returned to China to visit. She was sympathetic toward the underprivileged and donated money to the Chinese refugees. In 1938 she auctioned her movie costumes to raise additional funds. She helped humanize the face of Chinese Americans, making us realize that perhaps East and West were not so different after all. Wong passed away in 1961, from a heart attack at age 56. She is honored for her film contributions with a star on the Hollywood Walk of Fame. She is also remembered just west of the Walk of Fame at the Gateway to Hollywood Sculpture. Her larger than life statue is one of four female pillars, each denoting a popular actress of different race and culture.
This year's American Women Quarter Series has quite an impressive and diverse group. All have made their mark in history although we may not remember each one of them by name. What they have accomplished took real courage and sacrifice.
Just twenty-five cents. Not much money but there's a story there somewhere. When you have time, look in your pocket or purse. Find those Washington quarters. Do you have an American Women Series quarter yet?