Co-owners of Downtown Loser Lee Golinello and Celeste Johnson were recognized by the City of Brooksville for their efforts in remodeling their new location: 202 S. Broad Street. Downtown Loser received the Margaret Ghiotto Commercial Improvement award at the October third regular city council meeting.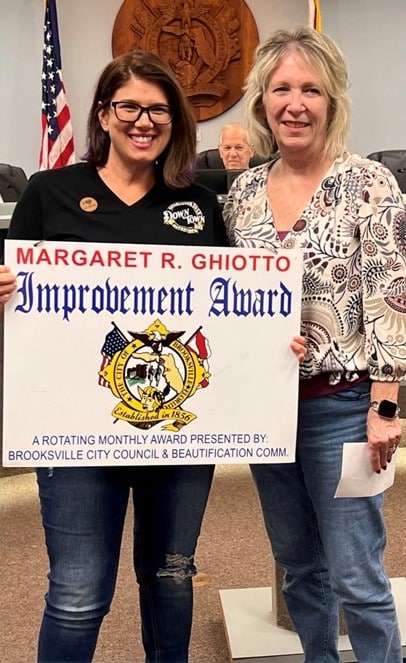 "This has been a long time coming!" Celeste Johnson said, thanking the Brooksville City Council. The award was presented by Brooksville Beautification Board Chair, Kathy Middleton.
Downtown Loser has just celebrated its 9th anniversary, 2 months after moving to 202 S. Broad Street, just a few doors down from their previous location. "It's a much bigger location," Johnson said, inviting newcomers to check out the new spot.
The new location on the corner of South Broad Street and Lemon Ave was given a new vibrant green color and general makeover, adding beauty to their block.
Downtown Loser specializes in nutritional shakes that help with weight loss and improved energy.
The Beautification Board takes nominations for the Beatification Award for residential and commercial properties throughout the entire year. Criteria for nomination includes:
• Property must be within the City limits of Brooksville
• Beautification is limited to improvement of the exterior and/or surrounding grounds;
• The Beautification effort must be easily recognizable to any person that is a member of the Beautification Board:
• The Beautification Board will select and award one (1) award per month to either a new or an existing property.
The selected business and home will receive a City of Brooksville award certificate and a yard sign with the phrase "City of Brooksville Beautification Award" to display on their property for one (1) month.