Photos and Story by
Axl Edward David
[email protected]
An investigation by the Hernando Sun has revealed that the Hernando County government has spent nearly $10,000 in taxpayer funds to advocate for the passage of a sales tax increase referendum on next month's general election ballot.
These expenditures come amidst a crackdown from Tallahassee prohibiting local governments from campaigning for ballot initiatives, and court cases across the Sunshine State challenging efforts similar to the referendum approved by Hernando County commissioners.
"Down in Flames"
At the February 22, 2022, meeting of the Hernando County Board of County Commissioners, County Administrator Jeff Rogers and commissioners discussed the ordinance that would put a sales tax increase referendum on November's general election ballot.
"I've been battling this," Commissioner Steve Champion said. "With what's going on with the school board, with inflation, with this terrible president we have, it's a lot to put on the citizens."
Commissioner Elizabeth Narverud echoed Champion's sentiments, "I just don't think it's good timing, I think it's going to go down in flames. I really do."
During the discussion, commissioners considered dedicating a small portion to law enforcement with the hope that it would entice more voters to approve the tax increase. "I say public safety helps sell this thing," Commissioner Jeff Holcomb said.
Ultimately, commissioners decided against including a public safety provision. Later in the back-and-forth, Commissioner Wayne Dukes discussed the condition of Elgin Boulevard.
"We don't have enough people to keep these roads patched," Dukes said. "We're gonna make your roads nice for a half a cent of your money!"
"The feeling I get from the community is that it's going down in flames man," Champion said, again expressing his hesitancy to put forth a ballot measure he felt was unlikely to pass.
"Who cares?" Dukes interjected.
The ordinance passed unanimously and set in motion the county's spending on campaign efforts – attempts to ensure the referendum's success over the hesitancy of commissioners.
Breakfasts, Banners, and Bulletin Boards
A breakdown of the county's expenditures on marketing efforts reveals nearly $9,500 was spent on materials like t-shirts, banners, and fliers extolling the benefits of a potential tax increase. This figure does not include county staff time used to design and distribute the materials, or to attend tabling events and speaking engagements throughout the county.
The largest expense, $3,458, went to New York-based Cathedral Corporation in May to print mailers included in utility bills, according to Hernando County Spokesperson Dominique Holmes.
Additionally, the county spent $800 to table at various events throughout the county, including "Politics in the Park" and two expos. Of that total, $500 went to the Chamber of Commerce, where Rogers spoke along with several county staff to man a booth, according to Holmes.
Just over $3,200 was spent on bulletin board signs and banners to display around the county. Separate from the mailers sent with utility bills, $1,751 was spent for 4,500 fliers from Sir Speedy, a printing and marketing services company headquartered in California with a location in Spring Hill.
Holmes cited other Florida counties that have outsourced their referendum marketing efforts, and said the county designed their materials in-house.
"Hernando County did not hire a consultant or firm," Holmes said. "We are spending a minimal amount of money to be good stewards of the taxpayer's funds."
Court Challenges and Semantics
Ninety miles southeast of Brooksville, attorney and State Representative Anthony Sabatini filed a lawsuit on behalf of Kissimmee resident Ruth Coberley challenging Osceola County's sales surtax referendum language. At issue is the usage of the word 'cent' instead of 'percent', which Coberley contends is deceptive and in violation of Florida law that mandates "clear and unambiguous" ballot language.
"Instead of using the legally accurate adverb 'percent' on its proposed ballot summary," the lawsuit reads, "Osceola County chose to use the noun 'cent', a term with a different literal meaning and far different connotation."
Similarly, Hernando County's referendum asks voters to vote for or against a "1/2 cent sales tax" in the referendum titled "Optional 1/2 Cent Sales Surtax Referendum". However, according to the ordinance passed authorizing the referendum, the actual implication of a 'yes' vote is a .5% sales tax increase.
While it may seem like legal semantics, the actual financial outcomes are significant. For instance, a half-cent increase on a $5,000 air-conditioning unit would be just that – a half-cent. But a .5% tax increase would tack on an additional $25 to the purchase price, for a total of $350 in sales taxes. The additional surtax would be capped at $50 on a single purchase.
Cliff Shepard, a Maitland-based government and contracts attorney who is unaffiliated with Coberley's lawsuit, told WFTV reporter Nick Papantonis that he agreed the usage of 'cent' in place of the actual percentage increase is deceptive.
"It is my opinion this is misleading," Shepard told Papantonis. "I think that's probably what a court will find."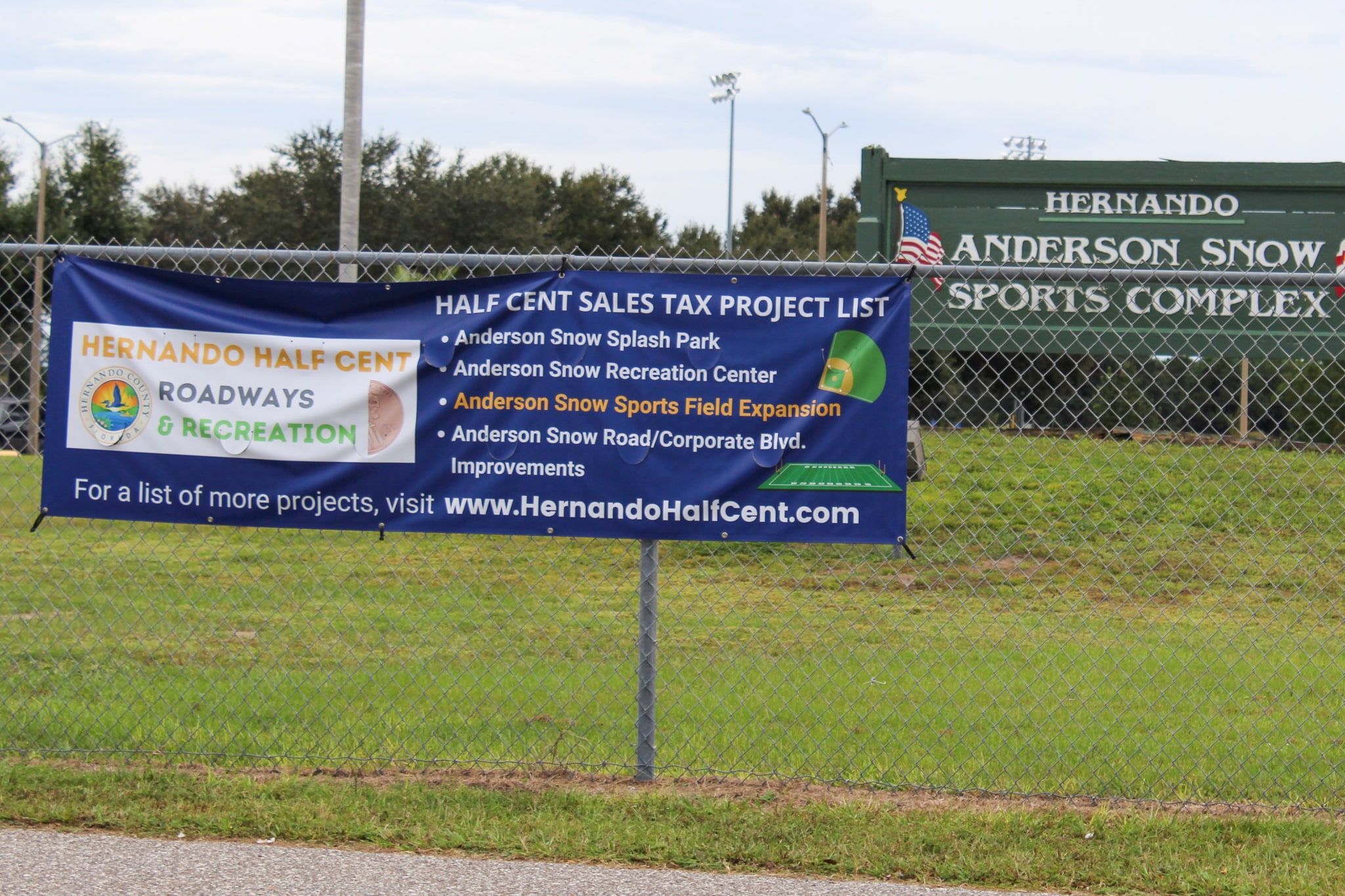 State Cracks Down
On July 1, 2022, House Bill 921 went into effect, restricting the ability of local governments to spend taxpayer funds to advertise or promote ballot initiatives. Prior to HB 921 taking effect, state law only prohibited local governments from spending public funds to expressly advocate for or against a referendum question.
When reached for comment, Jon Jouben with the Hernando County Attorney's Office said in a prepared statement that he believes the county's marketing materials are compliant with applicable laws. The county's ordinance placing the referendum on the ballot authorizes the County Administrator to "disseminate factual information concerning why Hernando County needs the proposed surtax," Jouben said.
"The County Administrator's expenditure of funds for this dissemination serves a valid public purpose," Jouben added. "[The ordinance] does not require the County Administrator to present the public with 'both sides' of the ballot question. Instead, it precludes the County Administrator from spending public funds on communications that either expressly advocate for the surtax (e.g., "Vote for the Tax," "Vote Yes!", etc.), or are susceptible of no reasonable interpretation other than as express advocacy of the surtax."
Jouben contends that the materials advocating for the tax increase are informational, citing a 2020 appellate court ruling that said bringing awareness of a ballot issue does not constitute a political advertisement.
Tom Rask, a longtime Tampa Bay taxpayer advocate, reviewed the marketing materials produced by Hernando County. Rask believes the county's materials violate the spirit of the law.
"Material that doesn't explore both the pros and cons, the positive impacts as well as the negative impacts, can never be truly informational in nature," Rask said. "Public funds don't belong to one side in a public policy disagreement." HB 921 amended Florida Statutes to prohibit local governments from spending public funds for a political advertisement "or any other communication sent to electors concerning an issue … that is subject to a vote of the electors" irrespective of whether the communication is limited to factual information, according to the bill.
Since the new law went into effect, the county has spent over $3,500 to advocate for passage of the tax increase, including $200 to staff a booth at two different expos.
State Representative Spencer Roach was a co-sponsor for HB 921, and stated the bill was intended to prevent local governments from using public funds to campaign for ballot initiatives.
"Taxpayer dollars should not be used to try to campaign on an issue in local government," Roach said during a State House session debating the bill. "It's self-dealing and that's wrong… that's what the bill is designed to prevent."
Jouben believes that the county's marketing expenditures since the new law took effect are compliant. "The legislature allows a local government to expend public funds to passively disseminate factual information concerning a ballot issue," Jouben said.
The Hernando Sun contacted all five Hernando County commissioners regarding the county administrator's referendum spending. None of the commissioners responded to a request for comment.
Ultimately voters will decide the fate of the sales surtax. Early voting will take place October 26th through November 5th, with Election Day on November 8th.