On Sunday, the Hernando County Hawks held their second of many practices of the offseason. The coaches and players met at Kennedy Park in Brooksville and ran drills in the surprisingly sweltering setting sun. As the focus in the Sun's last column about the Hawks was regarding their players, naturally it is now time to shine a spotlight on the coaches. The staff of the Brooksville-based football team is comprised of Owner Austin Webster, General Manager Paul Vermeulen, Head Coach Eric Riggins Sr., Running Backs Coach Eric Riggins Jr., Offensive Coordinator Fabian Burnett, Defensive Backs Coach/Defensive Coordinator Taz, Wide Receivers Coach Blake, and Team Chaplin Josh Mallmann. The Sun had the chance to speak with some of the coaching staff about their backgrounds and what led them to become coaches with the Hawks.
Head Coach Eric Riggins Sr. has coached football at multiple levels of the sport for nearly 20 years since graduating from the University of Southern Mississippi. Since 2003, the Hawks' head man has coached high school football, Hernando Youth League, and the Brooksville Ballers. A semi-professional football team that preceded the Hawks, the Ballers won the championship of their league in 2013 under the guidance of Coach Riggins. What led him to want to get into coaching? The short answer: a love for the game.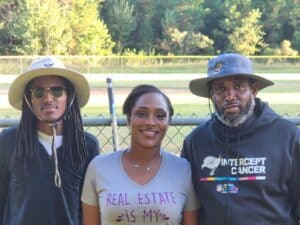 The longer version: "When I got done, I wanted to still be a part of football," Coach Riggins said. "I just really believe football saved my life, saved me from getting in trouble, kept me out of the penitentiary. I'm going to say that because you have to be disciplined, you have to be respectful, and it's all about your character, your morals. So, football will teach you all those life skills."
Coach Eric Riggins Jr., the head coach's son, serves as the running backs coach for the Hawks. Though Riggins has three years of experience coaching Hernando Youth League football and a year as a coach at Hernando High, this will be his first season coaching a semi-professional squad. Like his father, Coach Riggins played football in Hernando County. The elder Riggins played high school football at Hernando while his son played for Nature Coast before an injury cut his career short.
"My dad coached me in the Hernando Youth League," the younger Coach Riggins said. "I played out there for about four years, then I went to Powell Middle School. I played football there for three years and I played at Nature Coast my freshman year up until I broke my arm. Then I just pretty much stopped playing, but I always stayed around it because my dad always coached it… So, I kind of wanted to keep it going through the family."
Coach Taz's background was a little different as he "excelled in the culinary arts" starting around 13 years of age. The 22-year-old coach is a certified chef and recently decided to "flex all [his] muscles in the savory chef area" by starting a bakery. So how does a chef get into coaching?
Like the head coach, Coach Taz "always loved the game of football," but he was diagnosed with an auto-immune disease which ended his career his junior year of high school. The young coach was initially hesitant at the concept of coaching, but he explained what convinced him otherwise.
"I didn't have the desire to coach because I didn't want to work with people who didn't want to be there," Coach Taz said. "I wanted to be able to choose who exactly I wanted to work with. So, I was more of a trainer prior to this point… and essentially, I knew I wanted to be here because I knew the people that would be out here wanted to be here."
Coach Riggins and company are preparing to put toe to leather in their preseason matchup against the Tarpon Springs Pirates on January 21. The game will kick off at Hernando High at 111 Ernie Chatman Run at 1 PM on the third Saturday of the new year.