Imagine strolling down the streets of historic downtown Brooksville and at every stop you're able to observe artists as they create and discuss their masterworks. This is a chance to view a brilliant spectrum of colors and media while you also enjoy live music and wine. That's the whole idea behind the Downtown Brooksville Art and Wine Stroll taking place 5-9 pm on November 17, sponsored by Brooksville Main Street. Now, for the first time in the event's long tradition, the Art and Wine Stroll will be free and open to the public, with drinks available for sale on site and special VIP tickets are also available for purchase.
Featuring 15 local artists and locations, this event is the biggest Art and Wine Stroll to date. There will also be meet-and-greet opportunities with these artists and artisans.
"Local artists, including painters, sculptures and glass blowers will set up their art inside a local business in the Brooksville Main Street District," said Natalie Kahler, executive director of Brooksville Main Street. "Attendees will have the opportunity to enjoy the art and some artists will have items for purchase. Artists that are able to will also be creating their art during the stroll and participants can watch the magic come to life."
VIP tickets are $30 per person and will include a commemorative cup, three drinks, and appetizers at a designated VIP Lounge. On the day of the event, VIPs must first check in at the Hernando County Courthouse to obtain wristbands and commemorative cups. You can purchase your ticket at www.tinyurl.com/artstroll2022.
Founder of Roots Creative Co. Allisa Babor stated, "This is a wonderful time to support and purchase from artists right here in our town. Each artist at this stroll calls Hernando County home and we are so excited to share a look into our talented community with you all!"
Event proceeds will benefit the Brooksville Main Street Design Committee, funding their mission to create and promote opportunities to experience public art and historical architectural design.
Event artists expressed their great enthusiasm for the Art and Wine Stroll, including painter and mixed media artist Kait Salbert. She shared, "I'm super excited to participate in the Art Stroll. I've been wanting to get involved in the art community here in Brooksville. There's a lot of amazing talent, and I'm happy to be a part of it. I'll be displaying my "flash and flower" pieces, they're inspired by tattoo flash and nature."
Musician Isaiah Haddon will be on hand to perform as well. "Having been a Hernando resident for my entire life, nothing brings me more joy than seeing Downtown Brooksville bursting with excitement and seeing Main Street be a center for culture and talent. The Art and Wine Stroll is an amazing opportunity not only for visitors and locals to witness a wonderful community come together, but for artists to become a part of a culture of love and passion that Brooksville has grown to become," said Isaiah Haddon. "As a musician, hearing music fill the streets either during Courthouse Concerts or Friday Nights Live makes me admittedly giddy. Being part of this event alongside my bandmates in He Kindly only adds to my enthusiasm! He Kindly had the honor to play during Musicade, another music event put on by the Brooksville Main Street Program. Their professionalism and clear vision made it easy and comfortable to share the work we passionately make in a place we are passionate about."
Clay Lint will offer paintings and mixed media. "I'm gonna be there showing my acrylic paintings," said Clay Lint. "I paint a lot of pet portraiture of people's animals. I moved down from Cleveland this year to Brooksville and have loved being here so far. The community has been great and I just want to show my art and get out there with the other artists around town."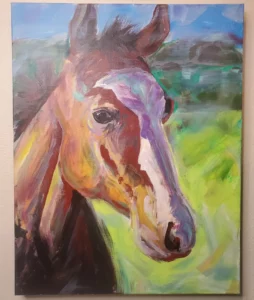 Nathan Spence will offer artistic glassworks."I was honored that they asked me to participate this year! I've had the opportunity to do the Art Stroll in the past and it was an awesome event that got me to check out some new businesses, that I haven't had the chance to check out, as well as local artists that have since turned into great friends," said Nathan Spence of senOiH. "Anytime Brooksville Main Street is hosting an event, I know it's going to be a lot of fun and connect me with more of the community! It looks like they are going to be doing things a bit different this year, where it will be open to the public (instead of a ticketed event) so hopefully there will be even more people coming out to walk around and enjoy the arts!"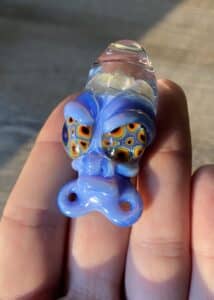 Sena King specializes in gourd art. "Since Brooksville has been my haven for over 50 years, I am very excited about participating in the Art & Wine Stroll this month. Over the past several years, downtown Brooksville has really come a long way, thanks to all the wonderful efforts of all those on the Arts Council etc… in bringing our Community many new, exciting and stimulating venues to enjoy and inspire," said Sena King, the ArtGourd Queen. "After all, what's the point of Art, no matter its form ~ if not to bring joy to the eye of the beholder, offering a moment of respite in these trying times and perhaps tickling their inner Artistic Self into taking a leap into the untold joys of creating. I am ever grateful for any opportunity to share my Passion with others ~ Wood Burning (Pyrography) on ArtGourds ~ in the hopes of bringing a smile to their face, and perhaps sparking their interest in this ancient-of-art-forms. All my work is done by painstakingly freehanding a design on the gourd in pencil "exactly" as it must be, before I can even begin to burn, since you can not "erase" once you have burned."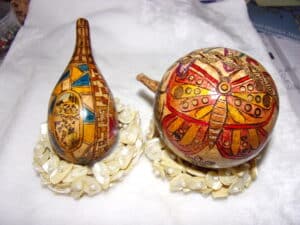 Brandon Morris will offer artistic photography at the stroll. "I was excited to be asked to participate in the art stroll this year," said Brandon Morris. "This will be my first time doing this along with having three pictures at city hall with the art show there. I'm excited to be able to show my work alongside all the awesome local artists we have here in Hernando County."
Painter Jessie Leasure is a Hernando County arts scene veteran."I have been a part of this arts community my entire artistic career. It is my absolute delight to see this wonderful and underrated community grow; it is even more of an honor to be a part of it!" said Leasure. "At the Art & Wine Stroll, I will be featuring my 'Un-Censorship' series, a body of work I've been cultivating for a while now that opens up discussion about shared human experiences like stress, grief, or depression. So often, we feel compelled to hide these moments of so-called "weakness," but I find unveiling them helps us feel unalone when we realize these experiences are shared with others. I will have several original pieces along with some prints available for sale at the event. I also plan on doing a live demo on how I create my work by working on an in-progress piece." "I cannot wait to meet everyone who is able to make it to support our local arts community! For more information and images of my work, please visit my website at jessieleasurestudios.com." said Jessie Leasure.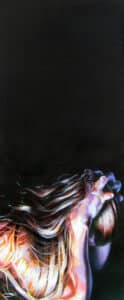 Painter Autum Proctor brings a diverse portfolio to the Art Stroll. "I primarily work in oils, but I try to keep a diverse toolset-I've worked and taught in acrylic, charcoal, graphite, and even done tattooing. I'm passionate about bringing joy to the mundane and I express that through my teaching. There is nothing that drives me more than a student who is certain they 'can't paint' and then seeing the look on their face after a two-hour session and they've produced a landscape or portrait of their pet that they never dreamed could come from their own hand. There is no challenge I won't tackle and I am constantly working to be able to interpret a client's desire through my own prism and produce a work that they enjoy and challenges me," said Autum Proctor.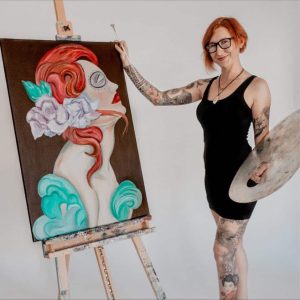 Other participating artists include ceramics artist Charlie Cartwright, musicians Profound Revelation Studio, painter/multimedia artist Jason Roman, pine needle basket maker Angela B, painting and mixed media artist Sam Rispoli, and watercolor painter Yolanda Barreto.
"I'm a transplant from the north but consider Spring Hill HOME," said Roman. "I've always loved the artistic community in Spring Hill/Brooksville and am glad it's growing in the way it is. That's why I'm honored to be a small part of this great event."