Offering a new community location where seniors can gather and fulfill their social, health, educational and emotional needs
Recognized as important community focal points by the Older Americans Act (OAA), enrichment centers are not only one of the most popular services available to senior citizens nowadays but also a necessary one. Studies show that, for seniors who want to remain happy and healthy long into their golden years, it's important for them to socialize and stay as active as possible.
Monday, Nov. 14, 2022, marked the grand opening of the Krueger Enrichment Center. Named after Bill and Ody Krueger, beloved parents of local entrepreneur Keith Krueger, the Krueger Enrichment Center is set to fulfill those senior needs in its new Spring Hill location. Conveniently located, the center aims to enrich the lives of adults of all ages in our community, including those with special needs.
The Executive Director of the Krueger Enrichment Center, Debbie Druzbick said, "It's thanks to Keith Krueger and Marti Covert of Win The Day that we are able to continue the work of the Spring Hill Enrichment Center at this beautiful new facility.
Win the Day Foundation is a nonprofit organization with the sole purpose of serving our community and identifying the needs and gaps in social services for senior citizens, foster care parents and more. The foundation, led by Keith Krueger, the president, and Marti Covert, the executive director, recognized that the Spring Hill Enrichment Center had been providing these services for decades but were currently without a location from which to operate.
Marti Covert added, "So rather than reinvent the wheel, we were delighted to let the Spring Hill Enrichment Center use our location to continue their essential work."
"It was a beautiful gift that fell out of the sky for us," said Druzbick.
Enrichment centers today are a vibrant, action-packed combination of fitness and exercise, support groups, a transportation hub, leisure activities and even some tasty dining. They are dedicated to help seniors live healthier, more fulfilling lives.
The direction and oversight of the Enrichment Center is provided by its board of directors, led by Paul Morana. Members include Donna Gaula, Gina Carver, John Druzbick, Joseph Mason Jr., Lucy Morana, Nick Morana and Salvatore LaRosa.
Newly elected to the board is former Fire Commissioner, Bob Kanner.
He said, "It is an honor to be chosen to sit on a board that serves the senior citizens of our community. I will definitely give 110 percent effort to maintain and extend the great reputation of the Spring Hill Enrichment Center."
"It's our aim to continue being your resource for healthy, active living," Druzbick said. "You can count on the center, along with all its volunteers, to deliver vital programs and services to connect Hernando County's seniors to essential community resources to help them stay healthy, socially engaged, and independent, she said.
About 150 guests and visitors attended the grand opening. Holy Cross Lutheran Church pastor, Teresa Stewart conducted a blessing of the building at noon.
The Kruger Center is located at 392 Beverly Court, Spring Hill, FL 34606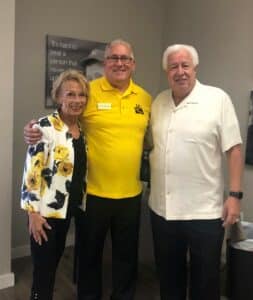 Sue Quigley writes regularly for The Hernando Sun. She can be contacted at [email protected] or 727.247.6308.