Did you know that some long-term memories can last a lifetime? The upcoming Christmas season is bringing up some of my favorite ones. For me, they appear like brief video clips of some old technicolor movie. Somehow my brain retrieves what I want, organizes it, and then gives me a mental picture of that simpler holiday time of the 1950s and 1960s. It all starts with the Christmas tree.
On the farm, there was never any discussion about the merits of an artificial tree; real trees only! By early December, our Dad would get a Christmas tree from Andy Kana, our neighbor in Masaryktown. Andy had acres of cedars, and Dad would top off the best one. He'd bring it home in the back of our 1949 Chevy pickup, often with my older brother Lou riding along. That old farm truck served us well for over 30 years! Meanwhile, Mom and I got the bed sheet set up on the living room floor and filled a container with sugar water.
After the tree made it into the house, Dad was in charge of the lights as no one else could get them just right. We had large solid-colored incandescent bulbs, 25 to a string; they measured twice as large as today's night light bulb. And trust me, they could be temperamental some years. So when one light went out, the whole string went out. Each bulb had to be then carefully checked, twisted, and turned to find the culprit.
We also added several strings of bubble lights to the tree. They were a 1938 idea from Carl W. Otis. There wasn't anything like them before! Hard to believe Otis pitched his idea and prototype to ten different businesses, and only one was even interested, but NOMA began production of his bubble lights in 1946.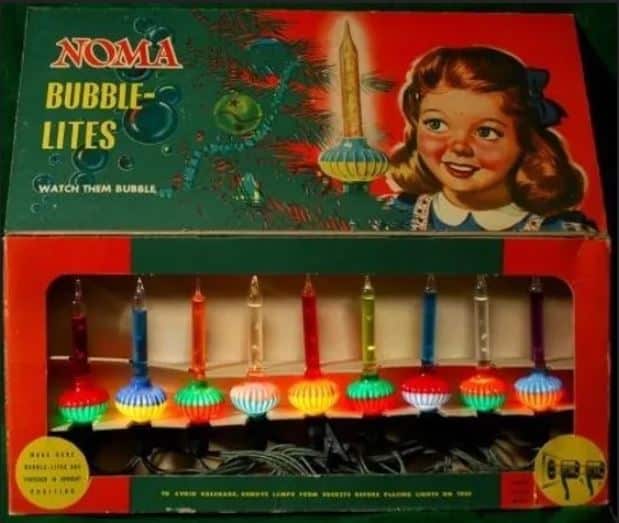 Each bubble light had a lighted decorative base, crystal or rock-type filter, and a closed clear glass tube of liquid. The liquid "bubbled" at a low temperature, with heat from the light inside. The motion started in seconds or certainly within a few minutes, triggered by not much more than the warmth of your hand! The liquid inside was a colorless fluid called methylene chloride – often tinted yellow, red, green, or blue.
Only some of the lights would bubble within a reasonable time. To bubble, a temperamental bulb might have to be tapped or turned upside down, then right side up. Such unique lights got prime placement on our Christmas tree, and I loved to watch them bubble.
Little did we know that this liquid inside was an ingredient in paint thinner! So beware of any broken bubble lights! Methylene chloride is a poison–dangerous if swallowed, inhaled, or left on the skin. It converts to carbon monoxide in the body. But as long as the fluid stays inside the tube, all is well! Bubble lights were trendy from the 1940s to the 1960s. Still impressive today, there are new styles of bubble lights widely available for purchase.
In memory, I waited impatiently. The lights were taking Dad such a long time! Then, finally, came my favorite part! I could start decorating! Out from the closet came small boxes of glass ornaments from West Germany. They were okay, but I was after something else—-a large plain box that simply read "ornaments." To me, that box was a buried treasure! It easily held 100 or more Christmas ornaments inside, so there was no telling what I would find!
Many ornaments on my parent's tree came from a company called Shiny Brite. This company began in the late 1930s. A German-American immigrant and businessman named Max Eckardt started Shiny Brite. He saw a need to have beautiful American-made ornaments readily available for everyone. In addition, he wanted to offer up something to rival those imported European designs. So Eckardt coated his glass ornaments with silver nitrate to stay shiny longer. He claimed they would remain bright season after season, hence the name Shiny Brite.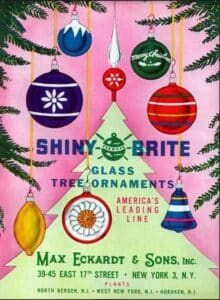 Eckardt pitched his idea of Shiny Brite ornaments to the Woolworth department store. In 1939, they ordered hundreds and hundreds of them, selling for two-to-ten cents apiece, in various sizes and styles. They caught on and were popular for several decades. Shiny Brite made balls, bells, pine cones, Japanese lanterns, and indented round reflector "stars" and "flowers," to name a few. Radko, another famous ornament manufacturer, later purchased the company. Today they sell retro-looking Shiny Brite ornaments in all styles. However, I don't think they have the character of the originals.
What else was in my big box? I remember the large paper mache balls created by a maker named Kurt Adler. In the 1950s, this Jewish refugee created beautiful Christmas scenes on paper and turned them into ornaments. He often pictured Santa Claus giving out gifts, angels, candles, and snow. Each Adler ornament had its unique feature. Each ball opened up in the middle. It was like having two halves of a coconut. I distinctly remember pulling mine apart and filling it with heavy tinsel. When back together, it made quite a noise! Adler ornaments are available today in newer forms, but again they're not the same.
No 1950s or 1960s Christmas tree would be complete without loads of tinsel. Not the lightweight strands like they sell today! The tinsel of years ago had some real weight to it! It was made of lead alloy and some other metals. This made for long silver strands with some real shine and heft! Of course, this was in the days before lead was considered a health hazard! The old-fashioned tinsel reflected the light and had a wonderful drape and appearance. Did you know that we got our word tinsel from the French? They have the word "etincelle" which means sparkle.
Finally, no Christmas tree I decorated back then would be complete without a small village below it. My childhood village was nothing elaborate—just a collection of glittered cardboard houses and some plastic ones, trees, fences, and plastic people, including Santa and his reindeer. My "town" spread out across the white bed sheet as if resting on snow. I remember anxiously waiting for dinner to end so I could spend time having some adventures under the tree!
Some of the family ornaments and decorations have survived. They now hang proudly on my Christmas tree. My 70th Christmas! Each one reinforces memory. Sometimes I wonder which ornaments were purchased first and where? And it's hard to choose which ones I like the best.
I am fond of my Shiny Brite Japanese lanterns, the red bells, and the indented reflectors on those small round balls. I like the 1956 Kurt Adler paper mache ones that open in half. Just think! I was only four years old when they first hung on our tree!
It's almost Christmas again.
Bring on those technicolor memories!
I hope they last a lifetime!
Christmas Technicolor Memories by Judy Warnock