Hernando County is blessed to have a historic home situated on one of the highest points in the area overlooking a scenic valley below. Chinsegut Hill consists of the manor house, which serves as a museum, as well as a retreat and conference center. Several cottages are also located on the grounds, serving as lodging for overnight visitors.
The Annuttaliga Chapter of the Daughters of the American Revolution (DAR) has a special connection to Chinsegut Hill. They hold their meetings there, and they've taken on a number of projects to beautify the property.
On Saturday, December 3rd, a group of the chapter's members erected two birdbaths they had donated to the estate and began working on a butterfly garden.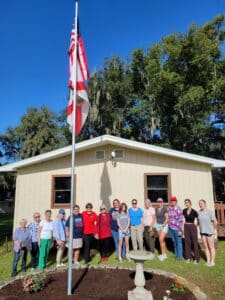 Teri Dioquino, Regent [President] of the chapter, commented, "It's an honor to contribute to the preservation of a beautiful property through projects from cleaning the gravestones at the family cemetery to contributing to the conservation initiatives started by the original landowners. The bird baths and butterfly garden were a wonderful opportunity to extend our community service projects."
The Daughters of the American Revolution is a national organization with local chapters made up of women who have ancestors that either fought in the War of Independence or played an important part in that effort. The Annuttaliga Chapter's projects at Chinsegut Hill coincide with part of the DAR's mission which is promoting historic preservation.
The sixty women who belong to this chapter are rightfully proud of their heritage and the work they do in the community in the area of education, promoting patriotism and supporting our active military personnel and veterans.
Their next project will be the presentation of a National Society of the Daughters of the American Revolution (NSDAR) Excellence in Historic Preservation award for the Hawkins House at 510 E. Liberty Street in Brooksville. The house was built in 1896. Lena Culver Hawkins moved to the house in 1911 and was the first female mayor of Brooksville and one of the first in the United States. She was also a suffragette. The award will be presented on December 12 to Tricia Bechtelheimer, the current owner of the house.
If you are interested in joining the Annuttaliga Chapter or would like assistance in tracing your lineage to find out if you qualify to join the DAR, log onto https://annuttaligadar.wixsite.com/annuttaligadar/contact-us or you can email Teri Dioquino at [email protected].