A Spring Hill man has been arrested after deputies from the Hernando County Sheriff's Office (HCSO) found several grams of drugs at his residence.
HCSO Spokesperson Denise Moloney said that acting on a warrant on Jan. 25, members of the agency's Vice and Narcotics Unit searched the home of 51-year-old accused drug dealer James Lupini at 13155 Siam Drive in Spring Hill. The warrant was the result of an undercover operation during which Lupini sold methamphetamine to undercover operatives, she said.
At the residence, investigators found 7.7 grams of fentanyl (the trafficking amount of which is 4 grams); 19.4 grams of methamphetamine also within the trafficking amount for that drug; drug paraphernalia including baggies and scales; a firearm and $2,900 in cash.
As a result, Lupini was arrested and charged with trafficking in fentanyl and possession of fentanyl with intent to sell. He was also arrested and charged with multiple counts related to the sale and distribution of narcotics, including three counts of trafficking in methamphetamine, three counts of possession of methamphetamine with intent to sell, three counts of possession of a structure for the purpose of selling a controlled substance; three counts of the unlawful use of a two-way communication device; and three counts of possession of drug paraphernalia.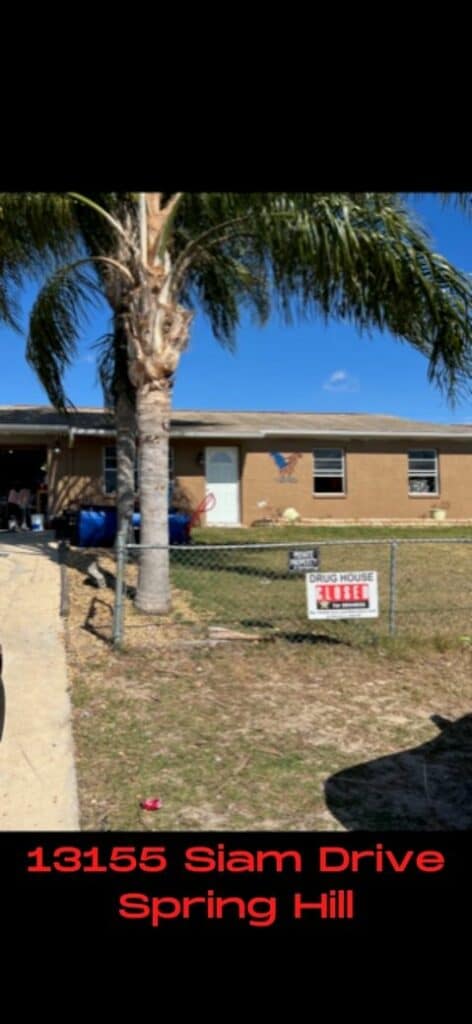 He is being held at the Hernando County Detention Center on a total of $314,000 bond.
Moloney also said that animal cruelty charges against Lupini are forthcoming in connection with the 16 pit bull terriers, some very aggressive, found living in deplorable conditions inside the house.
All of those animals were removed and taken to Hernando County Animal Services for care and examination, she said.
Photos courtesy of the Hernando County Sheriff's Office