Parked near the dense forest of the Chassahowitzka Wildlife Management Area, a volunteer from a missing person search team just returned from his lunch break. He's leaning on the bed of his white pick-up truck, an imposing figure with mirrored sunglasses, a ballcap, and several cuts on both arms. Some scratches still have fresh blood; others are scars – evidence of an intense effort in an unforgiving woodland environment far from Florida's famous beaches and amusement parks.
"You can see how thick it is there," said 'Nico,' a volunteer with the private search group We Are the Essentials. He uses a pseudonym due to the sensitive nature of other cases he's involved with.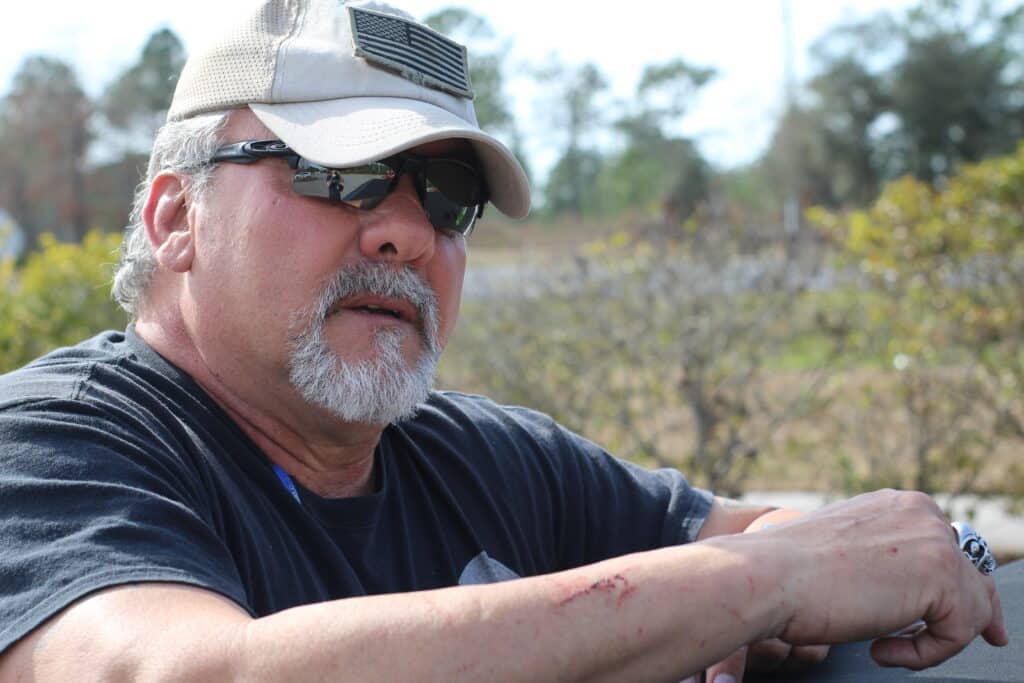 "A lot of people don't realize there's low-lying thickets beneath the trees," he said, gesturing to the forest. "If a majority of the missing people were on trails, we'd be finding them left and right."
The Departure
Timothy Braddy planned to leave his home in Grants Pass, a small city in southwest Oregon, on December 2, 2022, leaving his fiancé Erin McCarty to stay home with her daughter. However, heavy snowfall in the Rogue Valley that day changed those plans.
"The [mountain] passes ended up being shut down for people who didn't have [tire] chains," McCarty said from their home in Grants Pass. "So they turned him around at the pass. We were excited to spend one more day with him."
The next day, with the snow cleared from the pass and temperatures rising to the upper 40s, Braddy began the lengthy cross-country trip to Tampa Bay with the promise of a new job in Lakeland, where he was born nearly 35 years earlier.
"He was excited for his new job," McCarty said. "He has six kids in the Panhandle, he was going to be closer to his kids temporarily, and his parents also live in the Panhandle. We both knew this was a good opportunity to make a lot of money, and he'd be financially stable again."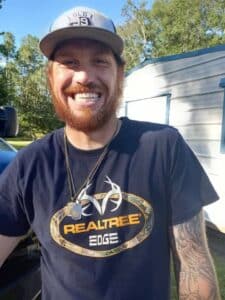 While on the road, he had conversations with McCarty about being homesick and second-guessing his decision to leave Oregon. "I remember crying with him quite a few times the night he left," McCarty said. "We both had a really tough time the first couple of days he was on the road."
The Disappearance
Due to the inclement weather leaving Grants Pass and losing a travel day, he was under a time constraint. According to McCarty, he wasn't sleeping much, pulling over for short naps when the fatigue of the solo road trip started to get the best of him.
As he got closer to his destination, other factors came into play that aggravated his exhaustion. His last truck payment was supposed to be delayed, but the bank debited it early, causing his checking account to overdraft. Then his phone broke.
"He was extremely exhausted," McCarty said. "He was getting paranoid; he was hallucinating; it was just really scary."
The last time McCarty spoke to him, his truck broke down. "He was angry because his truck was on the side of the road," McCarty said. "He was walking and didn't know where he was. His character was off; it was absolutely off."
Braddy's mother, Kimberly Braddy, also noticed something was off when he stopped responding to her text messages.
Soon, McCarty lost communication with him. Fearing he was not in a good state of mind, she filed a missing person report with the Grants Pass Police Department on December 11, 2022. Although they knew he was in Florida, they were told by various law enforcement agencies that the missing person case had to originate from the agency at his last known address.
Three days later, the Hernando County Sheriff's Office deputies found Braddy's truck abandoned on US-19 near Weeki Wachee High School.
The Search
Upon learning the abandoned truck was associated with a missing person that was possibly endangered, HCSO initiated a multi-agency search for Braddy.
"We used technology to attempt to identify the location of his cellular device," said Denise Moloney, Public Information Officer with HCSO. "We conducted neighborhood and business canvasses, we checked with residents and businesses who had surveillance cameras in the area…"
HCSO also dispatched their Aviation Unit to fly multiple flights to locate Braddy. According to Moloney, mounted patrol units and deputies with drones and on foot canvassed to aid the search efforts. Mutual assistance was requested from the Pasco Sheriff's Office.
"A PSO bloodhound was requested by HCSO on December 15, 2022, to assist in searching for a subject that was reported missing out of Oregon," said Britney Morris, Public Information Officer for PSO. "Several tracks were attempted, and all were met with negative results."
As the search efforts ended, frustration mounted for Braddy's family. Grants Pass Police Department considered the case open but inactive and did not consider Braddy to be endangered. A press release from HCSO indicated he relapsed, but his mother said he's been sober for nine months.
HCSO closed the abandoned vehicle case, which led to confusion over their involvement in the ongoing missing person case out of Oregon.
Braddy visited his parents and children when he drove through the Panhandle a few days earlier. "He was in good spirits," Kimberly Braddy said. "He was excited for his new job."
"There are circumstances that dictate how resources are allocated," said Officer Trent Pruitt with Grants Pass Police Department, the investigating officer for the missing person case. "It's not illegal to go missing."
Pruitt explained that without a criminal nexus, such as kidnapping, there's little law enforcement can do in these situations beyond the physical search efforts. For instance, they cannot get warrants for bank records or cell phone data because the Fourth Amendment prohibits obtaining this information through a court order without probable cause of illegal activity.
Braddy's family turned to Nico for assistance in their search, whose team has deployed their own drones and combed over 100 linear miles. So far, they've located a construction vest and a cigarette pack near Homosassa that the family believes belonged to him.
While searching for Braddy, Nico located a deceased woman, later identified as Tina Everhart, the subject of a separate missing person case. The Florida Highway Patrol is currently investigating her death as a hit-and-run. A suspect in that case, a 66-year-old man from Brooksville, has since come forward, claiming he thought he hit a deer. Troopers continue to investigate that case, and charges are pending, according to FHP.
"Throughout most of Florida, there are no missing persons squads," Nico said. "The homicide detectives in this state, who are already overwhelmed, they're the ones that get assigned to missing persons."
"People get wrapped up in what they see on TV," he added.
Braddy's mother has relied on Nico's search team to follow up with the leads that have been pouring in. She's circulated dozens of his photos, with Braddy sporting a bright, toothy smile in all of them except his driver's license photo.
"Nico is number one," Kimberly Braddy said. "He's an awesome man. He's determined, he's funny, he knows his stuff."
"When I get up in the morning, I'm on the phone from the minute I wake up until two or three in the morning," she said. "Keep bringing the leads in. No lead is stupid; no lead is not worth looking into."
In addition to making the trek down to Hernando County to aid in the search efforts, Braddy's family has been following up with law enforcement agencies across Florida and seeking help wherever they can get it. Often, they're met with resistance due to the fact that the missing person case is the responsibility of an out-of-state police department.
Still, they remain hopeful. "I can't say enough good about the community," Kimberly Braddy said. "When his father Terry and I went to Weeki Wachee, we made friends down there. It's a tight community. The leads we're getting are fabulous, and Nico has backed us up."
McCarty reflected on her last conversation with her fiancé before he disappeared. "I'm really thankful that I had the opportunity to tell him how much I love him, how much his family loves him," McCarty said, pausing. "And he got to say 'I love you too.'"
***
If you have information on the whereabouts of Timothy Braddy, please contact 'Nico' with We Are the Essentials at (516) 253-0610 or the Grants Pass Police Department at (541) 450-6260.
If you'd like to donate or volunteer to the search efforts, you can find more information at: WeAreTheEssentials.com