A quartet of hospitality folk is behind a new food and wine bar in Brooksville inspired by resident Tim Plumadore. "Called 1946 Wine, Beer & Small Plates, it was conceived following a conversation with my high school friend, Jason Canals, during a Bucs game last October," said Tim. "I was in real estate for a while, and the location of 1946 was actually my former business office."
Tim's high school friend, Jason, is the owner of Fresh Pik'd Produce Market and Cafe, located right next door to the wine bar. "It was a perfect combination of assets for our venture," said Tim. "We actually share the kitchen, which is centrally located between the two businesses," he added.
Tim was born in New Jersey but came to Florida at an early age with his parents, later graduating from Central High School. He went on to St. Leo University with a basketball scholarship. A successful realtor and a former coach in the community, Tim is a board member of Brooksville Main Street — a nonprofit organization focused on the growth and development of downtown Brooksville. "Brooksville is really growing, and we wanted to get more involved in preserving the historic elements of downtown Brooksville," he stated. "That's why my wife, Kristina, and I, along with Jason and his wife, Melissa, decided to invest right here in the center of Brooksville."
The 1946 Wine Bar is on the original Gulf gas station site at 13 S. Brooksville Avenue and near the water tower.
"The history of Brooksville is important to me," said Tim, "that's why we kept the original signage from the gas station on our end wall. We also designed our logo in the same colors and retained various items like an old gas pump and oil containers to play into that theme," he said.
From its conception to its actual opening day on Jan. 13, 2023, planning, engineering, and permitting processes to get the wine bar operating took almost four months. "Our opening night was one of the coldest we've had for a long time," said Tim, "but our patrons didn't seem to mind. We had our outside heaters on and lots of customers."
"Since then, we've seen a continuous flow of patrons and lots of familiar faces from nearby local businesses who pop in for a glass of wine or a beer before going home." 1946 Wine Bar aims to appeal to everyone. The wine selection is superlative and includes Champagne, plus there's a whole slew of different craft beers (about 62) from all over the world, including Poland, Germany, and Russia.
"One popular one we've discovered is the chocolate and peanut butter stout," said Tim. "And if you're looking for something other than a cold one.
There are mimosas, sangria, and margaritas in a can, plus our extensive wine selection.
"A favorite of patrons is our bottomless mimosas," said Tim. 1946 also has a delightful menu of small plates; all made fresh to order, perfect for sharing with friends.
"We have a unique selection of flatbreads that pair perfectly with all our beverages," he said. "Or keep it simple with our selection of charcuterie boards with several choices of meats, cheeses, vegetables, jams, and jellies that you and your friends can graze at your leisure."
Dylan Smith provides regular entertainment on the deck with his solo acoustic guitar performances! Plans for the future include extending the roof to cover the outside deck, so inclement weather doesn't become a problem," he said.
Check out 1946 Wine Bar on Facebook: 1946 Wine, Beer + Small Plates | Brooksville FL for details on their Wine NOT Wednesdays, Bottomless Sunday Brunch, Thirsty Thursdays, and food truck evenings. Princes and paupers are equally welcome at 1946. Lounge inside or chat with the regulars on the outside deck. It's a genuinely one-of-a-kind venue where anyone can sit with their thoughts and sip sensational drinks.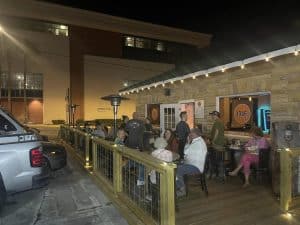 History of the Gulf Gas Station
Courtesy of Robert G. Martinez
Publisher of Old Brooksville In Photos & Stories Find of Facebook.
The Gulf gas station, located on S. Brooksville Avenue in Brooksville, and now occupied by the 1946 Wine Bar, was first opened in 1946 and run by a gentleman called Joe Westover Sr. for two years. Mr. Downs then owned it from approximately 1948 onwards.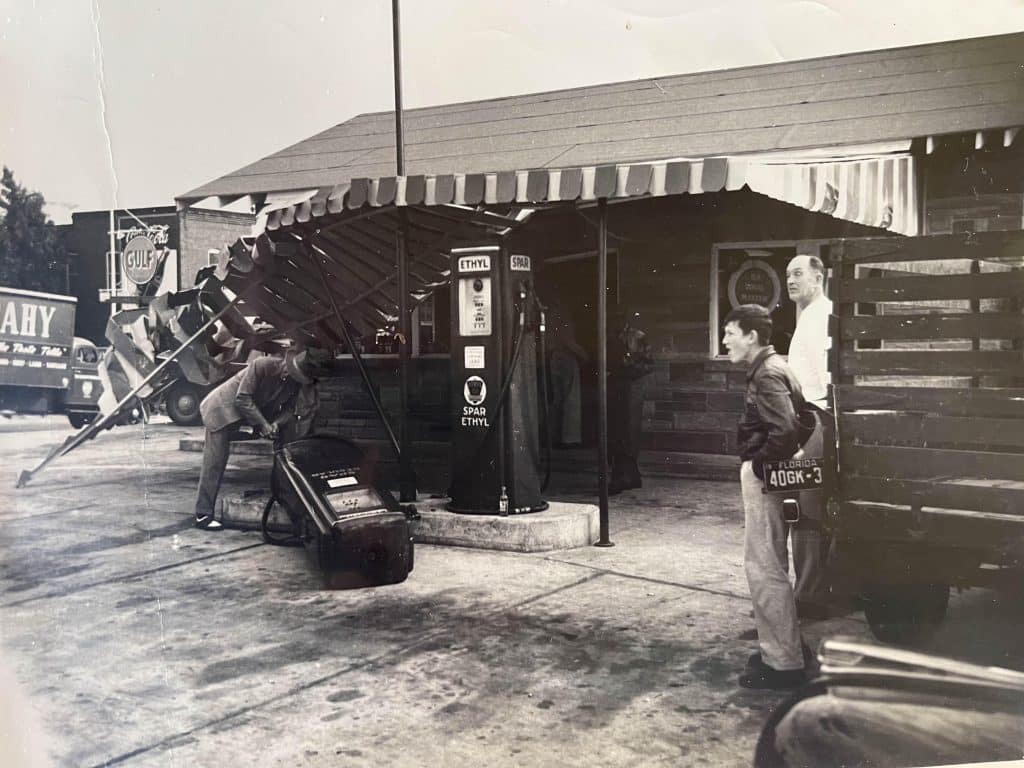 Mr. Downs was the father of Bruce B. Downs, who graduated from Hernando in 1949 and later became a prominent figure in Hillsborough County politics. He later had a major avenue in Tampa named after him called Bruce B. Downs Boulevard.
The 1958 phone book listed the gas station as Downs Service Station and was a Sinclair Oil dealer and also sold MobilOil. The Brooksville City directory of 1965 then listed it as a Gulf dealer again.
The gas station closed down around 1970. Next door to the gas station was the famed Pete's Hamburgers from the 50s and 60s. This is where Fresh Pik'd Produce Market is located today.