The mathematical concept of Pi, also known as the number π, equals the ratio of a circle's circumference to its diameter, which is just about equal to 3.14159. And while only mathematicians might grasp the full meaning of Pi, just about everyone grasps the concept of a delicious pizza pie; and of helping others.
From 11 am to 9 pm on Tuesday, March 14, aka 3/14, Smokin' Oak Wood-Fired Pizza and Tap Room – 13180 Cortez Blvd. in Brooksville–will offer a special deal on their signature variety of gourmet pizzas – all while accepting donations to benefit K9 Partners for Patriots.
K9 Partners for Patriots is a a 501(C)(3) Nonprofit Organization devoted to ending veteran suicide with the help of rescue dogs.
"We exist to prevent veteran suicide, to provide hope and healing for those struggling with Post-Traumatic Stress Disorder, Traumatic Brain Injury or Military Sexual Trauma," reads a mission statement. "Together we provide a positive path forward through the experience of training and caring for their own service dog in a safe environment of camaraderie, friendship & family that brings veterans from self-doubt to self-confidence; from isolation to reconnection."
This Pi Day, Rod M. Scott, CC, CPC, Chef, Franchise Owner of Smokin' Oak in Brooksville, part of a national pizza franchise, has thought of an innovative way to raise funds for K9 Partners for Patriots on Pi Day; one he conceptualized with wife and co-owner Cat.
"This is our special Pi day. Since Pi is 3.14159265359….. We decided to sell Pizza Pies for $3.14 on 3-14," he explained. "A little fun and pun and the important part of our restaurant is giving back to the community."
This is a very personal project for Scott, a veteran who also works with beneficiaries of the Wounded Warriors project, teaching them pizza-making skills in his restaurant kitchen.
"Being a Wounded Warrior myself, I have chosen K9 Partners for Patriots as our non-profit charitable organization," he said. "So on Pi day, we sell pizzas for $3.14 but we ask for a small donation to K9 Partners at the same time, so it's a win, win, win for the customers, the organization and we may get new customers for future pizzas."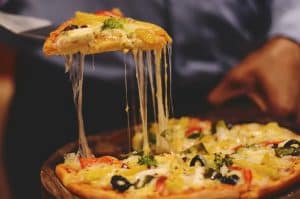 Scott said that he himself at one point considered adopting a therapy dog through K9 Partners for Patriots.
"I was medically retired from the Army after 32 years and went to culinary school at 55 years old – starting my passion of opening a restaurant," he said.
So on Pi Day, as folks buy Signature or Build Your Own Pizzas at Smokin' Oak, they'll be bringing the lives of veterans 'full circle.'
Also next week, other Hernando businesses will also be doing their part to support K9 Partners for Patriots. They are:
Wed., March 15: Dairy Queen / Brooksville
901 S. Broad St.
K9P4P receives 25% of the purchase price when someone mentions K9 Partners for Patriots
Time:11 am to 10 pm
Sat., March 18: Pet A Palooza (Terlep Chiropractic)
8466 Northcliffe Blvd, Spring Hill
A portion of the proceeds goes to K9P4P
Time: 10 am to 1 pm
Ron Flaville, CEO, K9 Partners for Patriots, said: "We are especially grateful for the efforts of local businesses like Smokin' Oak Wood Fired Pizza, Dairy Queen and Terlep Chiropractic. Their support helps us prevent veteran suicide and continue to help veterans find their positive path forward together with the service dog they train."