Women gather together to have fun, bake babka and other delicious goodies for Temple Beth David's upcoming Jewish Food Fest
Mixing in the yeast, salt, and flour; kneading the dough until it's ready to be rolled or braided; talking and laughing with their peers — that's how a group of Temple Beth David women has been spending their days for several weeks now.
The ladies have been gathering to bake babka and other delicious traditionally Jewish foods for the Temple Beth David's 27th annual Jewish Food Fest and Spring Bazaar to be held on March 19, 2023.
"By baking together, we have grown to know each other very well," said Jan Humphreys, a U.S. Navy veteran, and leader of the group. "That's why we get together and bake regularly for our congregation and for special events like our food fest."
"We like to think baking our authentic recipes helps bring our heritage to the community with authentic recipes," said Cookie Goodman of Spring Hill, who handles publicity for the Temple. Cookie was an elementary school teacher for 30 years. She has eight grandchildren and four great-grandchildren.
The group is representative of an emerging generation of Jewish women bakers who are finding ways to preserve their heritage in their baking sessions.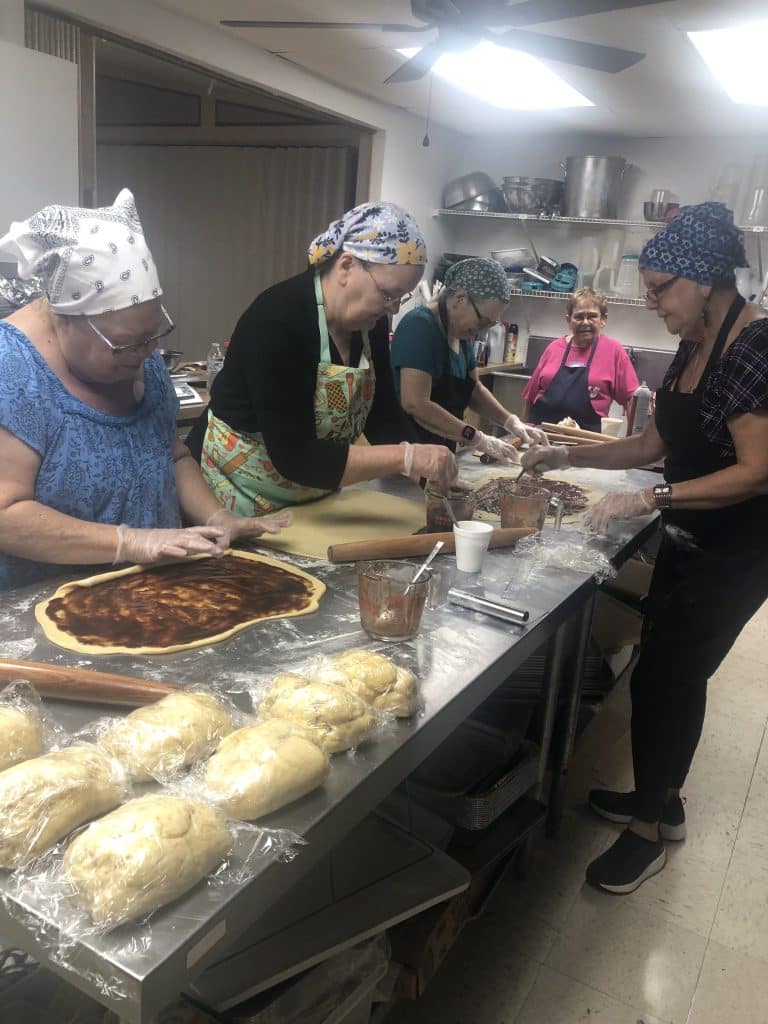 The group regularly bakes foods like Latkes or potato pancakes, Blintzes, a crepe that is always filled (usually with a sweetened cheese mixture) and is cooked twice – once when the crepe is made and a second time after being filled. Knishes, a traditional Ashkenazi Jewish snack food consisting of a filling covered with dough that is typically baked or sometimes deep fried. It's a favorite street vendor food. Rugelach, a buttery, light, and flaky croissant; Sufganiyot, an Israeli doughnut; and Hamantashen, a triangular filled-pocket pastry, associated with the Jewish holiday of Purim.
But today, it's Babka, a loaf made of rolled and stuffed dough that is everyone's favorite and most in demand. Babka hails from Eastern Europe and is a yeasted cake typically filled with chocolate, cinnamon, or fruit, although it lends itself well to almost any filling, sweet or savory.
Baking for the Jewish Food Fest 2023
"Our group is wonderful," said Carla Klein. "We bake and prepare around this big table in the middle of the kitchen, and we chat about almost everything – our families, books, tv shows, and trips. We really enjoy talking among ourselves."
"No dishes are actually Jewish," added Jan. "What happened is that we've lived all over the world; we've been kicked out of almost everywhere, but we always take the recipes with us," she added.
"Food brings people together," said Cookie Goodman. "It's our way of providing a platform for the many people who want to learn and taste more about Jewish food.
Everything the group bakes is made from scratch.
"We buy our products well in advance, usually from donations made by our congregation, and we're hoping that sales at the food fest will be strong to boost the synagogue's coffers," said Jan.
From the butter to the flour to the cinnamon filling for babka, everything is made from raw ingredients.
"We have so much to do today," said Jan, as she checked a table full of rising dough balls waiting to be filled with chocolate or cinnamon filling.
"Actually, we made the dough yesterday and left them overnight to rise so we can roll them out today," said Jan. "It saves us so much time."
"All our kitchens at home are utilized to the fullest, too," said Carla.
"We use the synagogue freezers to store our baked goods, of course, but all our home freezers are full to the brim, too," Jan said. "We spend an average of 9 hours a day baking for several days every week to prepare for the food fest, so you can imagine just how much we produce."
The Temple Beth David baking group has been together for several years now, and Carla knows that sharing is caring, especially when it comes to baking.
"I like to make Hamantaschen and Rugelach at home," she said. Hamantaschen is a triangular-shaped filled cookie flavored with almond which Carla believes makes them even more special than a regular sugar cookie. Traditionally they are made for Purim, a holiday where Jewish people celebrate being saved from Haman, the antagonist in the Book of Esther, who was an official in the court of the Persian empire under King Ahasuerus.
Macaroons are another popular item made with almond and coconut extract.
"Rugelach are small and sweet and have a chocolate and fruit filling in them," says Carla. "Rugelach dough made with sugar, butter, cream cheese, and flour is often prepared at home, too, to save time because it has to chill.
"Then when we meet together in the kitchen at the synagogue, we roll it out, cut it, fill with raspberry or apricot jam and some chocolate chips and nuts before being cut a certain way reading for baking," said Gayle.
New to the group this year is Debra. Debra hails from Tonga and is currently attending conversion classes held at Temple Beth David.
"My task is to spread the cinnamon mixture on the rolled-out dough," she smiled. "It has to be just right, so it can be rolled up and folded to fit perfectly in the baking tin."
Jan explained, "all of us contribute the recipes we use. We feel it's very important to pass down how our families bake, and it's nice to pass the recipes on to people who aren't Jewish so they can taste a bit of our culture."
"I know we have the food fest coming up on March 19, but you don't have to be Jewish to come and fall in love with our delicious baked goods," she added.
"And every crumb of it is made with love," said Gayle.
••••
Temple Beth David The 27th Annual Jewish Food Fest and Spring Bazaar
WHAT:
Delicious foods, local vendors, music, plants, and celebration for the entire family. A raffle will be held for a handmade quilt made by the Temple Beth David crafting group.
WHEN:
Sunday, March 19, 2023
Vendors: 10 – 4 pm
(More than 45 vendors will be showcasing their goods)
Food Hall: 11 – 4 pm
WHERE:
Temple Beth David
13158 Antelope St.
Spring Hill, FL 34609
For more information, call 352-686-7034
Pre-ordering available soon at www.tbdfl.org
Sponsors include: Carter Foreman, PLLC • Florida Tax Advisors • Gary Fecarotta • Gamba & Associates • The Hernando Sun • Marlene Shaw, McRae & McRae Realty
••••
Temple Beth David is a Reform synagogue with a vibrant congregation of about 120 families. The Temple's interim spiritual leader is Rabbi Karen Tashman. The Temple has an active Sisterhood and Brotherhood as well as a variety of committees, including cultural arts, conversion, caring, community outreach, and ritual. One such committee takes charge of baking those special foods celebrated at Jewish holidays and festivals.