A traffic stop on I-75 in Hernando County netted more than 75 pounds of marijuana and the arrests of two women from California, according to the Florida Highway Patrol (FHP).
According to an incident report from the agency, a Trooper was traveling southbound on I-75 around 9:30 a.m. on March 31 when he saw a white Toyota Sienna Sport Utility Vehicle (SUV) following too closely behind the semi-tractor trailer truck in front of it.
When the Trooper caught up to the SUV, the driver switched to the inside lane and began traveling at 76 miles per hour in a posted 70. When the Trooper attempted to overtake the SUV, the vehicle's driver sped up to 76 miles-per-hour (MPH) in a posted 70-MPH zone.
The driver, later identified as Jenny Khamphouvong, 39, of Banning, Calif., then moved back into the center lane and reduced her speed to 65-MPH once the Trooper was directly behind her.
Subsequently, the Trooper stopped the vehicle on the outside shoulder of I-75 at mile marker 290. Upon approaching the SUV, the Trooper detected the smell of burnt marijuana from the driver's side. He also noticed a passenger, later identified as Toy Phaphon, 46, of Temecula, Calif., lying on her stomach in the SUV's passenger seat.
Khamphouvong told the Trooper that she smoked marijuana when she stopped for gas but had no other drugs in the vehicle.
During a probable cause search of the SUV, the Trooper saw a brown cardboard box closed with packing tape behind the second row of seats. After opening the box, the Trooper found several large vacuum-sealed packages that field tested positive for marijuana.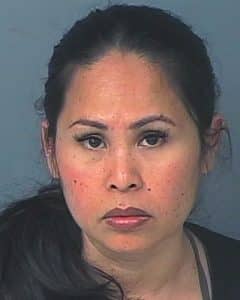 Passenger Phaphon said that she was heading to Tampa from Atlanta for a follow-up surgical appointment. She said that Khamphouvong was her former sister-in-law and that she was not aware of the box of marijuana and denied that any other parcels of marijuana were contained in the vehicle.
During a second search, another responding Trooper found a second cardboard box sealed with packing tape that contained several other large vacuumed sealed bags of marijuana.
The report said the interior sides of the boxes were lined with peel-and-stick flooring tiles that were presumably used to thwart airport x-ray scanners.
The search also revealed a pair of suitcases, one black and one blue – found in the rear cargo area of the SUV.
A napkin belonging to Khamphouvong listed the contents of the suitcases along with a ledger containing the prices of each item on the contents list.
Finally, an examination of Phaphon's cell phone showed that the pair had been at a barbershop in Tampa before they were stopped by FHP personnel.
All told, Troopers found 61 individual bags of marijuana weighing 75.92 pounds.
Both women were arrested and booked into the Hernando County Detention Center on multiple marijuana smuggling charges.