Lakeland, Florida – Thousands of pilots and aviation enthusiasts from around the world descended on Lakeland's Linder International Airport last week for Sun N' Fun, a week-long celebration of all things flight-related. The Sun N' Fun Aviation Expo is an annual event that has become the second largest of its kind in the United States, surpassed only by Oshkosh Wisconsin's Air-Venture annual fly-in.
Since the first Sun N' Fun fly-in in 1974, the event has grown into the region's largest aviation event. Part trade show, part airshow, part career fair, and part STEM educational event, the Expo boasted over 500 exhibitors. Within the Sunshine State, it reigns as the state's largest annual convention of any kind, drawing in over 200,000 visitors and pouring hundreds of thousands of dollars into Florida's economy.
This year's event, which ran from Tuesday, March 28th to Sunday, April 2nd, has been one of the biggest and most exciting in the show's long history. Visitors enjoyed an impressive array of exhibits, demonstrations, and special events, including a breathtaking daily airshow. Each show featured some of the world's top aerobatic pilots flying everything from experimental and historic warbirds to cutting-edge military aircraft.
Most would agree that the airshow was the highlight of each day. For four hours each afternoon, spectators witnessed professional flight demonstrations, showcasing the jaw-dropping abilities of many types of aircraft. Everyone in the crowd had a favorite, but every eye was on the sky as the various military jets took flight and filled the air with the sound of raw power. The US Navy's Blue Angels performed a series of precision aerobatic maneuvers, with each of the six jets flying at times only eighteen inches apart.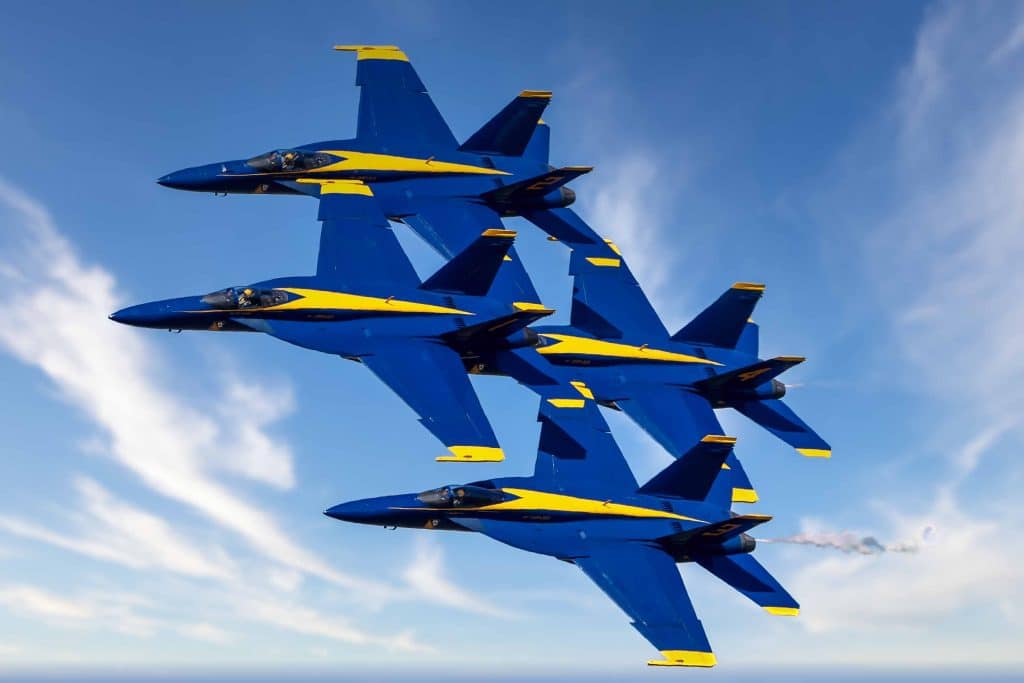 Another crowd favorite was the F-35A and F-35-B Lightning II fighters, the newest and most high-tech operational fighter jets in the US arsenal. One of the most moving moments in the aerial demonstrations was the expo's tribute to veterans, known as the Heritage Flight. During the Heritage Flight, a modern F-35 Lightning jet and a WWII-era propeller-driven P-51 Mustang flew in formation over the crowd.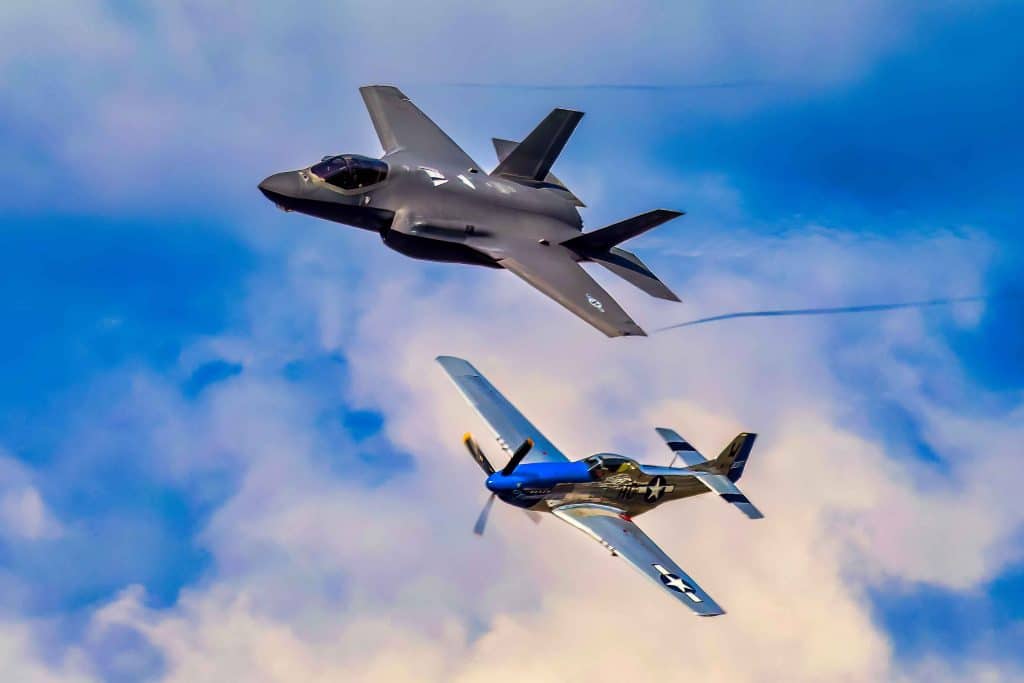 On the March 30th flyover, spectators got a special treat – the formation was joined by an F-22 Raptor from Tyndall AFB near Panama City.
Attendees also had the opportunity to explore a wide range of aviation-related exhibits and displays, including the latest in cutting-edge technology, vintage aircraft, light sport aircraft, and experimental aircraft. For those looking to take to the skies themselves, the expo also featured a range of flight simulators and hands-on flight experiences.
In addition to the impressive array of exhibits and displays, Sun N Fun also offered a range of educational, employment, and professional development opportunities. Those already in the aviation industry or those wanting to learn about pursuing aviation-related careers had the chance to attend several on-site seminars and workshops.
Everyone had their own reasons for wanting to be there, but there is no doubt that the common thread binding Expo attendees was the opportunity to meet and connect with other aviation enthusiasts from around the world.
Many pilots who flew in pitched a tent next to their parked planes and camped out for the duration of the week, creating an entire "pop-up" community of enthusiasts.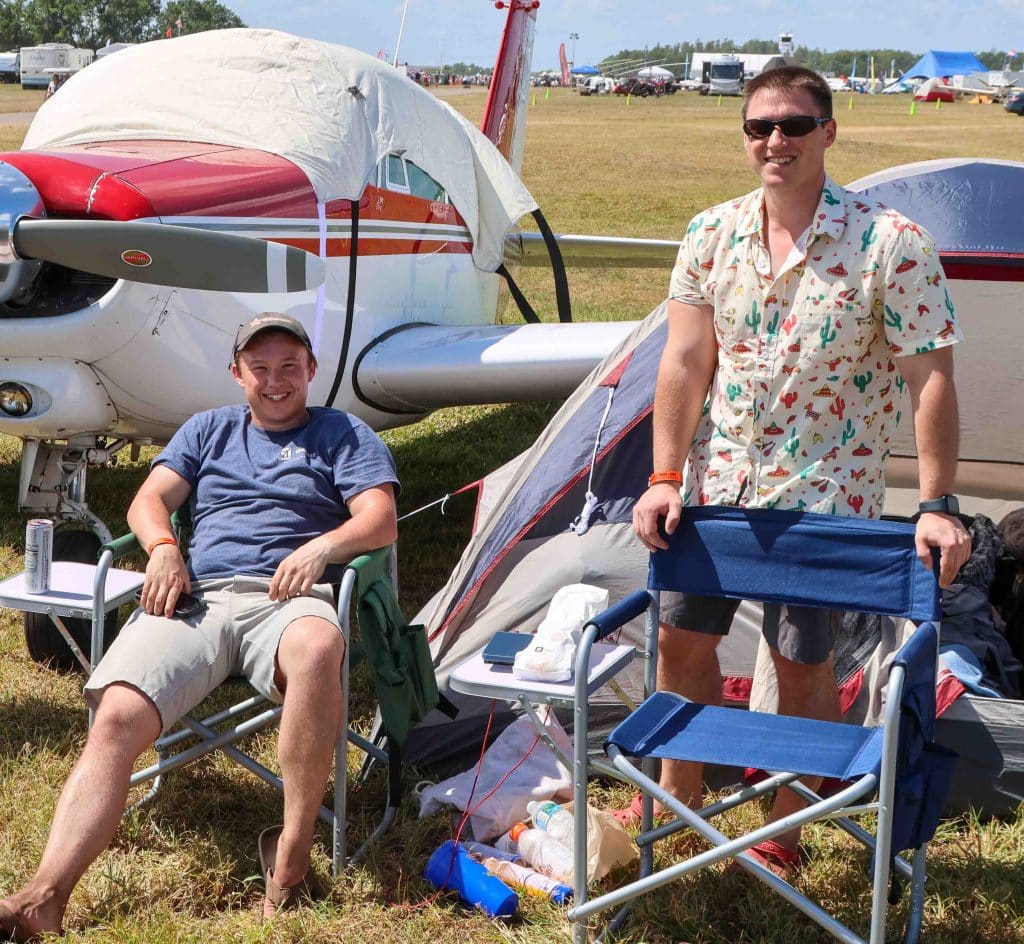 One camper, Ryan Ferris of Rochester, New York, flew down and met with his brother Tyler Ferris of Pompano Beach, Fla. The brothers then flew into Lakeland just for the experience of camping at the Expo. Tyler described the trip as a long-time "bucket lister."
Meanwhile, at one of the educational exhibits, ten-year-old Bryson Ziemer of Crestview, Fla safely piloted a plane to a perfect landing on a flight simulator provided by Embry-Riddle Aeronautical University (ERAU) of Daytona Beach.
Embry-Riddle is one of the top-ranked aviation colleges in the world. Bryson said he wants to be a pilot when he grows up, first in the military, then in the airlines. Freshly out of his simulator session, he said with a smile, "I love flying high in the clouds and seeing the world."
Several aviation-oriented youth groups could also be found camping at the Expo. Cadets from the Civil Air Patrol, British Air Cadets, and Naval Sea Cadets were present to man their own displays as well as help ensure the success of the Expo by marshaling aircraft, helping with flight line safety, and assisting with crowd control.
Not far from the educational exhibits, over twenty top employers from leading aviation firms as well as the federal government, met with anyone interested in an aviation career.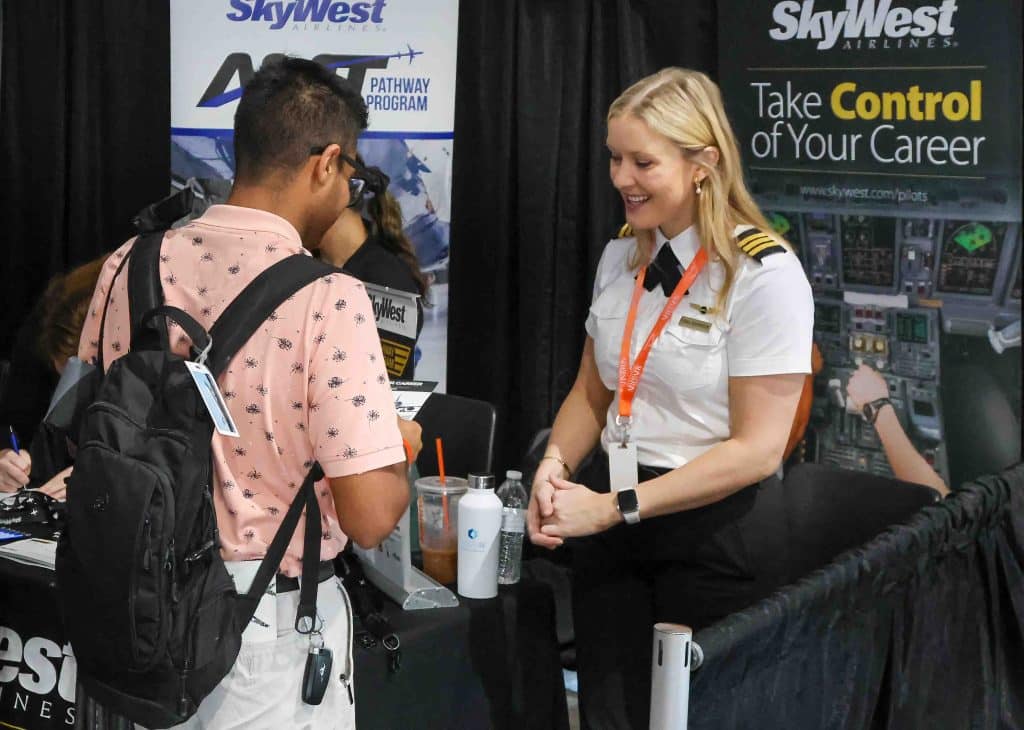 Skywest Airlines First Officer Fiona Morrison explained that this was the perfect time to get into an aviation career. She said that there is a massive pilot shortage and that airlines are recruiting aggressively. Some even have a "fast track" program designed to get candidates through their flight training with a guaranteed interview once they meet the initial requirement of 1000-1500 flight hours, depending on the airline. Morrison said it was not uncommon for a candidate to go from zero hours to the first officer's seat in just two to three years.
This year's Sun N' Fun Aerospace Expo was an unforgettable experience for aviation enthusiasts of all ages and backgrounds. Whether a seasoned pilot or simply a fan of all things flight-related, there was something for everyone at this year's event. Next year's event is already being planned. For more information, visit www.FlySnF.org.
From the Sun N' Fun Website: SUN 'n FUN Fly-In, Inc. is a 501 (c)(3) non-profit that markets and supports dozens of year-round events, including the Aerospace Expo. Proceeds from these events are the primary source of funding for The Aerospace Center for Excellence (ACE), which has emerged as a nationally recognized leader in STEM-related and aerospace education through its various learning centers, outreach programs, scholarships, and summer camps aimed at engaging, educating and accelerating the next generation of aerospace professionals. In addition to SUN 'n FUN, ACE is the home of the Florida Air Museum, Florida's Official Aviation Museum and Education Center, and the Lakeland Aero Club, which is the country's largest high school flying club. ACE is the world's leader in producing licensed teenage private pilots and delivers youth programs that engage over 50,000 students a year.