The Nature Coast Tech Sharks Varsity Baseball team (12-8) blanked the South Sumter Raiders (5-14) by a 6-0 margin at the Shark Tank on Thursday evening. With the end of the season fast approaching, there are only a handful of outings left on the diamond. As the Raiders have not had quite the season they had hoped for, a win over the Sharks on Thursday could have served as a boost for a team that has now lost five of their last six matches.
The home team would not allow that, though, as they would use three consecutive innings of scoring and a night of superb pitching to put the game away. As he was able to utilize a single pitcher throughout the entirety of the contest, Nature Coast Head Coach Dan Garofano was pleased with the performance on the mound and remarked on the accomplishment.
"Sean pitched incredible," Coach Garofano said. "Outstanding. 74 pitches in a complete game shutout. We had some timely hits. We left a lot
of guys on base early on, but then we got some big two-out hits. We won three of the six innings that we hit, we had some timely hits, and we played great defense. I don't think we made an error. Sean pitched great."
While Junior Sean Keegan dealt from the bump, the rest of the team did not take long to find their groove. After an uneventful first inning, things began to heat up for the home team in the second. With bases loaded, Junior Nathaniel Leavitt hit the first two-out single that Coach Garofano had mentioned to run Senior Brant Davis across home plate. While Sumter would strand the remaining players to end the period, it only served to slow the bleeding.
The top of the third came and went, with Keegan throwing out a Raider on second when he ventured too far from the bag. The team in white and light blue would log a pair of scores in the bottom of the third to extend their lead when Senior Gavin McMurdo and Sophomore Jackson Hoyt were run across the plate on back-to-back at-bats.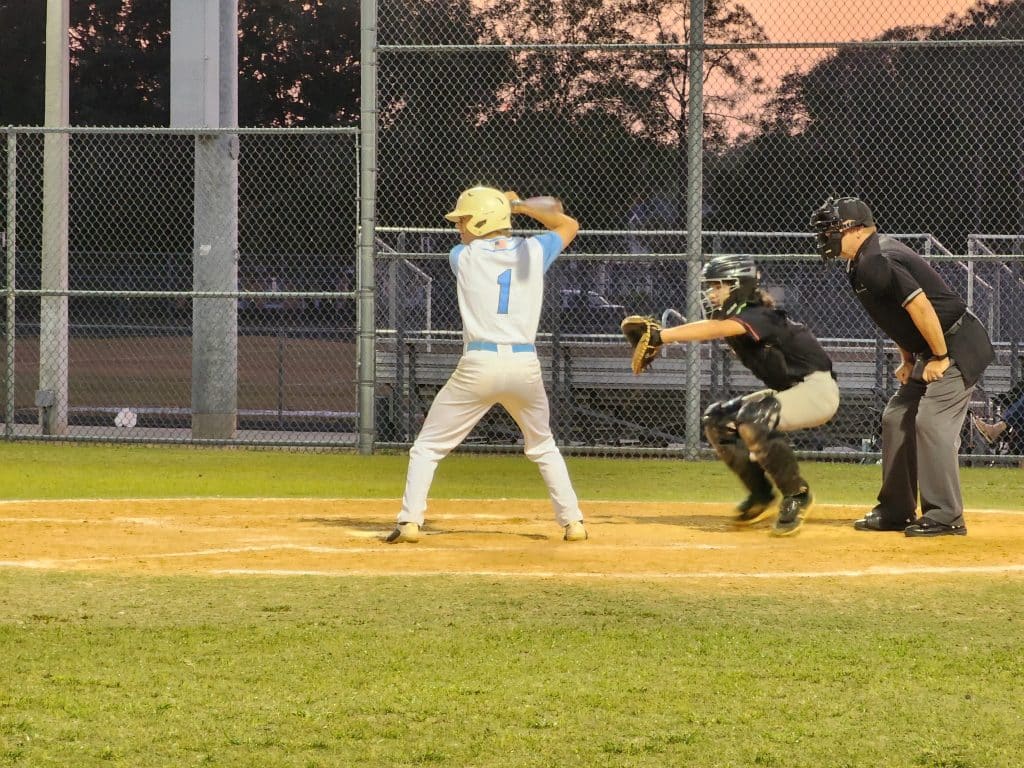 The floodgates would open completely by way of a trio of scores in the fourth frame. The first came on a double by McMurdo that plated another runner. The other two came on a double down the third base line that sent McMurdo and Hoyt home. This forced the Raiders' hands to bring out a new pitcher, and the visitors escaped the inning, having surrendered three runs. Despite the recovery by South Sumter, it would be too late. Keegan would continue to deal from the mound as he retired a bevy of batters en route to a complete game and the 6-0 victory.
"You always want to get better," Coach Garofano said. "Now we are coming down to the end of our season. This week, next week, and then we have our district playoffs. So we want to be getting better every day and playing our best baseball in the district tournament, and then as far as we can go after that if we are lucky enough to advance."