A call from an alert tipster helped personnel from the Hernando County Sheriff's (HCSO) office apprehend four young men who broke into a gun store owned by a member of the Hernando County Board of County Commissioners (BOCC) and recover more than 30 firearms stolen from that business. At least two of the burglars had documented gang affiliations.
"This is a specific case where an anonymous citizen saw something a little suspicious, and it put in motion a chain of events that allowed us in several hours to get back about 35 guns that were stolen," Hernando County Sheriff Al Nienhuis said during a press conference on May 1.
According to Nienhuis, the tipster's call came in on April 26 at 7:30 a.m. to report that three suspicious young men were walking on Broad Street in downtown Brooksville just a couple of blocks west of Main Street.
The men were gone by the time deputies arrived on the scene, but one deputy recognized the name of one of the men and where he might be located. The deputies subsequently went to 513 Sharon St., where they found 15-year-old Juwarren Langley, who is a documented member of the Killin Bout Mine (KBM) street gang, 23-year-old Devonte Smith, a member of the Piru Blood street gang and a founder of the KBM gang and Breon Sanders, 15.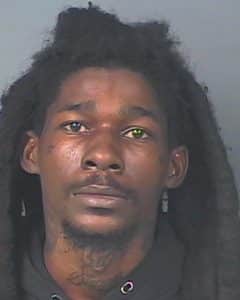 Later at 528 Sharon St., they came into contact with 17-year-old Evan Hampton.
"He's our fourth suspect," Nienhuis said.
While deputies were interviewing Langley, Smith, and Sanders, the HCSO received a call from American Gun and Pawn, 1118 E. Jefferson St in Brooksville, reporting that the business had been burglarized. The business is owned by BOCC Commissioner Steve Champion. He was unavailable to comment on the incident.
Security tape obtained from the business showed that at about 1:48 a.m. on April 26, two black males forced entry into the business and smashed the gun case.
The burglars had gone into the business to scope out exactly where the most valuable firearms were located, Nienhuis said.
"Now, interestingly enough, the video shows they entered at 1:48 a.m. and they left at 1:51 a.m.
So it went very, very quickly," he said. "It was a smash-and-grab situation."
During their interview with him, Hampton admitted to investigators that Sanders had brought the guns to him and told them exactly where those and other weapons would be found.
As a result, three of the stolen firearms were located at 518 Sharon St.; three were located in the woods near 528 Sharon St. Sanders also told investigators that two other firearms could be located at 715 Oakdale Ave.
Finally, Langley told them that 27 firearms could be found in backpacks at 817 Peach St.
Nienhuis said that a combination of luck and cooperation allowed the HCSO to locate the stolen weapons shortly after they were stolen.
"To get these illegal guns off the street as quickly as we possibly could is an understatement because these are hot commodities on the black market," he said. "We did have a little bit of luck involved and the cooperation of the suspects who helped move it along because they realized how much trouble they were in."
Subsequently, all four young men were arrested and charged in connection with the break-in.
Smith was charged with the burglary of a structure or conveyance while armed.
His criminal history includes interfering with the custody of a child, resisting arrest, contempt of court, and others.
He is being held at the Hernando County Detention Center on a $50,000 bond.
Langley was charged with armed burglary of a structure or conveyance while armed and unlawful possession of a firearm.
Previously, he had been arrested for assault with a deadly weapon and burglary, as well as other charges.
"And he's 15 years old," Nienhuis said.
Langley was turned over to the Department of Juvenile Justice (DJJ).
Hampton and Sanders were charged with unlawful possession of a firearm and grand theft of over $300 but less than $5,000 and were also turned over to DJJ.
According to Nienhuis, the charges represent second or third-degree felonies, "So they're going to (get) some serious time."
He also said that because of the seriousness and brazenness of the crime, prosecutors are considering charging all of the suspects – the three juveniles and the adult – as adults.
"We would certainly be in favor of that because we want to send the message that if you're going to be involved in this type of activity, and if you're going to act like an adult as far as criminal activity goes, you're going to be treated like one."
The case is pending.