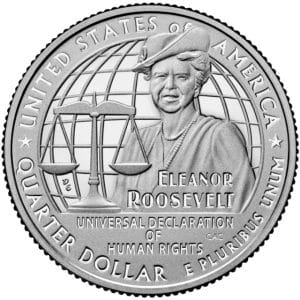 She considered herself an "ugly duckling" and a shy, solemn child. Her aunts and grandmother were the real beauties—-they were socialites! She was not in their league at all!
Eleanor Roosevelt would later remember that there were always others worse off in life. She would gain her strength and fearlessness by helping the poor and minorities. She understood that inner beauty made up for outward appearances. On June 5, 2023, the US Mint honored Eleanor Roosevelt as its eighth outstanding woman in history and part of the American Women's Quarter Series.
She was born Anna Eleanor Roosevelt in Manhattan, New York City, on October 11, 1884, and preferred to be known by her middle name. Her father, Elliott Sr., had a well-known brother, Teddy Roosevelt, who was already making a name for himself in politics.
Life was not easy for young Eleanor. She was just eight years old when her mother and younger brother, Elliott Jr., both contracted diphtheria and died within months of each other.
Her father, Elliott Sr., was not well either. He was an alcoholic and later declared "insane." After spending nine months in a Paris asylum, he returned to New York only to break away from his family and live out the remainder of his life as a recluse. He died in 1894 after a fall, a seizure, and a brief illness, leaving behind Eleanor (age nine) and her brother Hall (three). The newspapers called their father's life "woefully misspent." Elliott Sr. had wasted thousands of dollars and left behind only a fraction of what was due to his children.
Eleanor entered her teen years suffering from depression and insecurity. Now an orphan, she was raised by a maternal grandmother. At age 15, she attended a private finishing school in England to build her self-confidence. Three years later, she returned home to make her public debut.
That's just the way it was In the late 1800s and early 1900s. Young ladies of stature were presented to society for the first time. Their invitation-only "coming out" parties, teas, and dances were an opportunity for them to meet the most promising eligible bachelors.
However, it wasn't at her "coming out " party that Eleanor found her future husband. In 1902 she encountered her fifth cousin Franklin Delano Roosevelt on a train in New York. They felt a kinship, having known each other briefly throughout childhood. The two kept a secret romance and courted for the next year. They wed in March 1905, with Uncle Teddy, 26th President of the United States, giving the bride away.
Early married life was not blissful or easy. There were children born in 1906 and 1907. Eleanor was still very shy and unsure. She also felt Franklin's mother, Sara, was very controlling. And on top of that, his mother moved in right next door!
The most upsetting year came in 1918. Eleanor discovered a collection of love letters written between her husband, Franklin, and her own social secretary Lucy Mercer. Their affair had been going on for several years behind her back. It would not be the only time he strayed in the marriage. Would she seek divorce?
Franklin's mother weighed in that a divorce would end her son's political career for sure! And at the end of the discussion, Eleanor and Franklin stayed married. They came to what might be considered a political agreement going forward. Eleanor would find fulfillment and live her life. Franklin would live his. They would be civil to each other and give support.
However, child rearing would be someone else's job. Eleanor and Franklin had six children born between the years 1906 and 1916, with one dying in infancy. The charge and upbringing of their five children would fall to in-laws and caregivers. Eleanor was seldom involved and concentrated on her own causes and other duties.
When Franklin contracted a paralytic illness in 1921, it was Eleanor who encouraged him not to give up on politics. She cared for him, campaigned for him, and kept his name out in front of the public. Franklin won a term as Governor of New York and served from 1928-1932. He won the Democratic presidential nomination in 1932. He became the 32nd President of the United States, serving four terms from 1933-1945. There were many times during both campaigns when Eleanor was the one out there, making the speeches and keeping the engagements.
Eleanor Roosevelt reshaped and redefined the role of the First Lady. She was the first presidential spouse to hold a regular press conference. In fact, she insisted on some "women only" press conferences and on having more women writers and reporters! She also wrote a daily newspaper column, wrote a monthly magazine column, and hosted a weekly radio show. She was the first presidential spouse to do so.
Women of her day had quiet, supportive roles behind the scenes, but Eleanor was not like that at all! She was the first presidential spouse to speak at a national party convention. She was also outspoken about civil rights, particularly those of African Americans. She personally took action to make a point about racism and would not tolerate discrimination.
After Franklin's death in 1945, Eleanor continued public service. She was appointed by President Truman as United States Delegate to the United Nations General Assembly. She served there from 1945-1952. At the time, she still doubted herself and thought, "Oh no! What have I got myself into?"
She also served on the United Nations Commission on Human Rights from 1946-1953. She made various national and international speaking engagements and kept up an amazing pace. During the decade of the 1950s, Eleanor averaged 150 appearances per year.
In 1959 Eleanor was given a very big 75th birthday party! It was held at the Waldorf Astoria Hotel in New York City. Former President Harry Truman and Massachusetts Senator John F. Kennedy were in attendance. The Cancer Research Center and AFL-CIO put together this special evening as "A Tribute to Eleanor Roosevelt." She was recognized for her work, particularly in promoting cancer research.
Even at age 76 and in failing health, Eleanor did not give up. She mended political fences and campaigned for John F. Kennedy for President. It was under his administration she became a member of the Presidential Commission on the Status of Women.
Eleanor Roosevelt passed away on November 7, 1962, and is buried beside her husband, Franklin, at her Springwood Estate in Hyde Park, New York. Since her death, she has received many posthumous awards, commendations, and remembrances. In Gallup Polls, Eleanor Roosevelt ranks high among the Most Admired Women of the 1940s and 1950s. She is at the very top of the list in every year but one.
Eleanor Roosevelt campaigned tirelessly for many politicians, including Adlai Stevenson, during his 1956 presidential race. In a eulogy for her at the United Nations, Stevenson later declared that he had lost both a friend and an inspiration. "She would rather light a candle than curse the darkness, and her glow has warmed the world." That was Eleanor Roosevelt.