Tina Vieira and the Weeki Wachee High School Future Business Leaders of America from Brooksville are causing quite a stir at a national competition, where they are honing their professional business skills and networking with other high achievers at the Georgia World Congress Center in Atlanta. Vieria, a third-year advisor for the FBLA, is proud that a special group of high school students has been performing exceptionally well at the national level during a jam-packed week of business networking, educational field trips, and business competitions with over 100 groups of business savvy teens from across the country.
Top nationally ranked high school business students Rylee Rhineberger, Emily Sarkes, and Alexandria Lagness, who will be seniors this upcoming school year, will surely bring home the gold when they return to Brooksville, whether or not they win the National Competition.
Vieria led the bright girls to the top after they competed at the state level in Florida and won third place, in which they earned a ticket to the national competition. The students are at the National Leadership Conference, where they attend workshops and compete in their designated categories.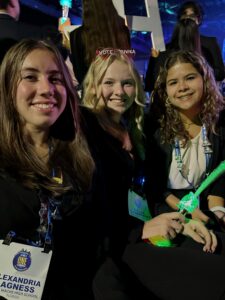 Rhineberger is particularly excited about all the skills she is gaining. "We competed in Social Media Strategies, where we created a campaign about how we would combat food insecurity within our community. We just competed against 14 other groups in our section, and we are hoping to place in the top two to move into Finals today," she exclaimed.
"We are definitely really excited and happy to be here because no matter how we do, it's an amazing experience!"
Fellow student Alexandria Lagness, who is excited for her first year at Nationals, competed in Publication Design, where she talked about the design process and how she would promote the design, delving into the areas of marketing.
It's not all just competitions for the group of talented teens. They took an educational field trip to the Georgia Aquarium on a night designated only for FBLA students. Besides the 50 workshops and competitive events, they also get to hear different keynote speakers and even attend a big block party which serves as an invaluable networking opportunity. Friday is the closing ceremony, where awards will be presented, and students recognized.
Vieria hopes to continue to build the high school team with additional younger students as it's mostly gained in popularity with seniors. After they graduate, the team must rebuild another team. Nevertheless, the future looks promising for this emerging group of business leaders.
"We are at a point now where we are growing in size, and we are distributing our numbers through the different grade levels," said Vieria. "So there will be some longevity there. They went from really having only four active members to 21 this year. It's the first time in school history that any students have made it to Nationals for FBL, so to have three of them here, it's really great."
Vieria added that the experience in Atlanta sets up the students for industry experience no matter what career field they eventually get into, and the fact that there are colleges present is even more rewarding due to the possibility of gaining scholarships and entrance to universities. She stressed that it's a great way for the students to create a bridge between high school and college.
In the end, the dedicated and articulate Hornets team has a lot to buzz about, as Vieria is set to lead the Future Business Leaders of America to more than just a useful occupation that will undoubtedly set them on the path to a bright future.
"I am just really happy that I am able to help them gain this type of experience," exclaimed Vieira. "I was in FBLA myself, and I'm really happy to spread that to new students and help them grow and continue to build that organization. The experience of being able to attend the conference and network with other young professionals- I think that is really important for kids at the high school level."