Commercial launch firm Space-X sent a unique telescope deep into space for the European Space Agency (ESA) on July 1st from Launch Complex 40 on the Cape Canaveral Space Force Station. The mission is called Euclid, named after the Greek mathematician Euclid of Alexandria, who lived around 300 BC and founded the subject of geometry. The name is appropriate, as the mission is slated to study dark matter, which scientists believe determines the geometry of the universe as it expands.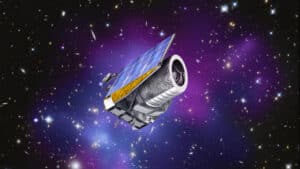 The Euclid mission is one of the most significant and eagerly awaited space missions in the field of astronomy. By mapping ordinary, visible matter, as revealed by the 3D positions of 1.5 billion galaxies, Euclid will explore the distribution of dark matter. Dark matter is more than five times as abundant as ordinary matter and forms a transparent scaffolding on a cosmic scale, which galaxies decorate like fairy lights on the branches of a tree. Euclid will take images in optical and near-infrared light, which will eventually cover more than one-third of the sky outside the Milky Way, and depict billions of cosmic targets out to a distance where light has taken up to 10 billion years to reach us.
The Space-X Falcon 9 rocket carrying Euclid will take the 1.2-meter diameter telescope and two scientific instruments – a visible-wavelength camera and a near-infrared camera/spectrometer, to a point in space known as the 2nd Lagrangian point. The point is situated in space about one million miles from Earth or about four times the distance of the Earth to the moon. A Lagrangian point is an ideal place to deploy a telescope because it represents a point in space where the gravitational pull from two bodies is about equal. This allows the telescope to maintain a constant location in space relative to the Earth as the Earth orbits the sun. The point is essential to the mission because it is near enough to Earth to maintain communications and allow the use of solar energy, yet far enough that the satellite does not need additional fuel to maintain its position relative to the Earth.
A launch of this type is unusual for SpaceX, as the ESA has routinely relied on the Russian Space Agency Roscosmos for such launches. However, politics and the war in Ukraine caused the ESA to reach out to SpaceX, a commercial launch firm, for this launch. Russia's invasion of Ukraine in 2022 put the mission in a "desperate" situation, said Giuseppe Racca, Euclid's mission manager at ESA in Noordwijk, the Netherlands. "We were faced with the possibility of putting the spacecraft in storage and launching in three to four years." The team was relieved to learn that the spacecraft was compatible with a Falcon 9 launch. The $1.5-billion mission is the first in a new generation of experiments envisioned following the discovery 25 years ago that the expansion of the universe is accelerating.