Within the hearts of many young people is the dream and the desire to be a star. Here in Hernando County, a community theatre and conservatory has established a reputation for rendering these dreams into beautiful realities. And now, the Live Oak Theatre and Conservatory are expanding to offer more classes, teachers, and opportunities for local kids to take the stage and live the dream.
All aspiring thespians are invited to an open house and registration for classes at the Live Oak Conservatory set to take place 5-8 pm on Monday, July 24, at the Carol & Frank Morsani Center for the Arts, 21030 Cortez Boulevard, Brooksville.
Live Oak Theatre & Conservatory is a family-friendly theatre program that exists to enrich families, individuals, and the community by providing positive artistic experiences in the Performing Arts – including entertainment, performance, and educational opportunities. Live Oak Theatre offers opportunities for children (PRE-K – 18) and adults to learn about the performing arts, partaking in classes in beginning and advanced tap, jazz and ballet, voice, musical theatre, improv and acting at various levels. Private lessons in a wide range of musical instruments are offered at the conservatory. Classes are taught by veteran performers and instructors.
"What differentiates our conservatory from other performing arts programs is that, as a repertory company, we are able to incorporate all performing arts on an equal basis," said Vince Vanni, Live Oak spokesman. "This is especially demonstrated in our Youth Theatre classes, where students are taught to put all their skills to use. This year Youth Theatre will perform Mary Poppins Junior in the fall of 2023 and The Little Mermaid Jr. In the Spring of 2024…under the direction of Lexi Allocco, who is a TEN-Year Veteran of Live Oak Theatre and Conservatory."
The cornerstone of the conservatory program comes in the form of its thespian classes, offered at all skill levels and for kids of all ages.
"We will offer four Acting Classes," said Vanni. "Primary Acting (Ages 5 to 8) again taught by Stephania Torres, a ten-year veteran of LOT. Basic/Intermediate Acting and Intermediate/Advanced Acting (two different classes) will be taught by me. Adult acting… for the first time… will be taught by Caitlin Frostman, another TEN-Year veteran of LOT and many other programs."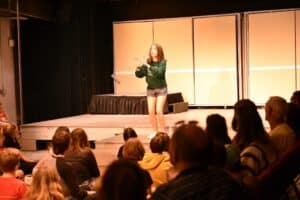 Live Oak also offers prime training in improvisational skills. "We are offering FOUR classes in IMPROV (for varying abilities) team-taught by Anya Bonacki and Alannah Allocco," said Vanni. "Anya is a seven-year veteran, and Alannah is a ten-year veteran. Both have studied Improv for four years under the program's founder, Esprit Herbert."
Live Oak Conservatory's most popular program is its Acorn Theatre Production Class, beginning August 1. Live Oak's younger stars shine onstage as a part of this program for students ages 8-18. The theatre's performance class meets to rehearse 4-6 p.m. Tuesdays and Thursdays. The class runs in 8 to 12-week periods, with 6 or 8 performances culminating each term. The Acorn Theatre produces and performs two shows each year, as well as participates in Brooksville's annual Tree Lighting.
The Acorn Theatre production team consists of rotating Directors/Instructors assisted by apprentice mentors–Live Oak regulars who themselves grew up on stage–in the areas of Stage Manager, Assistant Director, costumes, choreography, lighting, sound, music and set design. Parent volunteers also get in on the act.
At the July 24 open house, new and returning students will meet the new stars of the Live Oak expanded faculty.
Anya Bonacki is a six-year veteran of the Live Oak Theatre and Conservatory. She is excited to begin teaching Improv at Live Oak Conservatory. She studied and excelled in Improv classes and showcases for four years under Esprit Herbert. She enjoys writing, traveling, and working at her other job at Publix. LOT audiences have enjoyed her performances in productions such as Newsies, The Little Mermaid, and Annie.
Alannah Allocco is a ten-year veteran of Live Oak Theatre and Conservatory. She has performed in over 20 productions and has been featured in several Improv Showcases. In addition to her four years of improv classes under Esprit Herbert, Alannah has been heavily involved in the Youth Theatre as an apprentice, lead performer, and stage manager. "I am so grateful for this opportunity and can't wait to share my love of improv with others," said Allocco.
Caitlin Frostman has appeared in Tampa Bay area productions since 2013, including compensated performances in some productions. Hillsborough Community College recognized her for Outstanding Leadership in Theatre in 2021-2022. She studies theatre at HCC, with an emphasis on acting techniques based on the principles of Stanislavsky, Sanford Meisner and Eric Morris. In 2022 Caitlin traveled to New York as a student nominee attending theatre workshops with such instructors as Anthony Vincent Bova. Caitlin was part of a Hadestown musical workshop with the national touring cast of the show in 2022, where she learned about making characters realistic with music and movement.
"This year, we are adding Brianna Genao to the faculty," said Vanni. "She will be teaching our additional Tap Classes."
Brianna Genao started dancing at age 5. Her mother enrolled her in a jazz class, but a tap class happening next door truly piqued her interest. "I would run to the window to watch their class. The next school year, I started tap and fell in love with it," she said.
Brianna continued dancing recreationally through elementary school.
"In middle school, I began competing in dance," she said. "I was trained in all areas, but tap always remained my favorite."
She stopped competing in high school and participated in productions like The Nutcracker, also choreographing 42nd Street. "I've been on a break being an adult and raising babies," she said, "but I can not wait to get my two shoes back on!"
For information about Live Oak Conservatory, go to www.LiveOakTheatre.org/Conservatory, call 352-593-0270 or email [email protected].