A Hernando County man was caught sitting on a bucket eating potato chips on a dredging barge that he tried to steal. The barge had been docked at Rogers Park, 7244 Shore Line Blvd., in Spring Hill. The man, identified as 35-year-old Charles William Fagerstrom, later told deputies from the Hernando County Sheriff's Office (HCSO) that he planned to use the vessel to "travel on the river."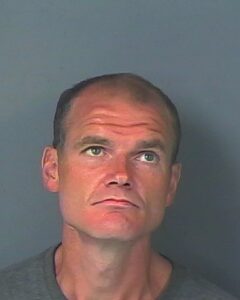 HCSO Spokesperson Denise Moloney said that at 7:30 a.m. on July 26, a crew working in the area alerted patrolling deputies that they had noticed a man sitting on a bucket eating potato chips on the barge, which had floated a short distance away from where it was originally docked. While the deputies were in transit, the workers kept an eye on the vessel and prevented Fagerstrom from bringing it back to shore.
Fagerstrom would have had to jump into the water in order to flee the scene, Moloney said.
Deputies took Fagerstrom into custody as soon as they arrived on the scene and, during a body search, found keys to the barge in his pocket along with several other tools that he used to pry open various compartments of the vessel.
During an interview, Fagerstrom admitted to trying to steal the barge because it was a nice day, and he planned to use it to "travel the river."
That plan was initially thwarted when he was only able to travel a short distance after having a tough time operating the barge because its dredging equipment was deployed in the water.
Deputies arrested Fagerstrom and charged him with Grand Theft of a Vessel and Possession of Burglary Tools.
He is being held at the Hernando County Detention Center on a $7,000 bond.