By Max Maglio
On Friday night, the Weeki Wachee Hornets got off to a rough start to their season after being shut out by the Crystal River Pirates. The game started off with an early touchdown for Crystal River. This touchdown was followed up by an interception from their defense, which they returned for a touchdown. The game continued along this trend throughout the first half of the game. In the second half, Crystal River took their first-string players out of the game, and the Hornets were able to hold Crystal River to the score they had amassed in the first half of the game, which was 41-0.
The Crystal River Pirates are looking like a strong team, and based on their performance on Friday night, they could go far in the postseason. Last year they had a 6-3 win-loss record, and last night they added a victory to their season record. The outstanding players for Crystal River include quarterback Jesse Paul, who scored two rushing touchdowns; Landen Ragan, who also had two rushing touchdowns; as well as "hella tackles," Carl Robinson, who had one receiving touchdown; and Luke Whitey, who had one rushing touchdown. On defense, the outstanding players were Lane Stringer, who was responsible for that first interception, and Barrett Cannon, who had a fumble recovery.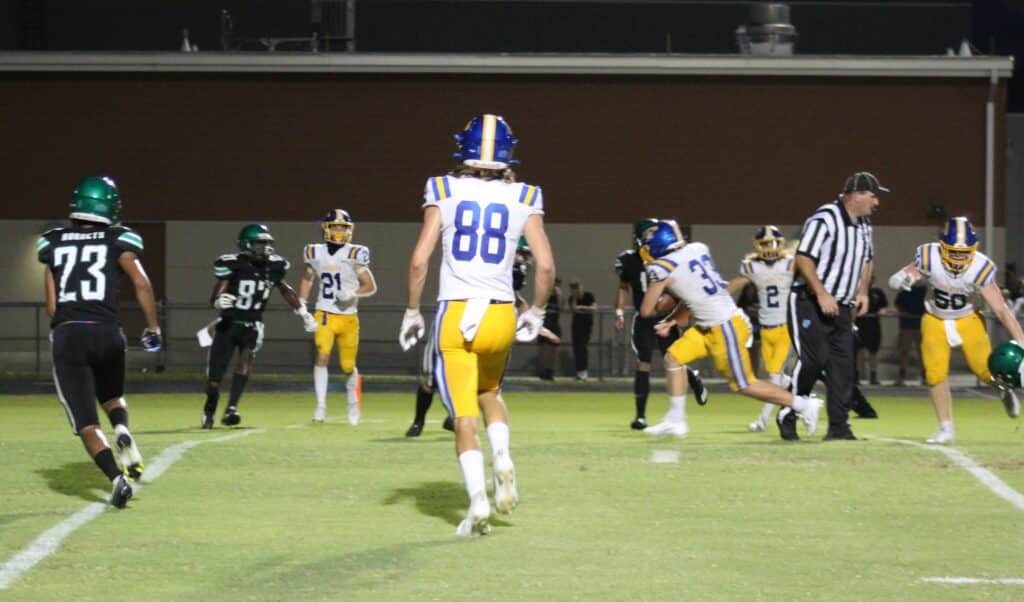 Hopefully, Weeki Wachee will be able to use this game to see where they need to improve. At the beginning of the season, blowouts are common as teams have not perfected their playstyle and teamwork. Even Crystal River badly lost their preseason game, 47 to 0, when they went up against the Leesburg Yellow Jackets before going on to beat the Weeki Wachee Hornets. This goes to show that a recovery for the Hornets is entirely possible; after all, they have a whole season ahead of them.
The Hornets will take on Williston in an away game on Sept. 1. Williston beat Chiefland in game one 44-7. They were 10-1 last season, so Weeki Wachee has another tough game on their plate this week. The Hornets lost to Williston 42-0 last season.