While Hurricane Idalia made landfall as a category three hurricane near Keaton Beach in the Big Bend area of Florida, coastal Hernando County has experienced flooding, with officials expecting water levels to rise this afternoon with a king high tide.
According to the National Ocean Service, "A King Tide is a non-scientific term people often use to describe exceptionally high tides. Tides are long-period waves that roll around the planet as the ocean is "pulled" back and forth by the gravitational pull of the moon and the sun as these bodies interact with the Earth in their monthly and yearly orbits. Higher than normal tides typically occur during a new or full moon and when the Moon is at its perigee, or during specific seasons around the country."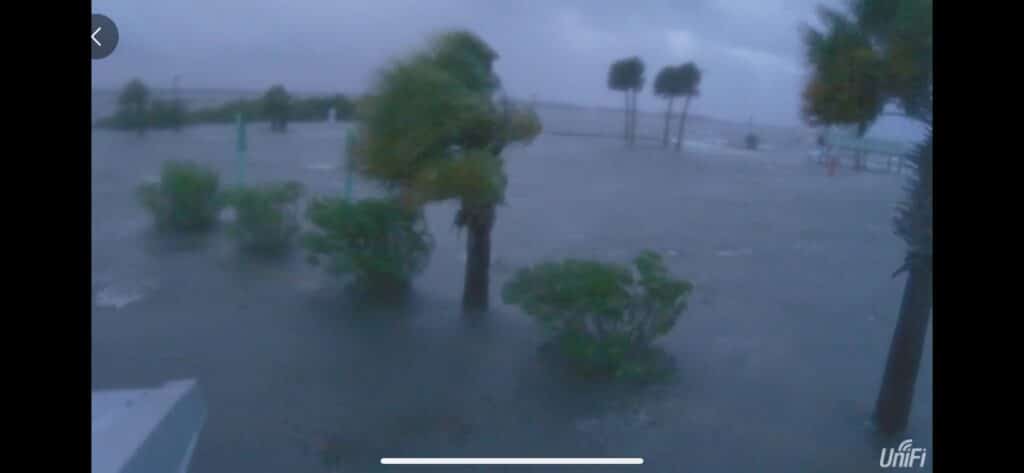 Hernando County Emergency Management Director David DeCarlo said that although tropical storm force winds will continue to subside as the day progresses, coastal areas are still vulnerable to storm surge.
"Our high tide is forecast at 1:20 this afternoon. We are in a king high tide cycle – so that high tide will last a few hours more than normal. That is our biggest concern."
"The storm waters are coming in as we speak," DeCarlo said. Residential areas of Hernando Beach are under restricted access at both north and south entrances.
There are water assets on standby to do water rescue, and power has been shut down for emergency protective measures.
Withlacoochee River Electric has shut down power at Hernando Beach, Bayport, Weeki Wachee, Pine Island, and Aripeka.
DeCarlo said if you need rescue, please contact 9-1-1.
Hernando County Sheriff's Office, Hernando County Fire Rescue, Search and Rescue teams, and the National Guard are prepared for water rescues.
Hernando County Fire Rescue Chief Hasenmeier said we are still in a serious situation as the storm surge is still on the rise. It went from no water in the Hernando Beach/ Pine Island / Aripeka areas to flooding roadways. At the last update we had, the water was around four feet above Pine Island Drive. This morning, two people were trying to evacuate from Pine Island who got stuck on one of the higher bridge areas, and they had to send out rescuers to save them. The rescue was a coordinated effort between fire services, marine units, special ops, and the sheriff's office, and the people are now fine.
Chief Hasenmeier said that the National Guard is here with high-water vehicles in addition to Sheriff's Office/Fire Rescue boats. They are also coordinating with military assets for air support if lift capabilities are needed.
He urged people not to go west of 19 because the surge is coming up for the next couple of hours.
Commissioner Jerry Campbell gave his prayers to our neighbors to the north and stated that we are not out of the woods yet with the high tide coming.
There are 350 people in shelters and approximately 60 animals.
Withlacoochee River Electric and Duke Energy continue to restore power to areas not affected by flooding.
WREC customers can report power outages:
352-596-4000
Duke customers can report power outages:
800.228.8485