By Matthew Smith, University of Florida fungi expert
The temperatures have started to take a turn for the cooler throughout much of Florida, but does that mean conditions are no longer ripe for mushrooms and other fungi to grow? Not so fast, says Matthew Smith, a University of Florida fungi expert.
"Florida has two 'seasons' of different fungi, at least," said Smith, a professor in the UF/IFAS plant pathology department and curator of the UF Fungal Herbarium. "Fruiting 'summer' mushrooms might appear anywhere from March to November, and then during the cooler months, if it's wet enough, we get 'winter' mushrooms, which can be from roughly the end of November through end of February."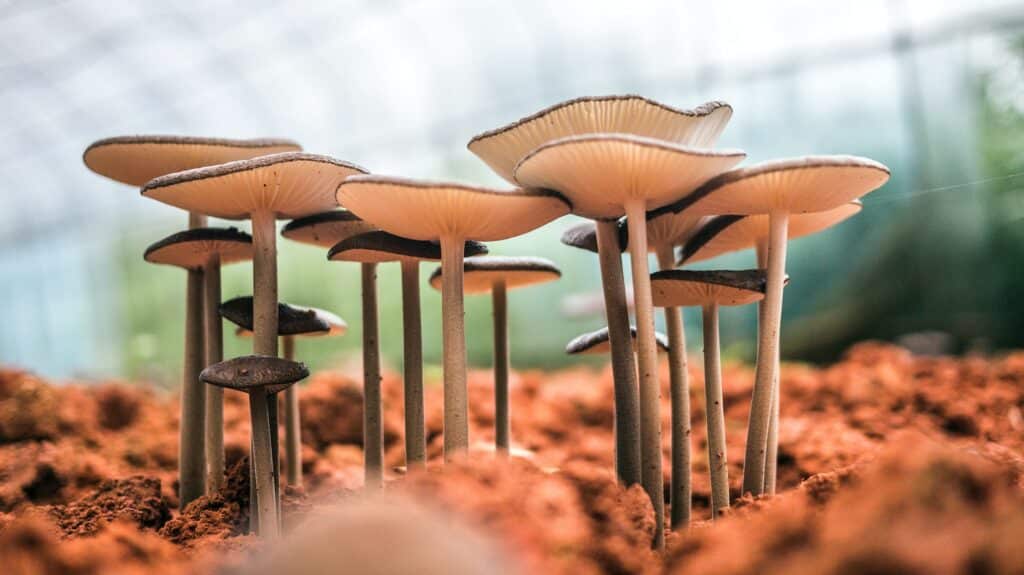 Smith answers more fungi-related questions below.
Q. First things first: What is the difference between fungi and mushrooms?
A. The term 'mushroom' is typically used to describe large, macroscopic fruiting bodies of all kinds of fungi. All mushrooms are fungi, but not all fungi are mushrooms.
Q. How is Florida different from other locations for mushroom growth?
A. In most places, mushroom fruiting is either restricted by drought or by cold. And in some cases, both things are limiting. In Florida, we're not limited by freezing temperatures, for the most part. Instead, we're limited by water. In the warmer months, as long as there's enough water, mushrooms will be fruiting. A different suite of mushrooms will pop up in the winter, with enough rain. This makes Florida unique because we can have mushrooms all year round, if it's a wet year.
Q. Does humidity play a part in this process?
A. When we get a lot of rain, mushrooms will continue to fruit if it stays humid and the wind doesn't dry out the forest. Especially because we have such sandy soils, and water tends to drain quickly. So even in the middle of the summer, if it's been rainy followed by a period of two or three weeks where it doesn't rain very much, it will basically stop most of the fruiting. You might still see mushrooms in the forest on fallen trees or other plant debris, but it's less likely on your lawn. Then again, if you're watering your lawn, you can still sometimes see lawn mushrooms any time of year.
Q. If people do see fungi in their yard, when is there a cause for concern?
A. When people have pets and very young children, they have to be aware of mushrooms because some pets and small children will graze. As part of my job, I'm the main contact for poison control for mushroom cases. Stomach upset is the most common reaction, but there are some mushroom species that are especially toxic and can cause major illness or death.
The other thing is when mushrooms are fruiting on wood in or near the home, that's evidence that fungi are at work and they're decaying the wood. That doesn't inherently mean it's a bad thing. For example, if you see a mushroom on a tree, that does not necessarily mean it should be cut down. However, wood decay fungi on a tree means that this is something you want to have an arborist assess.
And there are many situations where you may choose to leave a tree with fruiting mushrooms: If it's not right by your house, and it's not in danger of falling on a person or a car. There are benefits for leaving some fungi. It's important for wildlife habitat and it's a source of biodiversity.
Q. Are there any unsafe mushrooms to note?
A. One of the most common lawn mushrooms in Florida, the 'green-spored parasol' mushroom, is not deadly toxic, but it does cause really bad gastrointestinal distress if ingested. Another type of mushroom, the deadly Amanitas, are very serious but not as common.
A group of fungi that are safe to eat, chanterelles, are pretty common in Florida. But there are lookalike fungi, and it's important to note the 'when in doubt, throw it out' mantra. You wouldn't go out and randomly eat berries from the forest, so you shouldn't do that with mushrooms, either. People should never use, for example, an app to identify a mushroom and then eat it – those are prone to error. You don't want to trust your liver to an algorithm, right?
Q. Is there an estimate of how many unique mushroom species exist in Florida?
A. Let me start by using plants as an example: There was a period of decades where people were just discovering new plants and describing them. We've kind of reached the end of that big discovery phase of plants, for the most part. But for mushrooms, we have not reached that. We're still in the age of discovery, still in that process of regularly describing things that you might find in your own backyard. I think that is astounding, but it says something about how difficult they can be to identify and tell apart from one another, and also just how many species there are.
Q. How many mushrooms have you had the opportunity to name?
A. It's more than 50. I should keep a tally. There are too many to name for the amount of time I have left in my career. If I sat down and just named fungi, I'd have many years of work.
I do have a story about one of the fungi I named. My wife and I were spending time with friends who are insect experts, and one of them had named an insect after his wife. My wife said, 'Why don't I have something named after me?' So, I named a beautiful truffle after my wife!
Q. Can citizen scientists help in this discovery age?
A. iNaturalist is a great way for people to document the fungi in their yard or in the woods behind their house. People also take photos for identification purposes, but for some fungi that look quite similar, this is probably limited in usefulness. But for us, we've used it in our research to document the distribution of a species or the time of year it appears. I've also found a photo posted and reached out to that person to ask if they can dry and send a sample for our museum collection. This technology didn't exist 15 or 20 years ago. I can see this becoming more of a factor in the future.
Q. Are there any other resources you'd recommend for amateur or interested mycologists?
A. iNaturalist is a great resource, and there several books available, including at the UF/IFAS Extension Bookstore. I also have on my website information about preserving mushrooms to send a specimen or how to take photos so that identification is possible.
ABOUT UF/IFAS
The mission of the University of Florida Institute of Food and Agricultural Sciences (UF/IFAS) is to develop knowledge relevant to agricultural, human and natural resources and to make that knowledge available to sustain and enhance the quality of human life. With more than a dozen research facilities, 67 county Extension offices, and award-winning students and faculty in the UF College of Agricultural and Life Sciences, UF/IFAS brings science-based solutions to the state's agricultural and natural resources industries, and all Florida residents.