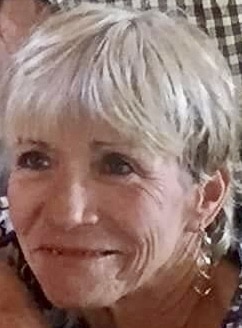 July 4, 1956 – September 5, 2021
Died at Bayfront Health Brooksville from complications of COVID-19 and pneumonia.
Born and raised in Brooksville, FL she was a member of the Hernando High School Class of 1974.
She attended Rhodes College Preparatory School in New York City., and was a member of the First Baptist Church of Brooksville. Until her retirement she was an adjudicator for The Florida State Department of Unemployment.
She was predeceased by her husband, Ray Elliott, her parents, Irvin W. and Jayne Shearer Vaughn, her brother, Robert Vaughn, and her stepdaughter, Marguerite Elliott.
She is survived by her children: Sarah Steitz (Jeff) Deltona, Florida, Mariette Elliott, Kissimmee, Florida, Andrew Elliott, Brooksville, Florida, by her sisters: Dona D. Vaughn, New York, New York, Faye Stine, Taylors, South Carolina, Linda Knaust, Incline Village, Nevada, Carol Flynn, Hudson, Florida, by her three cherished grandchildren: MacKenzie and Darren Steitz, and RayLyn Galloway, and by her long-time companion, John DeWoody.
A graveside memorial service will be held October 6, 2021 at 11am at Brooksville Cemetery.
Merritt Funeral Home is in charge of arrangements.