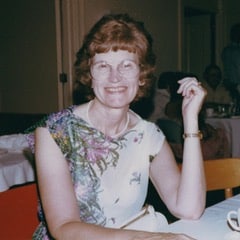 Kathleen Scanlon Neidhart has died in Spring Hill, Florida on July 2, 2022. She was 91.
Preceded in death by the love of her life and best friend, John "Jack" Neidhart, they will be interred together at Washington Crossing National Cemetery in Newtown, Pennsylvania.
Kathleen ("Kate") was born in Montclair, New Jersey in 1931.
The daughter of Leo and Margaret Scanlon, she was the youngest of five siblings.
Kate was an English Major at Rutgers, during which time she met Jack.
Soon after graduation, she and Jack married on September 20, 1952. They were married for 56 years until Jack's death in 2008. Their strong and loyal marriage has been an inspiration to their children
Kate worked as a School Librarian in the Ewing Township (New Jersey) School District for many years. She was a voracious reader and was particularly fond of historical novels – she would devour any book about her heroine, Elinor of Aquitaine. 
In later years, she became an obsessed Fan Girl of the Highlander books and TV series.
Kate loved music, especially rock and roll with a progressive, socially conscious bent. Her favorite musicians included The Beatles, Bob Dylan, Bruce Springsteen, Tom Petty, U2, and the punk band Green Day, whom she saw twice in concert when she was in her 80's.
Kate and Jack had three sons, John, David, and Stephen, in whom she instilled her love of books, music, travel and Democracy, who carry that love to this day.
A child of the New Deal, Kate was a lifelong liberal, feminist, and proud member of the Democratic Party. She knew first-hand how the Democrat Party, through legislation and the federal government, made life better for working people. As a unionized public school teacher in the 1960's, 70's, and 80's she received a solidly middle-class salary and excellent benefits including a pension and paid health insurance in retirement. Along with Social Security and Medicare, this enabled her to live comfortably and independently in retirement without being a burden to her family or society.
Kate was a passionate and outspoken opponent of the Viet Nam War. She wrote to then President Nixon requesting that she be put on his notorious "Enemies List". She remained politically active her whole life both by contributing funds to progressive causes and politicians and working for the Hernando County (Florida) Democratic Party
Kate was an accomplished seamstress, knitter, quilter.
Kate loved baseball and women's college basketball. As a child she loved the Brooklyn Dodgers and, in her later years, was a fervid and perpetually disappointed fan of the Tampa Bay Devil Rays. Like all good Dodgers fan, she had a lifelong hatred of the New York Yankees. As graduates of Rutgers University, Jack and Kate loved the Rutgers women's basketball team and were long time season ticket holders
Kate and Jack loved to travel throughout their 56 years of marriage. The globetrotting duo visited places far and wide,
Ireland to It'ly; Dallas to Dubrovnik; Alaska to Amsterdam; Boston to the Bahamas; The Poconos to Portugal
Spain, Egypt, and so many other destinations.
They had an active social life and a large circle of family and friends, some dating back to childhood.
They were close with a large and jolly group of blended family of siblings, cousins, sisters and brothers-in law from both the Scanlon and the Neidhart sides, with whom they enjoyed decades of parties, vacations, holidays, weddings, funerals, reunions, anniversaries, and most of all, loving friendship.
Kate is survived by her sons and their families:
John Neidhart and Wendy Millard
David and Hilary Neidhart
Stephen and Bridget Neidhart
Nicky Pierce
Dylan P Neidhart
Dustin Pierce Neidhart
Edith Neidhart
She will be missed.
Contributions in her name can be made to the Democratic National Committee and Emily's List.