A visit to Jeremy Baker's Hometown Barber Shop in Brooksville is like taking a step back in time.
This is a place where real men come to get their hair cut — fathers, sons and husbands — the last bastion of the male space.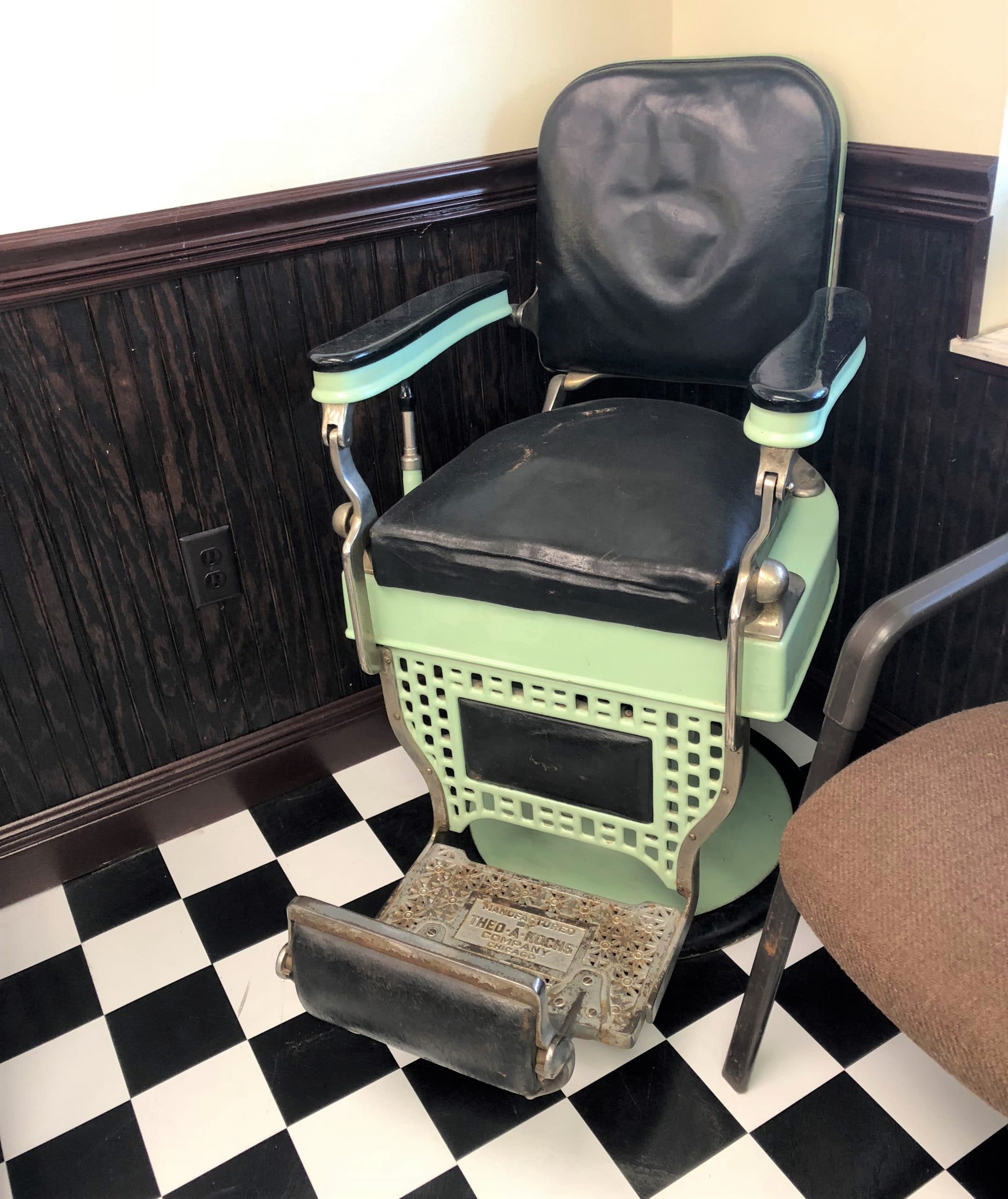 No appointment necessary here. Customers waiting patiently relishing conversation about music, what's going on in the world and the good old days until it's their turn in the chair.
"My father was a barber for 45 years," said Baker. "When I was a boy, dad used to say he loved going to work each day. I thought he was crazy but now I'm a barber, I love coming to work too," he said.
Baker didn't follow in his father's footsteps until he found work difficult to find as a substitute teacher and so decided to go to barber school.
"I had a wife and children to support and was a little nervous about launching into barbering," said Baker. "But when I opened my first shop in New York in 2011, I knew I had made the right decision — I love my work and the customers are great."
"When my father passed, I had kept his antique chair and all the shop's cabinetry to use in my shop."
"And when, seven years later, all our family members decided to come down to Florida, I dismantled all the cabinetry again and shipped it all down with us," he said.
Baker found his premises on West Jefferson and the first thing he did was to put up the traditional red and white barber's pole at the front entrance.
The pole is a reminder of a long-gone era when people went to a barber not just for a haircut or shave, but also for bloodletting and other medical procedures that required a barber's skill with sharp instruments.
Baker uses old-school tools and the shelves in his shop are lined with trimmers and clippers, combs and razors, shaving cream, hair tonics and badger and boar hair brushes for that soft, luxurious feeling every time you shave.
Brooksville resident, Matt Baum is a regular customer at The Hometown Barber Shop.
"Jeremy knows how to cut my hair," he said. "He knows exactly what to do, a little bit off the top and the sides," said Baum, a U.S. Air Force Veteran.
After 15 minutes of cutting hair and trimming of eyebrows, Baker lathers the back of Baum's neck for that final touch. Then flourishing a straight razor, Baker trims Baum's sideburns, around the ears and the neckline with skill.
A straight razor, sometimes called an open or cut-throat razor, is king for a really smooth shave.
"Being able to keep alive the skills of a classic cut and shave is important to me," said Baker. "A lot more men feel comfortable visiting a barbershop than a beauty salon, with its colorists, women's magazines and showy shelves full of styling products."
The Hometown Barber Shop also offers a classic shave with hot towels and straight razors to make a man feel really well groomed. A hot lather shave is also a popular pre-wedding item for grooms and groomsmen. The Hometown Barber Shop offers gift certificates for hot shaves.
Traditional barber shops even smell and sound different from the chain-operated salons.
Baker uses a vintage Zenith radio to play soft 1920s and 30s music. No television here or loud pop music. Just classic music and lively male conversation.
"This is where customers become regulars, friends and confidants," said Baker.
Next in the chair is Bernie Heath, a man with a fine head of curly hair who is actually Jeremy's father-in-law.
"I'm very particular about my hair," said Bernie. "That's why I come here and get exactly the right cut."
Baker sprinkles a little water on his father-in-law's hair to relax the curls and sets to work trimming.
Heath said he remembers waiting for a haircut from Jeremy's father back in the day and seeing a kid of about 13 getting the back of his neck shaved for first time.
"It was as if the boy was growing up and becoming a man right there before my eyes," he said.
Laid out on the shelf in front of Bernie in the chair is a display of hair tonics.
"I'm often asked what does a hair tonic do?" said Baker. "Long time ago, tonics made wild claims about preventing dandruff or even a cure for baldness."
"But, it's simple," said Baker. "Most men like a splash of tonic on their hair after it's cut and they come in a variety of oils and smells.

Baker explained he keeps a good selection available. Some smell like you just stepped out of the barbershop in the 1920s or 1950s and some just merely give the hair added luster and leave the customer with a clean after-shave scent.
"My goal is give my customers great haircuts in a traditional atmosphere where men can feel comfortable waiting for a shave or a haircut," he said. "Young or old, I cater to everybody."
Jeremy Baker of The Hometown Barber Shop can be reached at [email protected]
Located at: 975 W Jefferson St, Brooksville, FL 34601