The Southwest Florida Water Management District (SWFWMD) Employee Committee completes a couple of community outreach projects per year. This year, one project was the "Starting Off on the Right Foot Sneaker Challenge" where employees donated sneakers for students during a three week collection period. The 646 pairs of shoes collected were split between two schools where more than 74 percent of the students come from low-income families- one was Moton Elementary in Brooksville and the other was Gocio Elementary in Sarasota.
"A lot of our staff are born and raised in Brooksville and we wanted to do something for the children in need. These kids are the next scientists. They are the next generation to protect our water resources," said Michele Sager, Communications Chair of the SWFWMD Employee Committee.
The children waited patiently for the minivan full of sneakers to arrive. When the van pulled up, they helped to unload all of the shoes which were brought to picnic tables in boxes sorted by size. Then it was time for the students to pick their new footwear. No more worn out soles, holes and frayed shoelaces for these kids. Girls chose sneakers with sparkling designs and boys found athletic shoes and even light up sneakers complete with a USB charger.
Mom Sandra said, "This is a blessing for our family." She has two children ages 8 and 10.
Student Aiden said the last time he received new shoes was "a long time ago."
After the kids found their new shoes, the only natural thing to do was to try them out with an extemporaneous race down the sidewalk.
"You guys are going to wear those shoes out, before you get home," shouted Principal Brent Gaustad, who was all smiles to see his students so happy.
Later that day, Principal Gaustad went over to Rookies Bar and Grill to pick up school supplies that the restaurant collected for Moton over an eight week time frame. The amount of supplies collected, filled a school bus to an extent.
"We know a few of the school teachers from Moton," said Billy Beetz Owner Operator.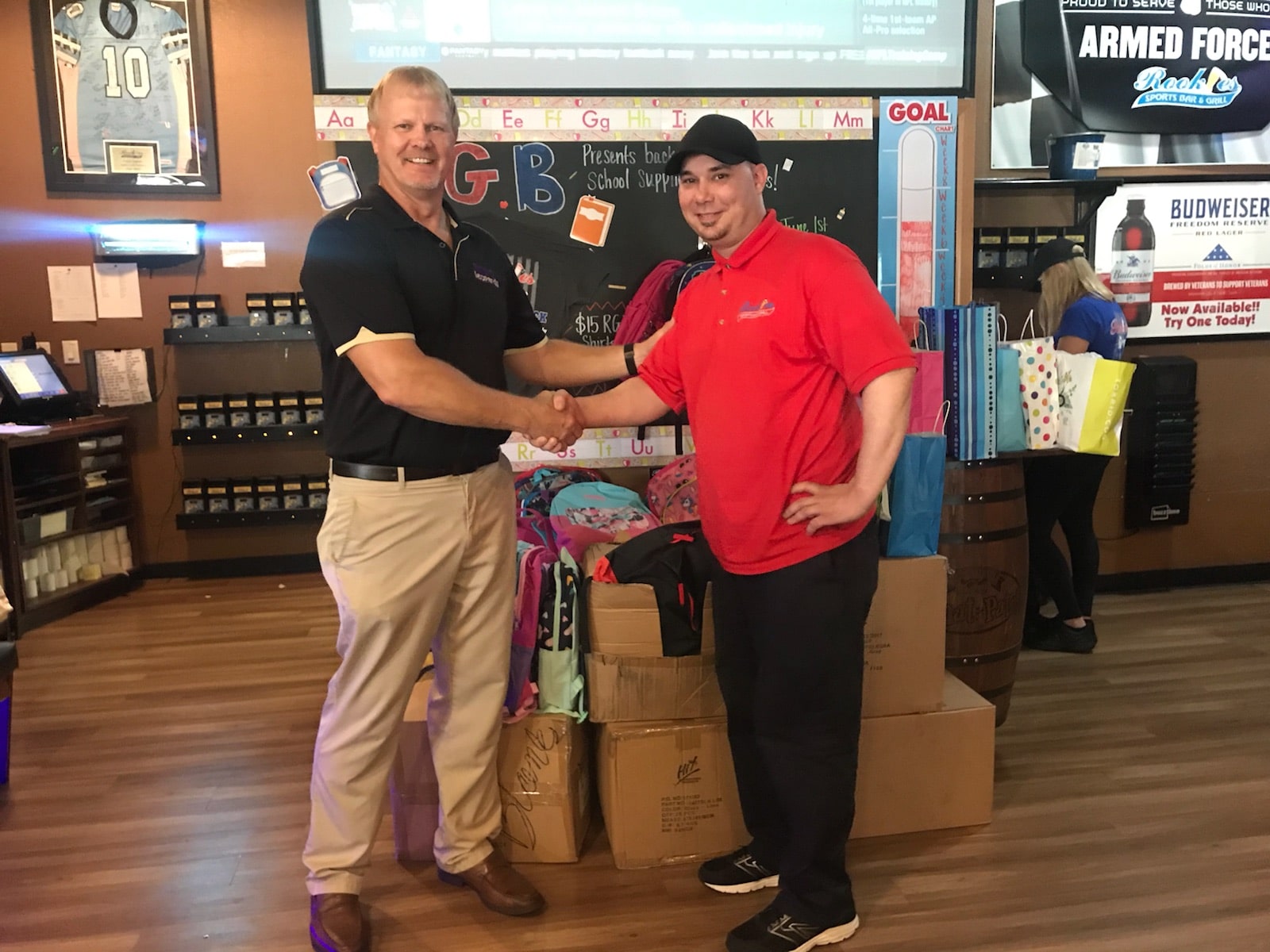 Local businesses also helped out, including Discount Garage Door and Lucas Magazine.
"It was great team effort with contributions from our customers, staff, local business owners including Discount Garage Door, Lucus Magazine, and Rookie's," said Beetz. Rookie's donated 10% of their sales on Saturday, July 28th to Moton Elementary.
Accuform, a local manufacturer of signs, is providing new signs to Moton. Advance Auto Parts is dropping off school supplies.
The community has really come out to support Moton Elementary. This support will help to inspire and motivate the teachers and students of Moton Elementary for the 2018-2019 school year.