For many years, countries in Europe have been imposing fines on people who refuse to recycle. Sweden, in particular, is so good at recycling that it now imports rubbish from other countries to keep its recycling plants going. Scotland has installed machines that give money back for returning empty bottles and cans, safe in the knowledge that all items collected will be sent for recycling. And England is soon to follow.
Some countries, however, have no penalties or incentives at all for recycling.
Here in Spring Hill, RAMM Recycling Services Inc., a metals and electronics recycling business with locations in Spring Hill, Zephyrhills, and Plant City, has provided a scrap recycling service for more than 20 years. The name RAMM is made up of their names Richard, Alana, Maren and Matthew.
Megan Filley, the general manager of RAMM Zephyrhills and Spring Hill plants, said, "We're part of the Florida Recyclers Association and it's our objective to encourage as many people as possible to recycle and reduce our waste mountain."
Filley explained that "recycling is becoming more and more important to reduce landfill but a lot of people don't realize that you can recycle metals as well."
"And, surprisingly, a lot of people are under the misconception that they have to pay to get rid of their unwanted metal when, in fact, they can receive payment for bringing metal to us," she said.
According to the EPA, if you recycle a single aluminum beverage can, it can help conserve enough energy to power a 60-watt light bulb for several hours. Recycling metals reduces pollutions, reduces waste going to landfills and saves resources.
Susan Beard, operations manager at the County Line Road yard, and longtime employee said, "We see all walks of life here; like moms, schoolteachers, people making their living from bringing metals to us or grandparents teaching their grandchildren about the values of recycling and doing something good for the environment."
Every day is a busy day at the RAMM yard with people driving in to get paid for their various collections of metals.
"We follow all the safety regulations and make sure we don't add to pollution," said Beard. "Substances like freon or vehicles still with gas in the tank," she said.
RAMM Recycling operates strictly under Florida Statutes and monitors everything that comes into their premises.
It's a totally safe environment, not just for customers dropping off materials but also for the staff of 7 currently employed at RAMM.
"We absolutely make sure no hazardous materials come in contact with customers or with our staff," said staff member Tyler Smith.
RAMM's yard is no ordinary scrapyard. It's surprisingly neat with well-defined areas where all the different metals are deposited, all of it dominated by a huge TEREX crane.
Metals that RAMM Recycling buy include stainless steel, aluminum all grades, aluminum siding, brass, copper and lead to mention just a few. Then there's cars, car batteries, bicycles, washers, dryers, pots and pans, stoves, refrigerators, microwaves, grills, keys and dishwashers and more.
Just bring your unwanted metal or old appliances to RAMM and they'll weigh it, grade it and buy it. Pricing is monitored daily, according to current commodity prices.
In order to drop off your recycled metals for processing, RAMM Recycling requires customers to be over the age of 18, have identification like a driver's license and a valid tag on the vehicle used to bring the metals to their facility.
"Once a customer comes in and has his stuff weighed and dropped off, we give them a ticket which they then bring to the office counter to have it entered in our computer and then get paid," Smith said.
Nikki of Daddy's Girl Services had just dropped off a load of unwanted items.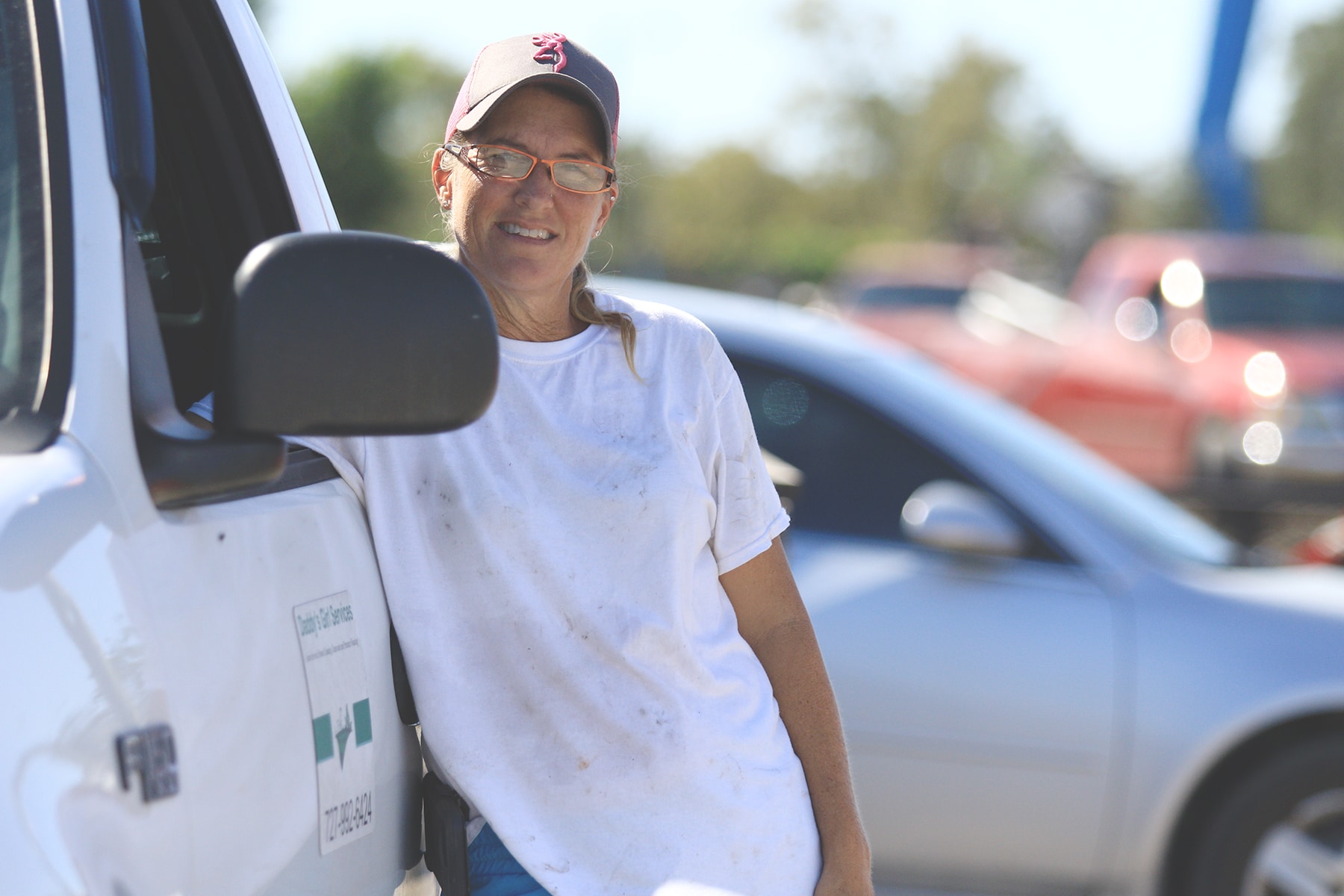 "I come here regularly," she said. "Everybody here is so friendly and helpful; I just drive through the weigh station, unload and that's it. Today, I made $100," she said smiling.
RAMM also provides containers for local businesses to store their unwanted metals and then when it's full, RAMM will collect and prepare it for processing and redistribution. Other services provided include industrial demolition, emergency clean up response and trucking solutions.
"We have small business owners that stash whatever scraps they can't use and then get paid for them," said Beard. "Some of them save the money they earn from their scraps to give their employees a Christmas party," she said.
"The recycling industry is very competitive," said Filley. "It's important to us that we take care of our customers."
RAMM prides itself on its customer service and holds regular customer appreciation days with barbecue events, giveaway T-shirts and scratch-off tickets.
IF YOU GO
RAMM Recycling Recycling Center Spring Hill
15730 County Line Road, Spring Hill
Hours:
Monday-Friday
8 a.m. to 5 p.m.
Saturday
8 a.m. to noon
Sunday Closed
Phone:
(727) 856-6681