By Andy Villamarzo
Hernando Sun correspondent
BROOKSVILLE- After rushing for 240 yards on 38 carries in Nature Coast's dominating 57-26 victory over Gainesville Eastside in last Friday's Class 5A, Region 2 quarterfinal, Rams head coach Cedderick Daniels wasn't shy about what he thought about Sharks' running back Mike Weston.
"That dude is a man child," Daniels said. "I've faced Derrick Henry before, but he's special. I definitely didn't think he was as fast as he was. He's definitely very strong."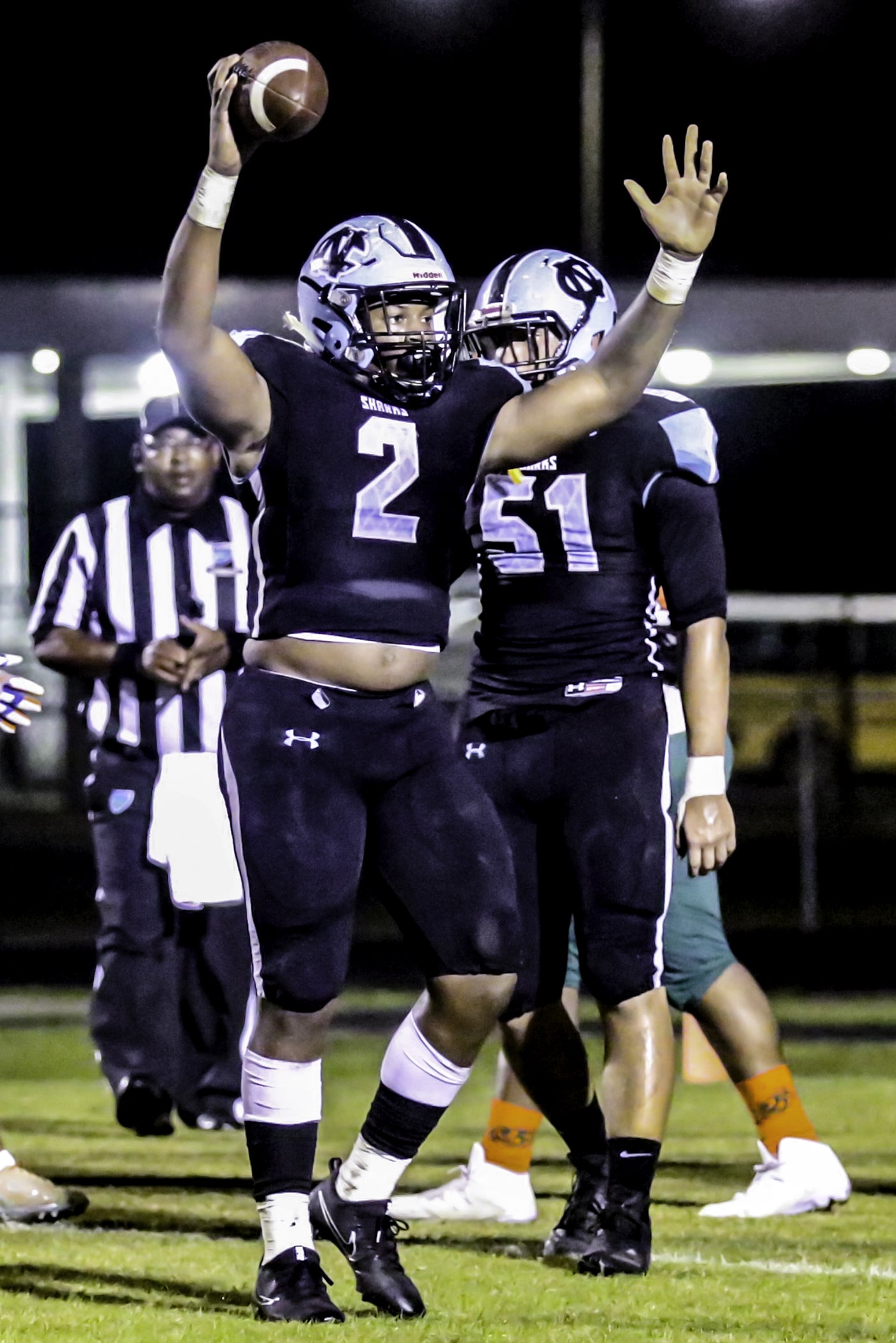 For those who don't know who Derrick Henry is, he is currently a running back for the National Football League's Tennessee Titans and was a star on the college football scene at the University of Alabama. The reason for the comparison amounts to the combination of tremendous size, strength and speed for both players.
Weston is listed on Nature Coast's roster at 6-foot-2, 210 pounds and looks every bit of his size and maybe a little more. Henry is listed at 6-foot-3, 247 pounds and has rushed for a little over 350 yards this season for the Titans. Henry was legendary status as a running back coming out of Yulee, Florida heading into his days with the Crimson Tide.
The former Yulee High School tailback once rushed for a Florida high school prep football record 510 yards in a game against Jacksonville and ended up finishing his prep career with over 12,000 rushing yards. Though Weston won't come close to Henry's overall record, his production this 2018 campaign has been one for the record books.
At Weston's current pace, if the Sharks can somehow get to the state semifinals, the Nature Coast running back could possibly eclipse the 3,000-yard during the postseason. What boggles the mind of Sharks head coach Cory Johns is why doesn't Weston have any Division I college offers.
"I've coached two running backs that are in the NFL right now," Johns said. "Another that currently plays at Syracuse right now and he had the same amount of yards that Mike (Weston) has. I don't know why Mike doesn't have any offers right now."
This Friday against Baker County, Weston will have another opportunity to prove to the naysayers out there that he's one of the top running backs in the state and can guide the Sharks to the Class 5A, Region 2 final.
Andy Villamarzo can be reached at [email protected] and follow him on Twitter @avillamarzo.