by Sue Quigley
Hernando Sun Writer
Photography by
Alice Mary Herden
In the midst of the hustle 'n bustle of Tampa Bay lies a peaceful oasis under a 70-acre canopy of shady oaks and palm trees. It's a place where there is comfort and love and a forever home for tigers and other big cats that have been rescued from horrific conditions.
Big Cat Rescue, a nonprofit organization founded by Carole Baskin in 1992, also rehabilitates injured or orphaned native wild Florida bobcats and is particularly devoted to ending the private trade and ownership of exotic felines by way of educational outreach and legislation.
Public Relations Director Susan Bass, who has been with Big Cat Rescue for more than 8 years, said, "We have about 70 cats here presently and more than 100 wonderful and dedicated volunteers who help with all aspects of cat care, feeding, and cleaning enclosures."
The park has not only become a vibrant center for visitors to learn about and view the cats, it also hosts an internship program attended by people from all around the world. During the course of the program, which can last from 12 weeks to 2 years, interns learn about the mission of the sanctuary and its daily operation and then can advance into specific care skills and husbandry of big cats.
"We are so privileged to have this wonderful group of people who are passionate about the cats and devote their time every day to the sanctuary," said Bass.
Hoover, slumbering peacefully in the shade next to his own private pond, was discovered in 2015 at an underground circus in Peru. Rescued by Animal Defenders International (ADI), he was the only one of 12 tigers to survive and was in very poor condition. Nursed back to health, Hoover was flown from Peru to Miami where Big Cat Rescue picked him up and brought him to his new forever home on April 23, 2016 — his 12th birthday. All his life, Hoover had been abused and living in a small cage. Now he can walk on grass, swim and play with toys in his large, shady new home.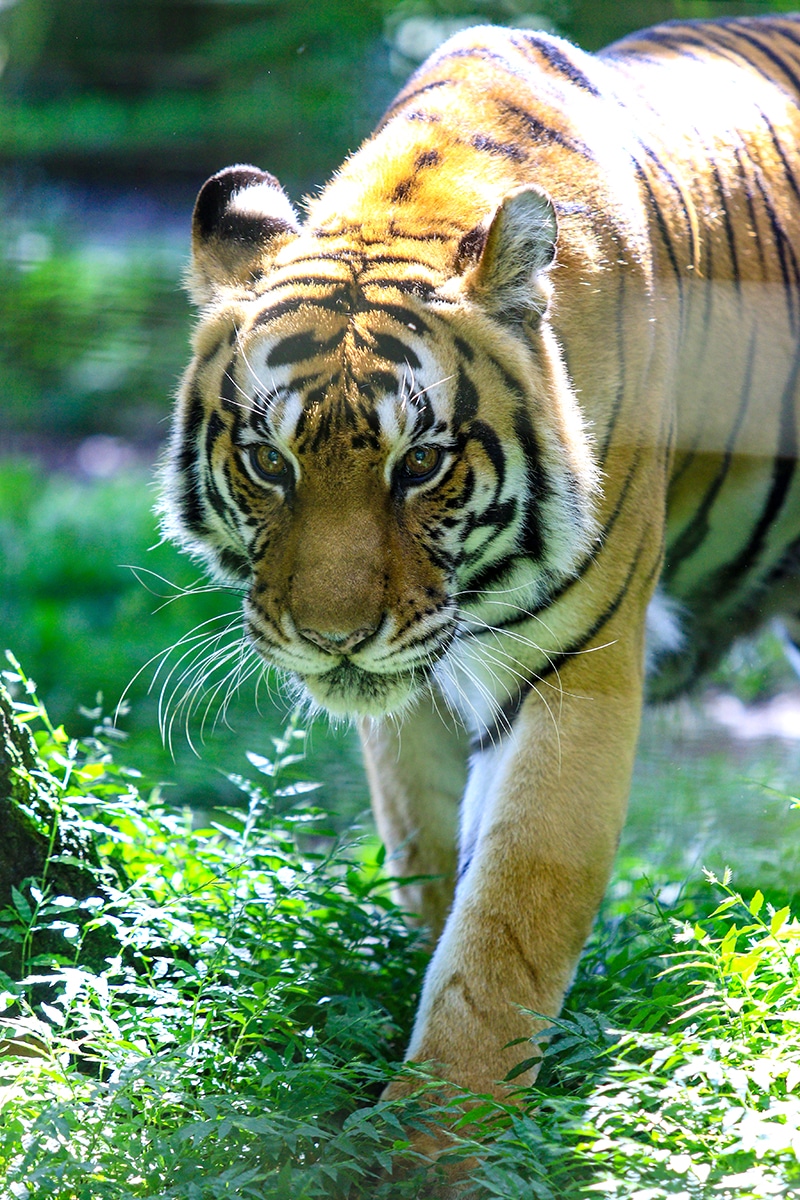 ADI, whose mission is to stop animal suffering around the world, works with Big Cat Rescue often. ADI recently helped enforce the ban on animals in circuses in Guatemala and has, so far, removed nine tigers and six lions to safety from circuses. Three of those tigers will shortly be coming to Big Cat Rescue, the other 6 tigers to a sanctuary in Alabama and the lions to ADI's sanctuary in South Africa. The two sanctuaries in the US already provide financial support for the tigers until the necessary paperwork to bring the animals to the US can be completed.
"It's complicated to complete all the necessary health and import-export paperwork," said Bass, "but it is hoped the tigers will arrive at Big Cat Rescue by Christmas."
Seth, a tiger who shares the same pond as Hoover, is magnificent; very large and weighing about 500 pounds. Born in 2006, Seth came to Big Cat Rescue in 2016 after being rescued from a notorious tiger cub petting operation in Colorado.
Cub petting operators prey on people's affection for cute baby animals, like tigers, and use them as photo props purely for profit.
When Seth became too large to be exploited for petting, he was used for "speed breeding" with Gabrielle, now also at Big Cat Rescue, to create more and more cubs as quickly as possible.
Speed breeders also don't keep records of each cub born so it's impossible to track or know what happens to the cubs after they grow too big to be exploited. Truth is the vast majority of tigers in the US are hybrids. That means a cross between different subspecies of tigers, (let's say a Bengal tiger crossed with Malayan tiger).
The Big Cat Public Safety Act
We are on the verge of losing this beautiful and iconic species and its survival is critical. Many countries have now banned the exploitation of exotic animals but, unfortunately, the United States is not yet one of those nations.
According to Big Cat Rescue, it is estimated that there are between 10,000 to 20,000 big cats held in private ownership in the U.S., and many incidents involving captive big cats have resulted in the deaths of 22 humans, 248 maulings, 260 escapes, 144 big cats deaths and 131 confiscations.
Individuals are allowed to buy cute cubs that grow up to be dangerous, unmanageable and expensive to feed so they end up in tiny, barren cages in back yards in deplorable conditions. And with only 100 inspectors to police over 2700 exotic animal exhibitors and thousands of other animal facilities, the USDA is barely enforcing regulations. The only solution is to ban private breeding and ownership of big cats nationally.
The Big Cat Public Safety Act H.R.1818 / S.2990 is a federal bill that would end cub petting, ban most private ownership, and would greatly restrict the breeding of big cats. You can make sure this law gets passed by contacting your members of Congress and asking them to champion and co-sponsor the bill. To show your support, contact your legislator, text CATS to 52886 and follow the prompts or go to BigCatAct.com
Big Cat Rescue has also invested heavily into virtual reality. and 360 videos of wild cats as an alternative for zoos. Visit explore.org to watch live coverage.
"We look forward to the day when no animal has to endure an inhumane life like many of these cats did," said Bass.
Big Cat Rescue Sanctuary
An accredited wild cat centre dedicated to welfare, education and conservation of endangered exotic cats
12802 Easy St, Tampa, FL 33625
General inquiries: Email [email protected] or call 813.920.4130. All visits must be reserved and prepaid at https://bigcatrescue.org/tickets/
IF YOU GO
Tours are available every day except Thursday and accompanied by a tour guide. Each tour takes visitors in a loop trail through the property that takes about an hour and a half. There's also a gift shop where all purchases benefit the care of all our big cats. Children under 10 can attend the weekend kids tours but only if accompanied by an adult. For more information on the different types of tours, visit bigcatrescue.org/tickets.
Donate to save big cats.
Every donation helps and there are many different ways to donate that will appeal to everyone. Visit https://bigcatrescue.org/donate/
Another way to support the cats at no cost to you is to go to your Amazon.com account and sign up for Amazon Smile to have .5 percent of your purchases donated to Big Cat Rescue.
Big Cat Rescue is a 501(c)(3) nonprofit organization.