By SUE QUIGLEY
HERNANDO SUN WRITER
PHOTOGRAPHY BY ALICE MARY HERDEN

Gone are the days where grape stomping was used in traditional winemaking to release the juices and begin the fermentation process.
Nowadays, winemaking doesn't have to be as theatrical or energetic and with absolutely no bare feet involved whatsoever. All one needs are the right ingredients like those sold by Lori Stover and Pat Bassett at Once Upon a Vine in Spring Hill.
Stover, a retired school teacher and Pat Bassett, a retired sheriff's deputy, launched their winemaking company in August this year. The store offers wine-making instruction and coaching on the premises — as well as offering wine making kits and supplies to those who prefer to make their wine at home.
"I never used to drink wine until a friend introduced us to a bottle of homemade wine they had made themselves," said Stover. "I loved its sweetness and it didn't have that "after bite" that some store-bought wines have."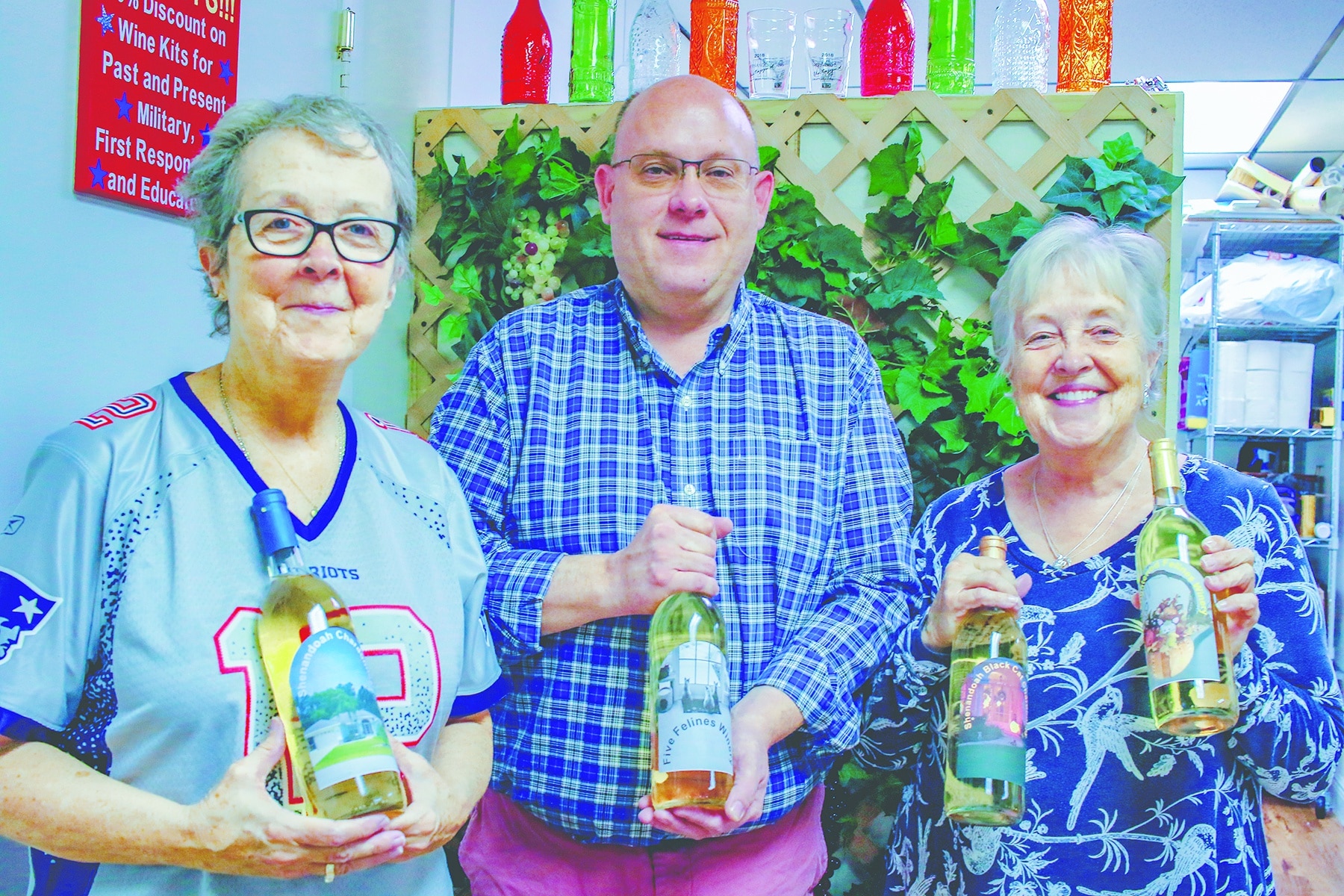 Stover and Bassett were so impressed, they started making their own wine from wine kits after which their store — Once Upon a Vine — was born.
"It took us a lot to get here," she said. "Not only did we have to find the perfect location, we also had to undergo strict building code rules and also health department restrictions."
Stover explained how important cleanliness is in the process of successful wine making so all equipment at the store are maintain a high standard of hygiene and sanitation at their store premises,
"Cleaning and sanitizing equipment rates as the most crucial step in the winemaking," Stover noted. "Winemakers cannot skimp on this."
Once Upon A Vine offers a range of 45 kits ranging from $90 up to the more expensive wines at $230. They include Chardonnays, Merlots, Australian and Italian wines, Malbec and more.
Depending on which variety of wine is chosen, the kit contains all you need to start your batch of wine — a bag of juice concentrate, small packages of bentonite, potassium sorbate, and yeast for example. Other kits may include packages of oak chips, some with small pieces some with big chunks. Some of the sweet wine kits may require extra flavoring ingredients.
If a customer chooses to make their wine in the store, Stover and Basset offer a personalized coaching service.
After the customer has chosen their kit, Once Upon A Vine will coach the customer on mixing the ingredients in a bucket to start the fermenting process. The mixture is left to ferment and usually takes about 2 weeks.
After 2 weeks, the second visit involves "degassing" the wine where wine is transferred from the starting bucket to a glass carboy and left for a couple of more weeks.
The last step is called 'racking your wine.' This involves transferring the wine from one carboy to another to continue the clarifying process.
Both the buckets and the carboys are left in a dark, climate-controlled room until a beautiful jewel-colored liquid is ready to be bottled.
"This is the fun part," said Stover. "This is when customers feel that sense of achievement and see their wine go into bottles."
The bottles are sterilized, siphoned with wine and corked with a special piece of equipment. Once Upon A Vine also offers a label design service and extra wine bottles for a small charge.
"We love what we do and it's so rewarding to see our customers happy with their wines," the couple said.
"Our wines are not only pleasing to the palate but contain less sulfites and cost much less than store-bought wines, Stover said. "Each kit contains all you need to make up to 28 to 30 bottles of wine ranging from $6.75 to $11.50 a bottle."
"That's a pretty good investment for even the most expensive kit we offer," Stover said.
—-
Website: https://onceuponavinefl.com/
Location: 13177 Spring Hill Drive, Spring Hill, Florida 34609, United States
Phone: (352) 515-1642