Article & Photography by SUE QUIGLEY
JAN. 25, 2019- Sue Plumpton and her husband, Robert, musicians for more than 25 years, are pursuing their other artistic talents to create beautiful ceramics, painting them and teaching others how to do it.
The pair, whose professional name is Short Notice, decided it was time to contemplate their other passion of collecting ceramic molds and decided to open their store Ceramics Plus.
"We've collected more than 11,000 unique molds over the years," said Sue. "It was either we have a really nice tennis court or we open a store — and the store won."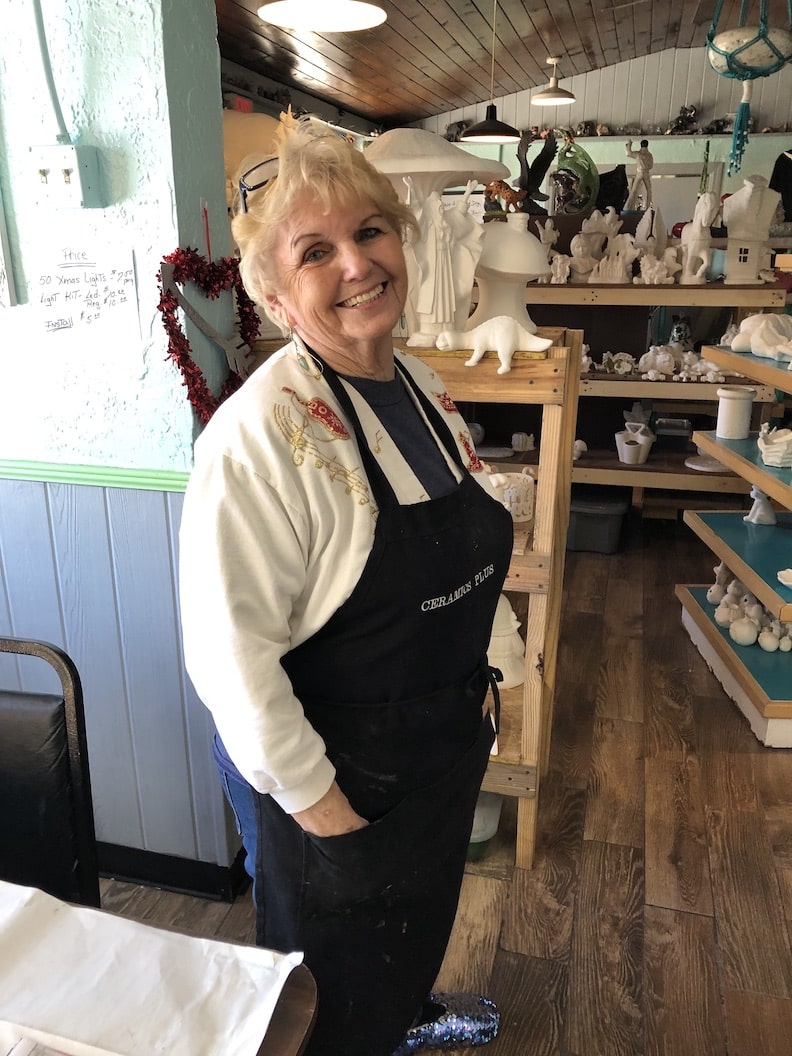 The couple opened their teaching studio in April 2018. It's stocked from floor to roof with ceramics, bisques and artwork on walls and with a spacious workshop area for everybody's creativity to blossom.
Sue said she is delighted with the popularity of ceramic painting and acrylic dry brushing these days. So much so, her schedule of classes is always busy.
"We get so many people in here," she said. "In fact, we have a group of 22 people from an art league in Hernando County attending a class next week."
Each visitor to the studio gets a special welcome from "Princess Diana" — the couple's pet Schnauzer. Gorgeous in her little pink jacket, Princess Diana waits patiently at the door to greet everyone.
Customers can purchase an unfinished ceramic piece from as low as $5. The studio pass costs $12 and covers the use of paints, and the final glazing and firing of each piece. An additional $6 covers a DIY studio day pass with your own personal project table.
Sue conducts classes in painting ceramic and bisque figurines that some students can finish in an hour or two and then take home. Others like to attend two or three classes before they're satisfied with their pieces.
"It all depends on each person," Sue said. "We're not a traditional painting studio — many of my students have never painted before."
"I teach each person step by step," she said, and explain and demonstrate each technique. "I try to work on samples, to inspire them and give them ideas — then I leave them to their own imagination."
Sue makes her classes as welcoming as possible. She offers hot and cold beverages and there's always goodies or candies to eat.
"I'm making some English scones for this week," she said.
When the painting of their pieces are finished, Robert and Sue complete the glazing and overnight kiln firing required.
Students are encouraged to not worry about any spills or splodges.
"I want my customers to enjoy this crafting experience without worrying over any messes it may create," she said.