Brooksville resident Jay Blanton knows first hand what it's like to be bullied. Born with a cleft palate that caused a severe speech impediment, he was teased unmercifully when he was a child. But instead of letting his challenges overcome him, Jay overcame them.
One way was by enrolling in a martial arts school. This helped him gain self-confidence and enabled him to protect himself. Eventually, he earned 1st Degree Black Belts in Tae Kwon Do and in Isshinryu Karate. Jay went on to teach self-defense to women and Senior Citizens.
In 1985, Blanton was awarded the State Instructor of the Year from his home state of Alabama. He also received the Presidential Sports Award from President George H.W. Bush. In 2002 he was inducted into the United States Martial Arts Hall of Fame.
Jay has used his experience and skills to help veterans suffering from PTSD.
"With all the mental and physical abuse I had been through, I basically suffered from PTSD and I knew how they felt to a degree. They talk to me about where they are at. They just need someone to listen to them and their fears. I tell them I am here for them and help them all I can," Blanton remarked.
Jay also has an Anti-Bullying Program he has developed for the schools to help children deal with this issue. He spoke at Babson Park Elementary School in Polk County and related his story to the students there and hopes to speak at other schools in order to inspire students to overcome bullying.
In 2013 Blanton wrote a book about his struggles entitled, "Prevailing Against Bullies, My Life Story." He also writes a column for "Tae Kwon Do Times Magazine."
Recently, Jay received two prestigious awards for his work dealing with bullying and helping veterans. The governor of Alabama named him an Honorary Colonel in the Alabama Militia and the governor of Kentucky commissioned him as a "Kentucky Colonel."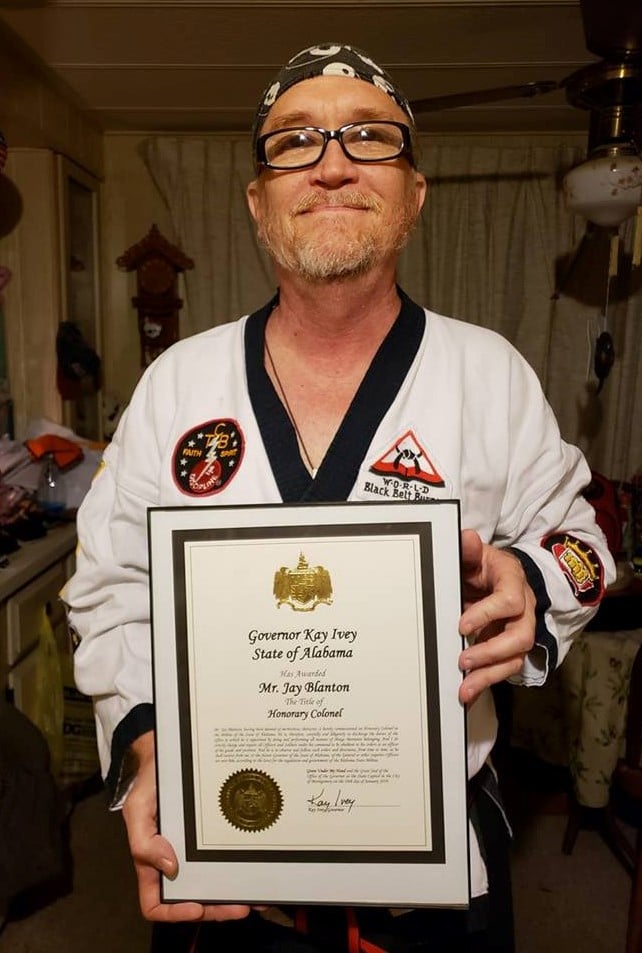 It has been a long road for Blanton to progress from a bullied child to a mentor and inspiration for others who have faced these struggles. He attributes his success to two factors.
"I overcame my problems through my faith in God and my martial arts training. I would highly recommend if you are being bullied, that you join a martial arts class as I did. It will really help you overcome all the bullying."