During the mid-1930s to 1940s, poisonous cane toads were introduced into Florida to control agricultural pests found in sugar cane fields. Their ravenous appetites and large mouths were attributes thought to be ideal for pest management. However, it is believed this round of released toads did not survive.
In subsequent years, the pet trade industry was responsible for additional cane toad releases. Roughly 100 cane toads were released in the Miami Airport by a pet trader in the 1950s. Other intentional and accidental releases have been documented throughout South Florida. Unfortunately, the invasive cane toad is now well established as far north as Tampa.
Sadly, the first documented cane toad was collected in downtown Brooksville on October 24, 2019. The toad was brought to the UF/IFAS Extension Hernando County Office and identified by Marine Agent Brittany Scharf and UF Wildlife Ecology Specialist Dr. Steve Johnson. The toad is now on display at the Florida Fish and Wildlife Conservation Commission's Chinsegut Conservation Center for educational purposes.
Cane toads compete with native southern toads and oak toads for habitat and food. However, cane toads prefer human-modified habitats, such as yards and golf courses, over natural areas, and love pet food that is left outside. Because of this, pets have an increased risk of interacting with these poisonous invaders. Although cane toads are not aggressive, they do release toxins when attacked which can be fatal to dogs and cats.
What should you do if you suspect your pet has attacked a cane toad?
Wipe mouth of pet.

Using a hose, flush pet's mouth for 15 minutes. Make sure water flows OUT of pet's mouth.

Contact your veterinarian immediately.
How can you tell if the toad is an invader?
Cane toads have large, triangular poison glands on shoulders (indicated by yellow circle on image). Native toads have small, oval glands.

Cane toads have a ridge around their eyes and nose (indicated by yellow arrow on image).

Cane toads do NOT have a pair of raised ridges on top of their heads (indicated by red arrow on image). Native toads may or may not have distinct ridges.

Adult cane toads can measure anywhere from three to nine inches long. This is much larger than native toads.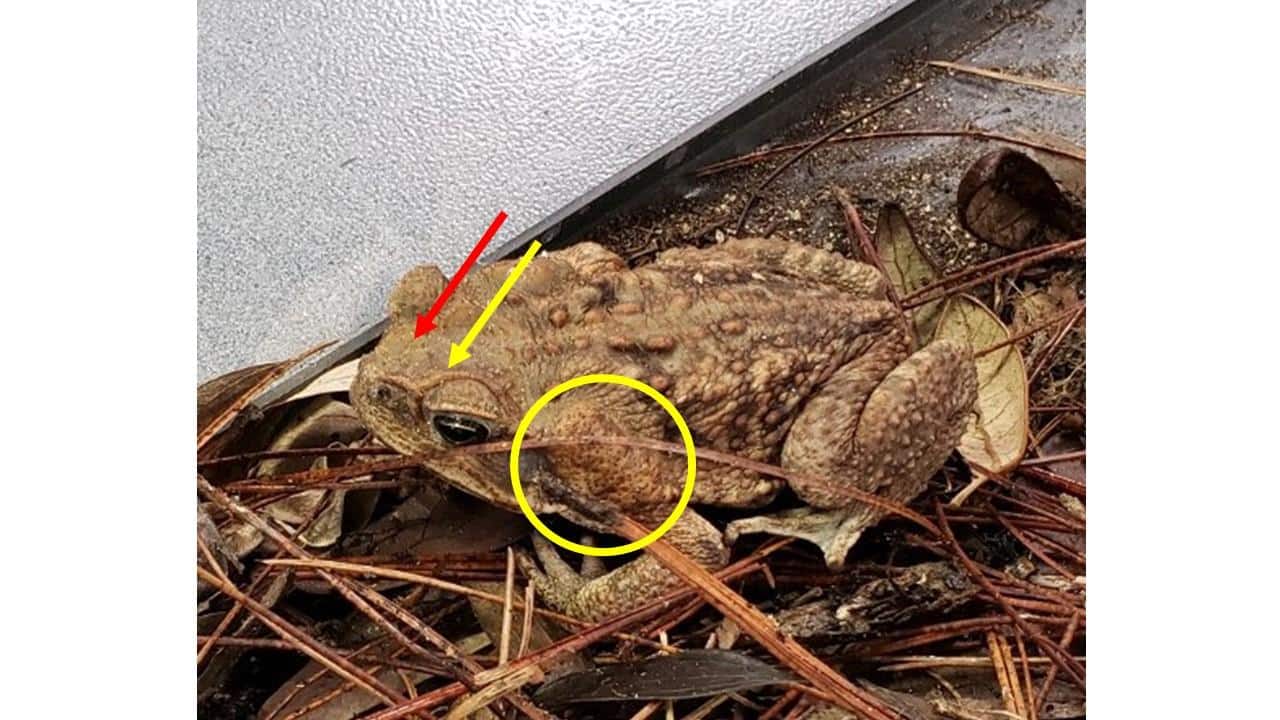 Did you find a cane toad?
Prior to handling, be sure to wear gloves.

In a secured container, bring toad to your local UF/IFAS Extension Office for identification confirmation. If you are unsure of your identification, this step is recommended to prevent accidental euthanasia of native toads.

Generously apply benzocaine or lidocaine ointment to the toad and place in freezer for 24 hours.*

Report the sighting to your local UF/IFAS Extension Office and the Early Detection & Distribution Mapping System (https://www.eddmaps.org/report/).
For more information: https://edis.ifas.ufl.edu/uw432; https://edis.ifas.ufl.edu/uw345
*Based on Australian studies to ensure a humane death.