My dad had gotten old, but I really didn't know it. Sounds strange I know, but really, I had no idea that the man I'd loved and admired my entire life, was slowing down. He'd always been my hero; the guy that could catch a fish on the first cast, fill a quota of doves with only half a box of shells and could read the forest floor as clearly as reading a newspaper. He was infallible, ageless and unchanged since my boyhood, until that hunt on some land down on the southern end of our county and he stumbled and fell.
I quick-stepped over to him, waiting for him to rise, then I noticed that he was struggling to get back to his feet. I reached down and picked him up to help him back onto his boots and I was shocked. It was then that I saw what I must have been somehow denying to myself; my dad had grown old. His eyes still shined brightly as ever and his enthusiasm for the hunt had never dimmed, but I noticed the wrinkles deeply set upon his face, the shortness of breath and the shy way he thanked me for the help.
I began to take notice from that point on. The way his hand trembled later as he helped me skin a buck, later still how he struggled to tie his own hook onto a line and how from time to time, he'd throw his old Remington up to his shoulder as a dove winged by…. and miss. He'd always been the center of my world and now it was clear, I was becoming the center of his. Dad began relying on me more and more in order to get out of the house and into the woods or on the water.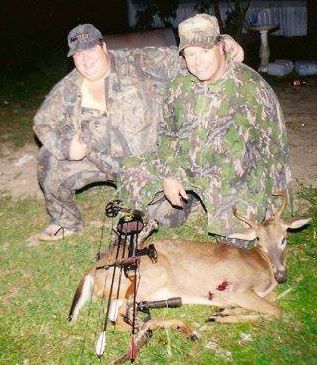 His later years I was the one hanging the treestands, cutting the wood for the campfires, setting up the campsites and using every skill he'd taught me, in order to make things easier and more comfortable. All the many things he'd done for me when I was young. I was returning the favor, you might say. But it was more than that; it was purely selfish. It was the best way I knew to keep him with me in the wilderness. Hunting without his company and council was just inconceivable.
Then one day, not too many years ago, I got the call that he'd left us to be with the Lord. It was awfully hard, going to the woods on opening day of deer season that year, but I still went. I didn't carry a rifle along that day, just sat in the woods and cried. I miss my dad as I know many of you miss your own and I hope that each of you so blessed to still have your dad in your life, will take the time to let him know that he is loved.
If any of you would like to share a picture from your own adventures, or a story of your success on the hunt, feel free to reach out to me at [email protected]. God bless and good hunting!