Joe Bernardini (Incumbent)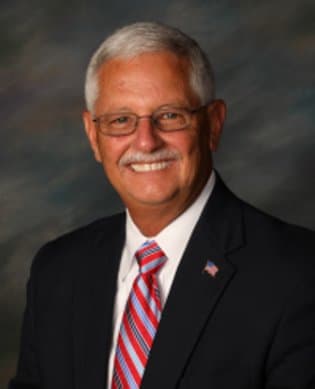 BIO:
My name is Joe Bernardini, I am a lifelong resident of Brooksville, graduating from Hernando High School, attending St Petersburg Jr. College, Pasco Hernando State College and graduating from St Leo's Police Academy. I worked for the Brooksville Police Dept. for 3 years. I am currently retired after 44 years with AT&T previously known as Southern Bell and Bell South. I have two daughters, 6 grandchildren and all living in Hernando County.
I have been involved in many civic organizations serving as a member and officer to include the Brooksville Jaycees, the Noon Lions Club, the Hernando County Fair Association and the Hernando County United Way. I volunteered for over 25 years with the Hernando County Sheriff's Department serving in the capacity as an auxiliary deputy and reserve deputy. I currently volunteer at Operation HeartFELT. I am at the end of a 4 year term, elected in 2016, to the Brooksville City Council where I currently serve as Mayor. The Hernando Times proclaimed Joe Bernardini "A leader who will speak for the people".
Q & A
What are your thoughts on local regulations in response to COVID-19 type events?
I believe as an elected official we have a responsibility to lead in times of crisis. As an appointed Mayor I have no authority to mandate any type of regulations. On the City's Website and emails to the City Manager I have suggested that we adhere to the CDC's and Health Departments guidelines. I strongly support wearing a mask, social distancing and washing your hands. I agree with the mandatory health and safety procedures taken by the Fifth Judicial Circuit at the Hernando County Courthouse.
What are three ordinances that need to be modified/removed/added?
Issues related to ordinances usually arise when there is an interpretation difference, ambiguity in the wording or changes to state or federal statue. One in question, currently concerns the sign ordinance as it relates to banners which is under review.
The FEMA Flood Plain Regulations need to be changed to meet state and federal requirements.
The temporary vendor ordinance needs to be changed to meet state requirements.
Do you see any areas where the city needs to increase funding? How could this be paid for?
There are several areas where I think funding should be increased. Most areas are infrastructure related, roads, sidewalks, drainage, water and sewer. How to pay for it is the difficult question. Raising taxes and special assessments are a couple of examples but they are a burden on the citizens. The City has tried to keep our taxes as low as possible without jeopardizing our customer service. I think a good way to help pay for these areas is by Federal, State and SWFWMD grants, economic development, and frugal management by the city. By increasing the tax base, you increase the revenue which in turns gives you more money to work with.
Do you see any areas where funding/the budget can be cut?
In the area of ad valorem tax, the City reduced ad valorem (property) tax rate from 6.2 to 5.9 at a time when most governments are raising theirs. I believe the City has done a good job at maintaining a lean budget, as I have always strived to be a good steward of the taxpayer dollar.
If you are in favor of decreasing the budget, how do you pay for obligated salary increases, cost of living increases, and other inflationary costs?
We decreased the total budget. While doing this we were still able to decrease property taxes, give employees a 4% raise and cover other inflationary cost.
What three city projects are most important and why?
The Asset Management Plan for roads. Our roads are deteriorating and in need of repair. Good roads are an essential part of economic development and property values. This year we budgeted $1.2 million for road repair.
The Lamar Drinking Water Plant- The plant is in desperate need of repair and there are safety and structural issues. The state grant to complete the project was vetoed by the Governor. However, the City has allocated $335,260 to complete the project.
Good Neighbor Trail waterline relocation- As the GNT design is being finalized by the FDOT in the states right of way along Jefferson Street leading into the City, there are several locations where there is a conflict between a City waterline and the trail. The City will have to relocate the water lines. The City Council requested the Good Neighbor Trail come through the City as an economic booster and we must maintain the State timeline for completion.
What are the three top issues facing the city that need to be addressed?
Decreased revenues because of Covid 19, it stopped many projects and events.
Good Neighbor Trail waterline relocation is an economic development catalyst.
Economic Development, the City is in the process of hiring an Economic Development Specialist to develop and promote a City-wide economic plan as we continue improvements of City infrastructure.
What inspired you to serve on city council?
While serving as a Brooksville City Police Officer, I felt the need to serve and help my fellow man. After leaving the Police Department I continued to serve by joining and participating in many service and civic organizations. I felt that serving on the City Council would give me another avenue to have a positive impact. As a past president of the Brooksville Jaycees, I would like to quote the last line of the Jaycee Creed "And that Service to Humanity is the best work of life".